Viets working away from home tend to bring home the sweetest fruits of their labor to share. Heeding the calls of the Motherland, be it to protect the country from invasion or pandemic, or to develop the country through means of cultural preservation, environmental protection, and scientific innovation, the Vietnamese heart will always be dutiful to their beloved homeland.
Projects from the Heart
We met a Viet Kieu (overseas Vietnamese) named Nguyen Tri Dung at a garden named "Vuon Minh Tran" in May of 2020. Dung is a lanky, soft-spoken man. His garden is a miniature version of villages in three main regions of Vietnam (North-Central-South), with ceramic water vats under deep-rooted trees, a house inspired by those in ancient Hue, a Central Highlands-style stilt house, bamboo furniture, and lotus trees. The garden is a creative ecological space, curated with a cultural and educational mindset; it aims to be a space to incubate ideas of science and technology. Dung lovingly nicknamed the garden "The Vietnamese Dream Nursery."
Currently, the garden receives some 2.000 visitors, comprising mostly of intellects and scientists coming to discuss applied science initiatives specific to Vietnam. This nursery has nurtured many applications, supporting the country's development.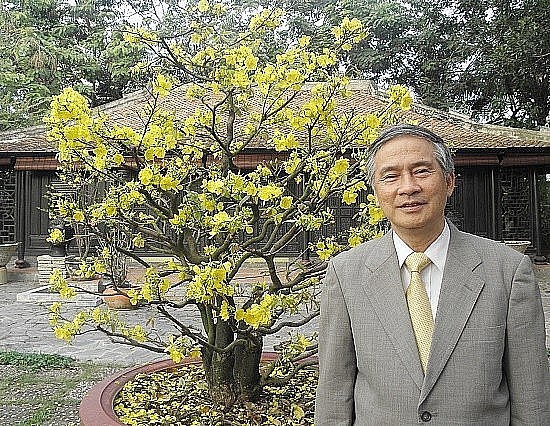 Nguyen Tri Dung, an overseas businessman.
Aside from the Vietnamese Dream Nursery, Dung's advocacy of Vietnam's shining values has led to JAVINET – a Japan-Vietnam network providing Vietnamese businesses with technological support, expertise, business models, and manufacturing experiences. The application of the Kaizen mindset and the 5S method in businesses, for example, were widely welcomed. This network has helped many a business reach its potential, and internationally expanded their markets.
Nguyen Tri Dung had lived in Japan since 1967. He is one example of the movement that sees many Vietnamese expatriates return to invest in the home country. As with many like him, their investments are focused on skill level development, living standards, and environment. Profit is never their focus, as their highest priority is always to contribute to their home.
Similarly, Dr. Nguyen Thanh My – a Viet Kieu in Canada who has repatriated at 60 years old – wanted to improve farmers' living standards at his hometown. My's company in Tra Vinh, RYNAN Technologies, develop smart technologies for fertilization, saline measurements, irrigation control, and pollution assessment. Experts lauded these new technologies for its contribution to the revival of agriculture in Cuu Long Delta's salinized regions.
David Duong, Vietnamese-American, has been investing in a Ho Chi Minh City-based solid waste treatment project for the past 10 years, quietly improving the city's living environment.
The Committee for Overseas Vietnamese's statistics has revealed that currently, there are 365 repatriate-invested projects in 27 Vietnamese localities.
To Peter Hong, Permanent Vice President cum General Secretary of the Business Association of Overseas Vietnamese, investing in Vietnam is an affirmation to homegrown values, and commitment to Viet diligence and creativity. Businesses are 50% more likely to succeed in a market that shares their tongue and culture, he said. Furthermore, the Vietnamese Government has been creating favorable investment mechanisms for investing in the country.
Birds of a Feather Flock Together
Nguyen Hoai Bac, Viet Kieu entrepreneur in Canada from Hai Duong, received a phone call from Hai Duong province's Committee leadership on the afternoon of January 29th, 2021. The Covid-19 situation has reached a difficult point, they explained. There was a dire need for quarantining and field hospital sites, and they were looking to his assistance. Dung discussed with Dai Son Group, the company whose Board of Director he presides, and agreed to provide support after 5 minutes. Immediately, the Vietnam – Canada Vocational School in Chi Linh, Hai Duong, which was under Dai Son Group, became the centralized quarantine site for the pandemic-hit workers of Poyun Electronics Vietnam Co. Ltd. in Hai Duong.

Bac then proceeds to rally his friends to buy out agricultural products to support the local economy, as well as donate 1 billion VND to farmers of several Hai Duong towns and districts. He continued to donate money to Ninh Thuan, Bac Ninh, and Bac Giang provinces, assisting their long figh against the pandemic.
In mid-2014, after seeing China's illegal breach of Vietnam's sea territory by placing an oil platform, some 7.000 Vietnamese people and international friends held a demonstration at Berlin, Germany to protest the behavior.
At the same time, many Viets in Frankfurt also demonstrated, donning red in spirit of the Vietnamese flag. They brought banners, flags, and slogans, representing their fiery hearts in support for the homeland.
Overseas Vietnamese in Italy, the Czech Republic, Australia, and France also joined hands in the streets, rallying for the country's sovereignty.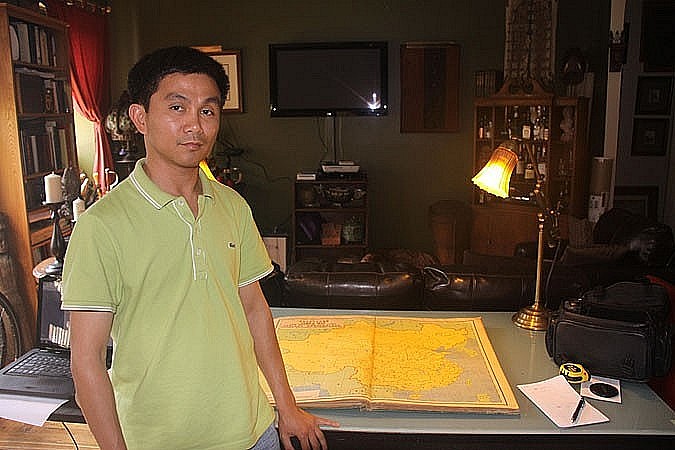 Tran Thang, an overseas Vietnamese in the US owns a collection of 150 maps and Atlas proving Vietnam's sovereignty over the Hoang Sa and Truong Sa archipelagos.
The most impressive story would be that of Tran Thang, a Viet Kieu in America, and his collection of 150 maps and atlases. Included in which were three atlases published by the Republic of China government and the London Missionary Society, as well as 80 Western maps from 50 different publishers. These all have one factor in common: the southern extremity of China only extends to Hainan Island, while the Hoang Sa and Truong Sa Archipelagos are of Vietnam. Additionally, there are 50 maps of Hoang Sa Archipelagos and 20 antique maps from different countries showing Hoang Sa and Truong Sa being of Vietnamese sovereignty. Thang has donated his entire collection to the Danang Institute of Socio-Economic Development.
Thang recounts the July of 2011, when he sought the market and found someone selling several antique Western maps regarding Chinese territory, and he contacted them for purchase. The map was part of an antique book, however, and the price of which was very expensive. Thang resorted to calling for donations. This had to be done secretly, so as not to alert others of this book. "The two weeks of donation were filled with nervousness. I come home early from work every day to check the book's availability. Only when I have the book in hand was I able to breathe a sigh of relief," he shared.
Having purchased these precious maps, he conducted reviews, recorded every detail, framed, and preserved the documents in protective foil. He then began to introduce to the Vietnamese and international audience the materials that proves Vietnam's sovereignty of Hoang Sa and Truong Sa. The complete collection is archived on the website http://www.ivce.org/ of the Institute for Vietnamese Culture and Education in the US.
Tran Duc Anh Son, Deputy Director of the Danang Institute of Socio-Economic Development, affirmed the collection's significance, as they are vital for the research to fight for our seas and islands.
To Preserve the Soul of Home
Architect Nguyen Nga (a Viet Kieu in France) is widely known for her connection to the conservation project of Long Bien Bridge. The conservation consists of five categories. The first of which includes the restoration of the bridge to its original condition, as well renovation to create a pedestrian walkway. The bridge will be retrofitted with renewable energy solutions of solar, wind, and Red River tidal powers. A 20th century history museum will be created, with a large exhibition area hosting mementos of the nation's resistance wars.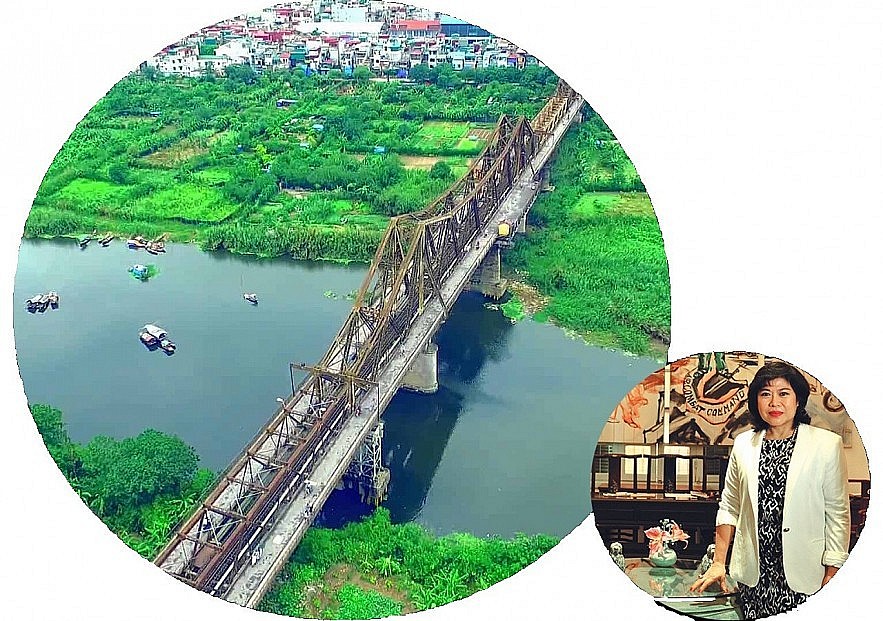 Architect Nguyen Nga is very enthusiastic about the Long Bien Bridge Conservation Project.
The two sides of the bridge are widened to create walking space. The bridge only uses green energy from the sun, wind and water of the Red River.
The second project is the Artisan Street. 130 bridge arches currently sealed shut will be converted into 130 stores for 100 Vietnamese and 30 international artisanal crafts. Nestling atop the arches will be a hanging garden, connecting Long Bien Bridge to the Hanoi Train Station, open for visitors to enjoy.
Third is the establishment of the Center Park on the island in the middle of Red River in Hanoi. The Park will serve as the city's green hub, hosting from the everyday person to the international events. Many facilities will be available, including a national agriculture museum, a silkworm farm with silk weavers, and a music amphitheater.
Fourth is a 9-level Lotus Tower, symbolizing the national flower of Vietnam, which will be the home of a contemporary art museum.
Finally, a Vietnamese artifact museum will be hosted within the Hang Dau Water Tower. The tower will be preserved as is; exhibitions will be arranged by topics and eras.
Nga said, "I had to sell my own assets to pursue this project. I have spent half of my life for this, so I cannot stop. Currently, the team has finished the pre-feasibility study phase."
"The project to utilize Long Bien Bridge as a early-modern history museum by Architect Nguyen Nga is very unique and valuable to the humanities, and should be developed," according to Architect La Kim Ngan, M.A., Hanoi Urban Planning Institute Director.
.
Part 1: Congratulations to Homeland

Although they are living far from home, Vietnamese expats, whether they have gained successes or are still struggling to make a living, have always towards ...