10 Most Beautiful Lakes in Vietnam
Escape the sweltering heat by jumping into a cool, refreshing, Vietnamese lake.
Ta Dung Lake
Ta Dung is one of the lakes with the most novel beauty in Vietnam. It was formed during the construction of the Dong Nai hydroelectric dam. This place is also known as "Ha Long Bay of the Central Highlands" for its mountainous terrain and rising river levels, creating hundreds of charming islands.
When coming to Ta Dung lake, visitors can take a boat to explore the natural scenery, visit small islands and take amazing photos from every angle.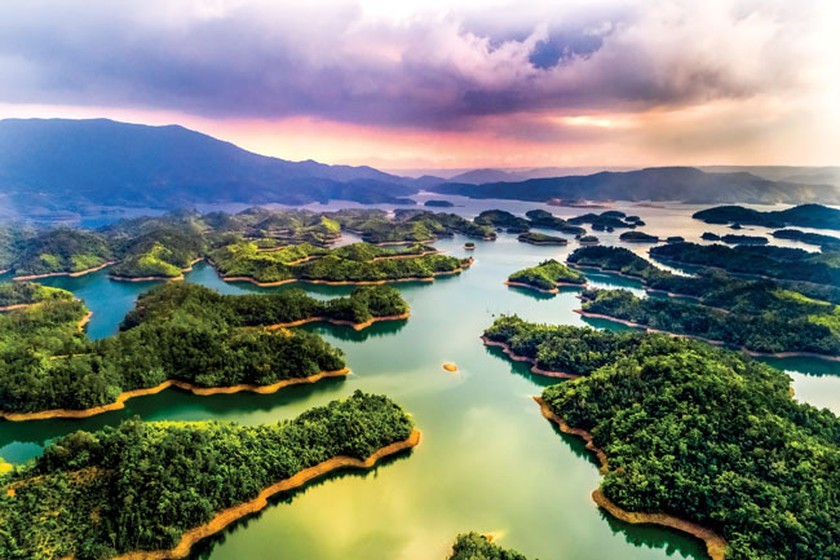 Photo: vntrip.vn
Ba Be Lake
Ba Be is the largest natural freshwater lake in Vietnam and is also located in Ba Be National Park. Nestled between a thick forest and towering mountains, Ba Be Lake gives an air of mystery, prompting exploration and discovery. Visitors can take a boat to see the lake, visit caves, Ban Gioc waterfall, and nearby villages of ethnic minorities.
In addition, Ba Be National Park is also a fascinating place for cycling and hiking.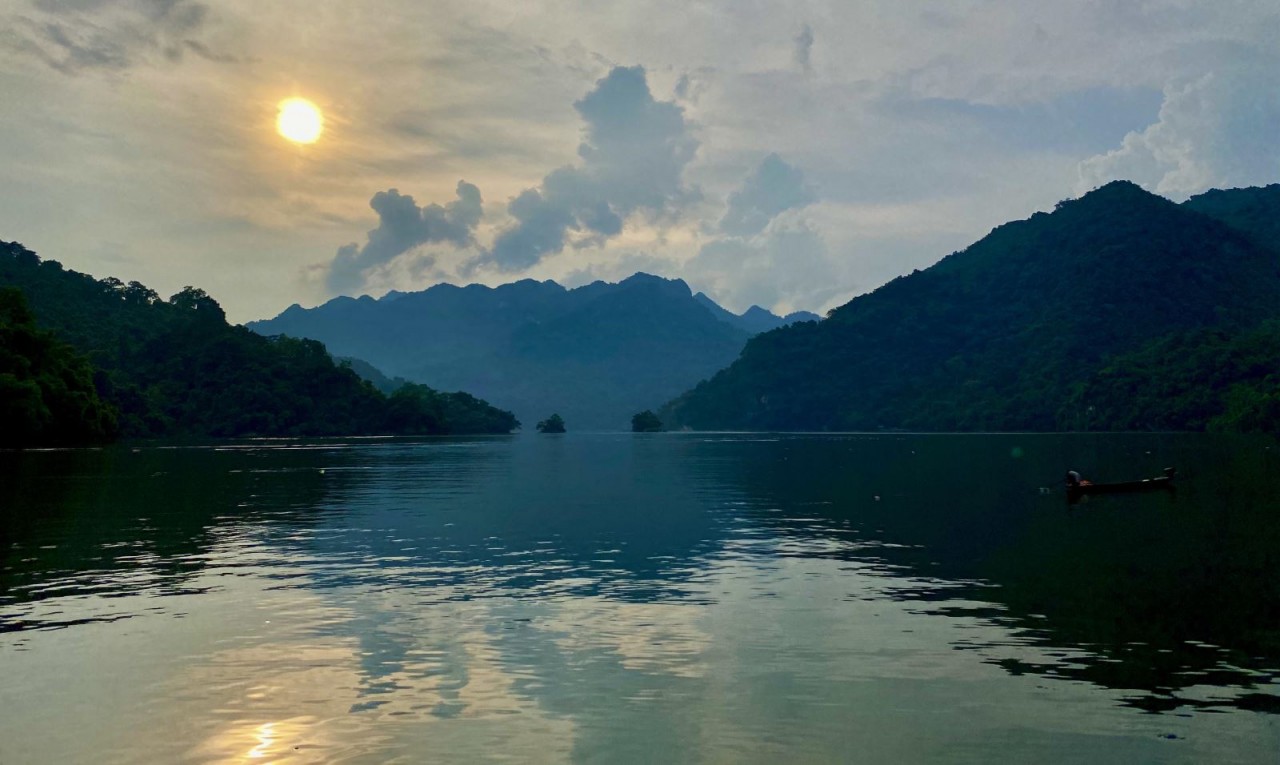 Photo: dulichhobabe.com
Hoa Binh Lake
Hoa Binh Lake is located in Hoa Binh province. Similar to Ta Dung lake, Hoa Binh lake (also known as Hoa Binh hydroelectricity lake) is a water storage facility to supply Hoa Binh hydropower plant. This is the largest man-made reservoir in Vietnam, located on the Da River, with a length of 230 km from Hoa Binh to Son La. Standing in front of Hoa Binh Lake, you will feel both overwhelmed and in awe of the attempts made by Vietnamese people to conquer nature.
When setting foot in this well-liked lake, you can take a boat ride to enjoy the stunning scenery and call by neighboring caves and fishing villages.
Photo: vietnamtourism.gov.vn.
Tuyen Lam Lake
Tuyen Lam Lake is a remarkable lake in Da Lat city, Lam Dong province. With an area of ​​about 320 hectares, it is the largest freshwater lake in Da Lat. Owing to its special location between mountains and pine hills, Tuyen Lam Lake has a very poetic beauty that could bewitch any visitor.
You can rent a boat or kayak to feel completely at ease while exploring this delightful lake.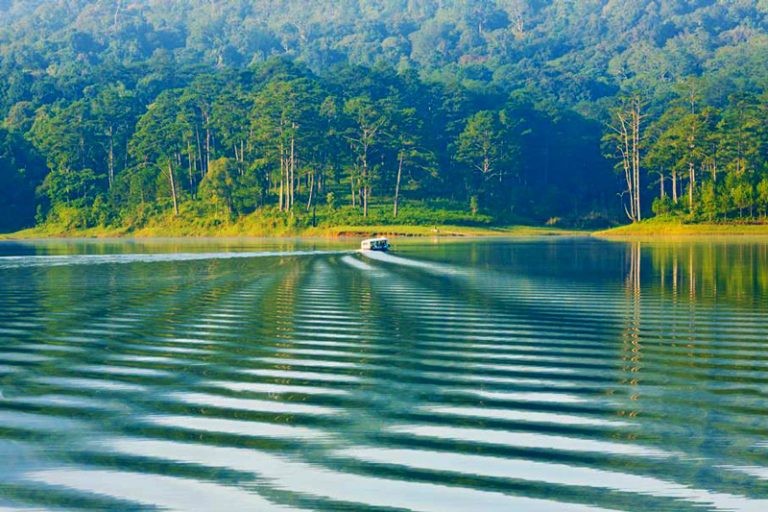 Photo: dalatpalace.vn.
Hoan Kiem Lake
Hoan Kiem Lake is unquestionably the most popular lake in Vietnam with the legend of King Le Thai To returning his sword to the Turtle.
Located in the heart of the city, right next to the bustling Old Quarter, Hoan Kiem Lake is a tourist destination frequented by domestic and foreign tourists alike. In particular, this is also a wonderful place to hang out, mingle and go on dates for couples.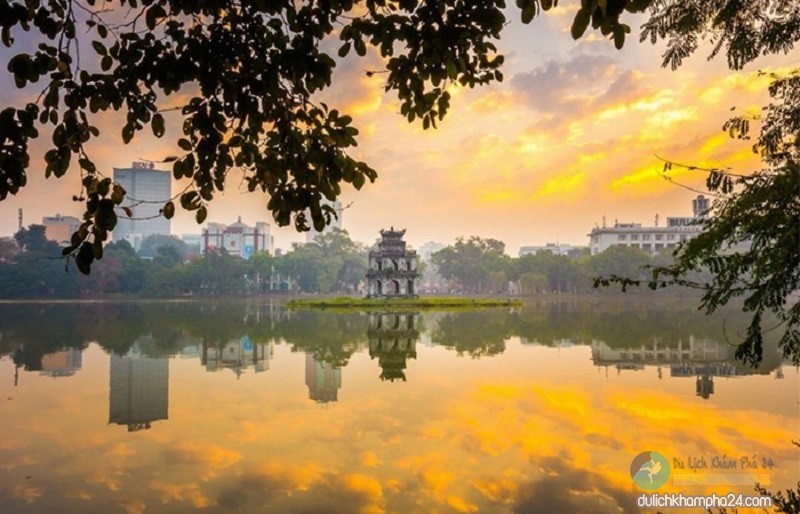 Photo: dulichkhampha24.com.
West Lake
West Lake is the largest lake in Hanoi and is also well-known as a recreational space for the locals. After long hours of hard work, you can ride a bicycle around the lake, or simply sit back and sip a drink at the lakeside cafes and watch the sunset.
Besides, you can also stop by Tran Quoc Pagoda - the city's oldest temple with a history of about 1500 years. The pagoda has singular architecture, representing a harmonious combination of majesty, antiquity, and beautiful landscape amidst the stillness of a vast lake.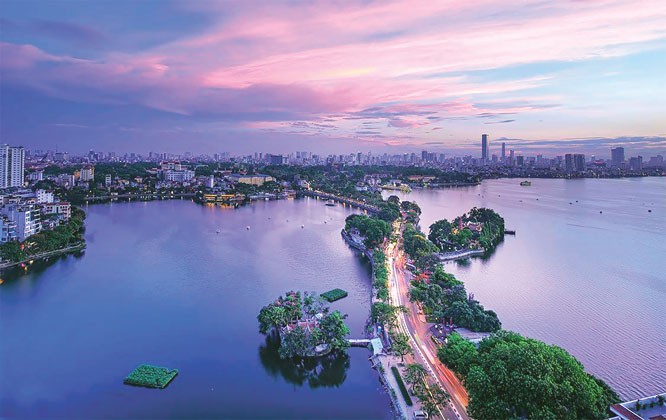 Photo: nhipsonghanoi.hanoimoi.com.vn.
Thac Ba Lake
Thac Ba Lake is the source of water supply for Thac Ba hydropower plant in Yen Bai province and is also one of the three largest artificial lakes in Vietnam. The lake is 80 km long, 10 km wide, and has a total area of ​​more than 23,000 hectares, including more than 1300 large and small islands that are well cared for, creating a perfectly green area.
Located only about 180 km from Hanoi, Thac Ba lake is a favorite tourist destination for many. When coming here, visitors not only can take in the scenery, and enjoy the fresh and cool atmosphere but can also explore the villages of ethnic minorities.
Particularly, in September, and October - the season of ripe rice, you can go further than 100 km to Mu Cang Chai to see the terraced fields that are believed to be the most stunning in Vietnam.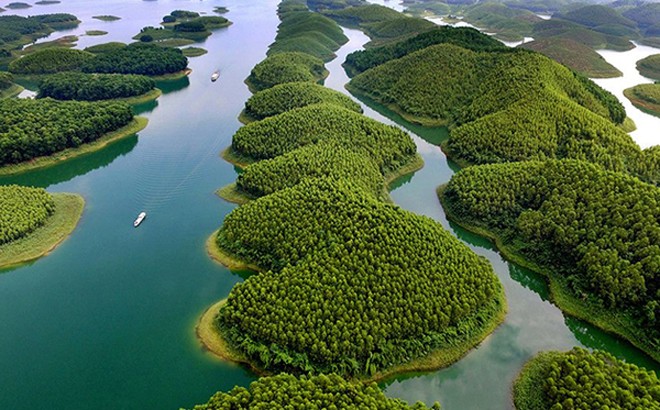 Photo: baoyenbai.com.vn.
Lak Lake
Lak Lake is the largest natural freshwater lake in Dak Lak province and the second largest natural lake in Vietnam after Ba Be Lake. With a distinctive location, surrounded by majestic mountains covered by primeval forests, Lak Lake carries with it the majesty of clouds and mountains.
If you visit Lak Lake, you can participate in activities such as kayaking, boating, visiting waterfalls, or visiting Jun village, a famous village of the M'Nong.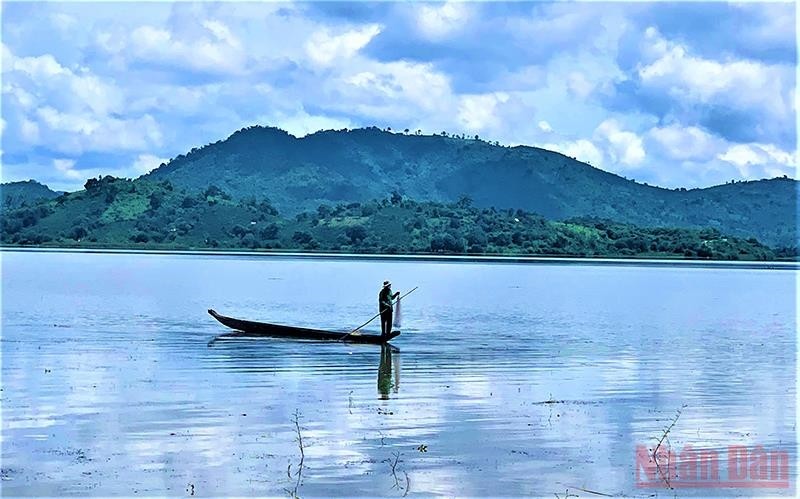 Photo: baodantoc.vn.
Ho Thang Hen
Thang Hen Lake is a freshwater lake in Cao Bang province, with an altitude of over 1000 meters above sea level. Not only is it one of the most beautiful lakes in Vietnam, but the location also sets this place apart.
Nestled in the middle of a valley, surrounded by towering mountains, Thang Hen Lake retains its wild and natural beauty. If you reach this lake, you should also visit Thung Mountain - an extraordinary mountain with a hole in the middle, a sought-after tourist destination in Cao Bang.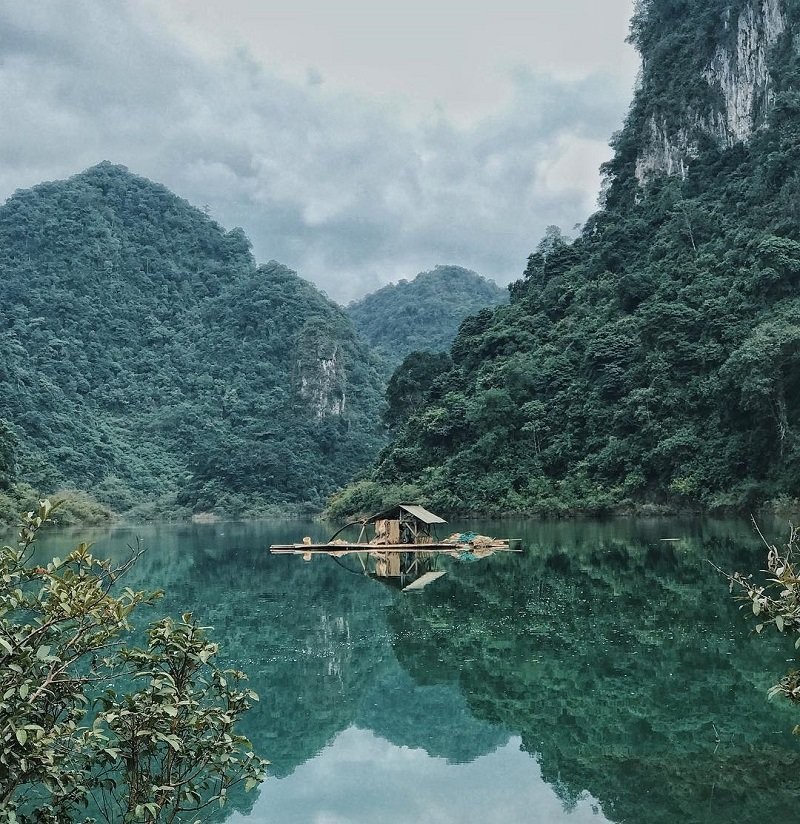 Photo: msquare.vn.
Lake T'Nung
Lake T'Nung (in the Ede language means 'sea in the mountains'), also known as Pleiku Lake or Ea Nueng lake, is a freshwater lake located in the north of Pleiku city, Gia Lai province. Originally, Bien Ho comprised of three ancient, interconnected craters whose shore is a protruding crater, easily noticeable even from a great distance.
Bien Ho is appreciated for its clear, deep blue water, both full of vitality and wildness, drawing tourists to come by and enjoy the landscape and the extremely cool, pleasant, herb-fragrant atmosphere.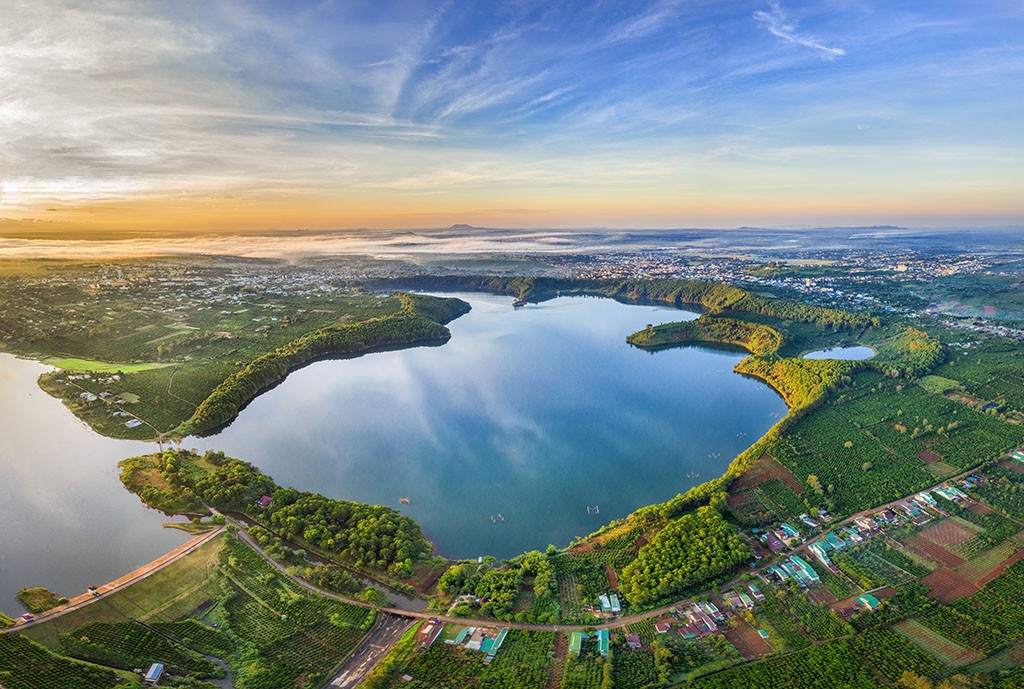 Photo: vietnamtourism.gov.vn.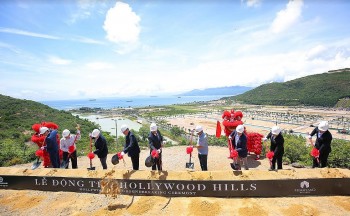 Economy
On October 2, at Hai Giang peninsula (Quy Nhon city, Binh Dinh), Hung Thinh Corporation held the groundbreaking ceremony of Hollywood Hills by YOO Inspired by Starck – a subdivision at MerryLand Quy Nhon. The event marks the first time that the world's No.1 ranked design and branded residence company YOO Inspired by Starck is officially present in Vietnam, with a collection of villas designed by creative director, Philippe Starck.