15 Best Restaurants In The World
A great restaurant is not just about food, but also the atmostphere, exquisite food and excellent service. Take a look at these 15 world's best restaurants in the world.
It is not only trying out the cuisine and what each place has to offer that is the exciting part, it's the whole experience of eating out. The atmosphere, the staff, the drinks and, of course, the food itself. These are the factors that determine whether we enjoy a restaurant, whether we will go back and tell others to visit. Many restaurants do this well, but there are only a select few around the world that are exceptional. Their attention to detail and attention to the needs of their guests is unparalleled.
An annual list of the world's best restaurants is back — and for the first time, one city dominated the top two spots.
Since the list's inception in 2002, European — and occasionally American — restaurants have produced the world's top restaurant. This year keeps that streak intact.
The annual ranking, which is organized by the U.K.-based William Reed Media, wasn't published last year due to the pandemic.
1. Noma (Copenhagen, Denmark)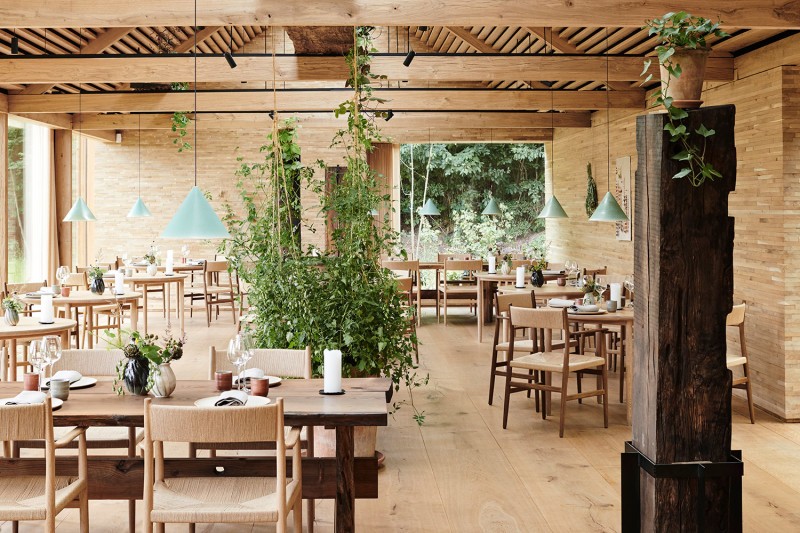 Truth, Love & Clean Cutlery
Noma is a three-Michelin-star restaurant run by chef René Redzepi in Copenhagen, Denmark. The name is a syllabic abbreviation of the two Danish words "nordisk" (Nordic) and "mad" (food). Opened in 2003, the restaurant is known for its invention and interpretation of New Nordic Cuisine. In 2010, 2011, 2012, 2014, and 2021, it was ranked as the Best Restaurant in the World by Restaurant magazine.
Noma's original location was at Strandgade 93, in an old warehouse on the waterfront in the Christianshavn neighbourhood in central Copenhagen.
The building is situated by the Greenlandic Trading Square (Danish: Grønlandske Handels Plads), which for 200 years was a centre for trade to and from the Faroe Islands, Finnmark, Iceland, and in particular, Greenland. Dry fish, salted herring, whale oil and skins are among the goods that were stored in and around the warehouse before being sold off to European markets.
Helmed by Chef Rene Redzepi, Noma is known for its "new Nordic cuisine" that relies on foraged and fermented foods.
Redzepi produces three menus every year — there's the ocean season, the vegetable season, and the game and forest season — the latter which is currently being served for 2,800 Danish krones ($436) per person. Wine pairing is an additional $280, and each menu includes around 20 courses.
The menus within each "season" change, and no two experiences at the restaurant are said to be the same.
After the same restaurants dominated the top rankings for more than a decade, the 50 Best organization announced in 2019 that No. 1 winners could not be voted onto subsequent years' lists. Noma closed in 2016 and reopened in a new location in 2018, making it eligible to compete again.
2. Geranium (Copenhagen, Denmark)
Accounting For Taste
Geranium is a Danish gourmet restaurant, situated in Parken in the center of Copenhagen. The head chef is the Danish chef Rasmus Kofoed, who won the Bocuse d'Or in 2011. It was the first Danish three-starred restaurant according to the Michelin Guide beside Noma who received their three stars in 2021.
Restaurant Geranium was opened in the spring of 2007 in Kongens Have in Copenhagen by Rasmus Kofoed and Søren Ledet. Although the restaurant received a Michelin star in 2008 it was forced to close in 2009, but reopened in Parken, Østerbro in 2010.
Angler with common quail, salicornia, seaweed and blue mussel jelly.
In March 2013 the restaurant received two Michelin stars. In April same year it was named the world's 45th best restaurant by San Pellegrino's The World's 50 best restaurants in 2013, which was an improvement of four positions, going from the 49th position. The restaurant kept the two Michelin stars for 2014. On February 24, 2016, Geranium was the first Danish restaurant to receive three Michelin stars. The Norwegian Michelin restaurant Maaemo also received three stars, which made these two restaurants the first Nordic restaurants to have three Michelin stars.
3. Asador Etxebarri (Atxondo, Spain)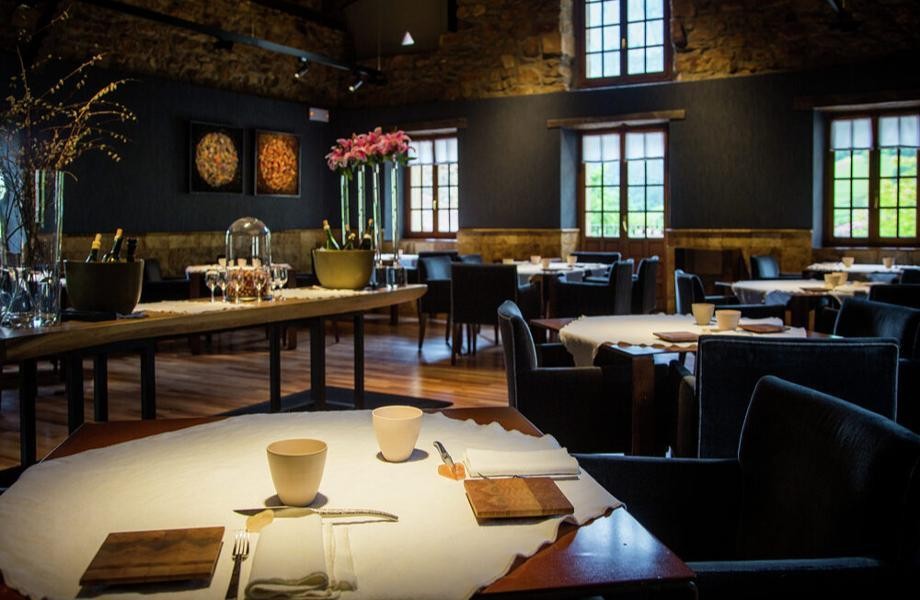 The World's 50 Best Restaurants
In the lush foothills of the Spanish Basque Country, Asador Etxebarri has been housed in the same rustic stone building since the 1990s. With sprawling views of mountains and grazing cattle from its terrace (where the welcome snacks are served), the restaurant can claim to be at one with history and nature.
Basque chef Victor Arguinzoniz is famous for being able to grill virtually anything and for coaxing out incredible flavours from seemingly simple ingredients. To get more control over the cooking process, he designed Asador Etxebarri's grills himself – the kitchen features six fully adjustable grills that can be raised and lowered on a pulley system, and he also invented several utensils, such as mesh pans. The restaurant has its own 750-degree ovens in which Arguinzoniz and his team prepare fresh coals daily from carefully chosen woods, such as holm oak for fish and vine trunks for meat.
4. Central (Lima, Peru)
Star Wine List
Central Restaurante is a restaurant located in the Miraflores District, Lima, Peru. Central Restaurante is the flagship restaurant of Peruvian chef, Virgilio Martínez Véliz, and serves as his workshop in the investigation and integration of indigenous Peruvian ingredients into the restaurant's menu. The restaurant is known for its contemporary interpretation and presentation of Peruvian cuisine. GQ Latinoamérica calls Central Restaurante "the heart of his Virgilio Martínez Véliz gastronomic philosophy." In 2012, Central Restaurante was named Best Restaurant of Peru by the Peruvian dining guide, SUMMUM. In 2013, Central Restaurante entered as number 50 in The World's 50 Best Restaurants as awarded by the British magazine Restaurant., and in 2014 jumped 35 places receiving "Highest Climber" recognition and ranking as number 15 in the world. On August 21, 2014, Central Restaurante for the third consecutive year was awarded Best Restaurant of Peru by the Peruvian Dining Guide, SUMMUM, and additionally received awards for Best Contemporary Peruvian cuisine and Best Sommelier.
Central has been named the best restaurant in Latin America for 3 consecutive years (2014, 2015, and 2016) and ranked 2nd in 2017. It is also ranked among the World's 50 Best Restaurants ranking 4th in the world in 2015 and 2016, 5th in 2017, and 6th in 2018.
5. Disfrutar (Barcelona, Spain)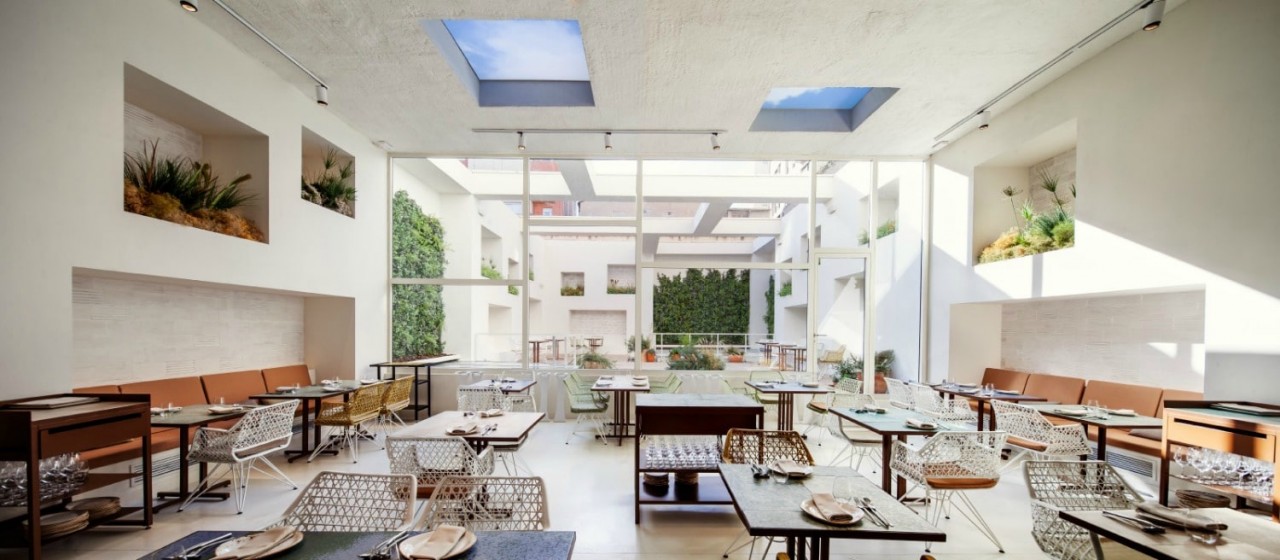 Travel Squire
Disfrutar – whose name translates as 'enjoy' – is one of the most delicious, surprising and boundary-pushing gastronomic experiences in the world. It debuted at No.18 on The World's 50 Best Restaurants in 2018, picking up the Highest New Entry Award, and has since climbed to No.5 – a testament to the consistently mind-blowing nature of its gastronomic offer, which has been described as 'a thrilling rapid-fire, roller-coaster ride of a dining experience'.
Chefs Oriol Castro, Mateu Casañas and Eduard Xatruch all started working at the legendary El Bulli (now a member of the Best of the Best group of restaurants) within a year of each other, between 1996 and 1998. After the restaurant closed in 2011, they joined forces to open Compartir in Cadaqués in Catalonia, Spain, followed by Disfrutar – their most ambitious project – in 2014.
Located in the Eixample district of Barcelona, Disfrutar's main dining room is light-filled and white, but the restaurant also features other spaces, including an outdoor terrace and a private lounge in the creativity kitchen. The design – featuring plenty of ceramics – was chosen to convey the trio's respect for the history and heritage of the Mediterranean.
6. Frantzen (Stockholm, Sweden)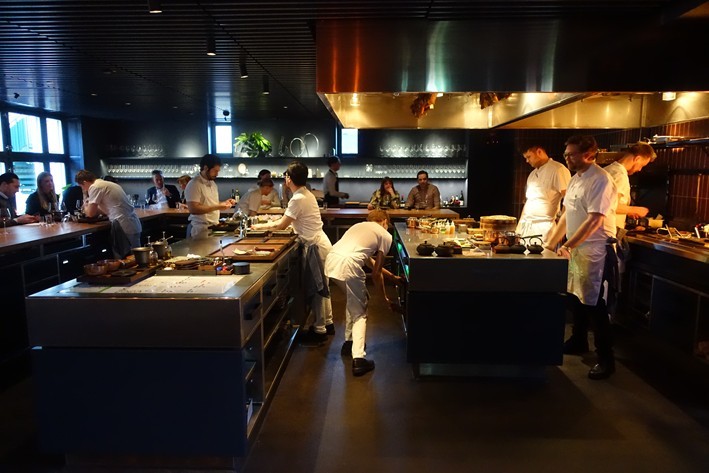 Andy Hayler
A truly immersive experience that you won't forget in a hurry. The restaurant is set over 3 floors; ring the bell and then enjoy an aperitif while the day's luxurious ingredients are explained. Once at the beautiful counter, the charming service team and chefs guide you through each creative, perfectly executed and remarkable dish.
The restaurant opened in 2008 at the same address as the small one-star restaurant Mistral, which had closed in December 2007. It was opened by chef Björn Frantzén and pastry chef Daniel Lindeberg, who had both worked at Edsbacka krog (Sweden's first restaurant with two Michelin stars) before deciding to leave and open their own restaurant, with the goal of becoming the first restaurant in Sweden with three Michelin stars. In 2009, the restaurant earned its first Michelin star, and within less than a year, earned another, appearing on the 2010 Michelin Guide with two.
The restaurant changed its name from Frantzén/Lindeberg to Frantzén in 2013 after Lindeberg left the restaurant, stating that, unlike Frantzén, he wasn't "prepared to sacrifice everything" for a third Michelin star, later establishing his own company in October 2014 by the name Lindeberg Bageri och Konditori (English: Lindeberg Bakery and Patisserie) in Nacka.
7. Maido (Lima, Peru)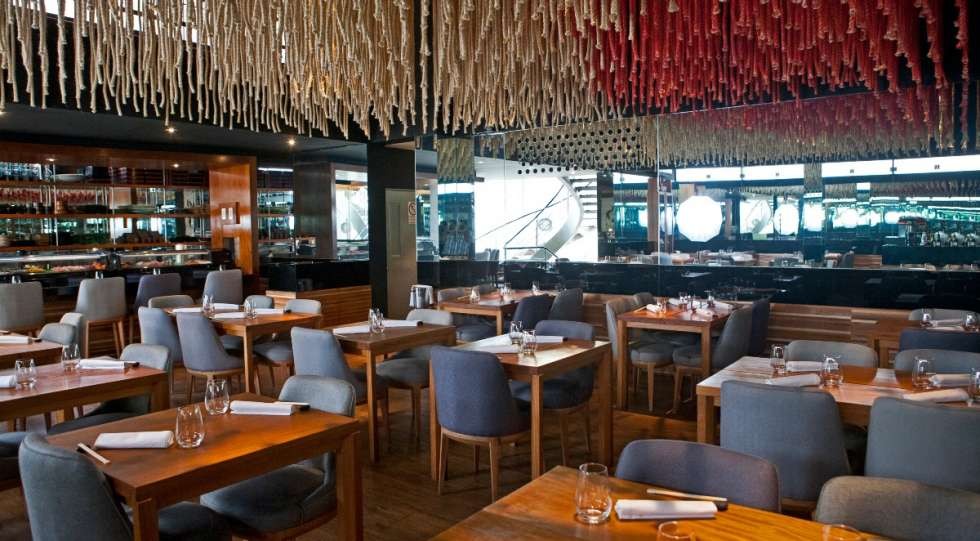 Star Wine List
Mitsuharu "Micha" Tsumura was born in Lima, but his origins come from Osaka, Japan.
Head chef and owner of MAIDO. He studied Culinary Arts, Food and Beverage Administration at Johnson & Wales University, USA. Upon graduation he travels to Osaka- Japan, to specialize in Japanese cuisine, he worked in restaurants such as ¨Seto Sushi¨: specialized in sushi and ¨Imo to Daikon¨ specialized in Izakaya style cuisine (Japanese tapas). He returned to Peru and worked at Sheraton Hotel as a Sous Chef and assumed the Food and Beverage Management charge until 2008. Was his passion for Peruvian cuisine with Japanese techniques, the great Nikkei cuisine that led him to create Maido (2009).
The fusion of Latin American and Eastern cuisines leads to an exciting and unusual menu. The 12-course 'Nikkei Experience' degustation is predominantly fish-focussed: dishes such as Paracas scallops with green butter beans and miso feature alongside crab dishi and tapiocas. The beef cheek is also not to be missed, served with tsukemono and a cloud of jora corn. Round off the marathon meal with the surprising and delicate medley of lucuma ice cream, topped with soy sauce and macambo foam.
8. Odette (Singapore)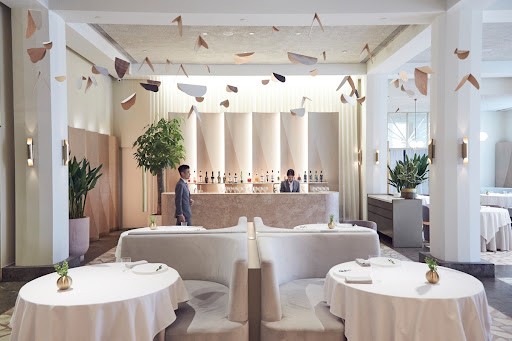 Best Plus
Chef Julien Royer earned unanimous acclaim with Odette, a fine dining concept that emphasizes a comprehensive experience. The interior in muted pink and grey makes a lovely prelude to a graceful meal that unfolds with culinary and artistic vision. Unique combinations and exquisite plating are matched by precise balance and contrasting flavours with occasional Japanese touches. His signature pigeon dish with seasonal garnishes is simply to die for.
Maukyo uni with prawn tartare, mussel cloud and Kristal caviar sets the unashamedly luxurious tone. While French gastronomy remains at the core of Royer's cooking, his decade or more in Asia has rubbed off in both ingredients and influences: kampot pepper pigeon with confit leg, liver parfait and black garlic providing a delicious example. Meanwhile the long-time signature rosemary-smoked egg with smoked potato syphon and chorizo continues to wow first-time diners and regulars alike.
9. Pujol (Mexico City, Mexico)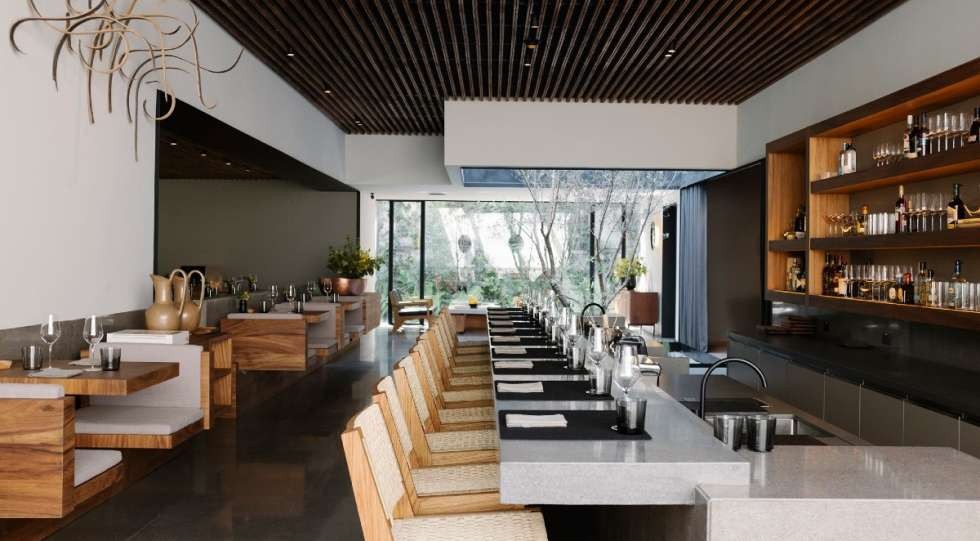 Star Wine List
Pujol is a Mexican restaurant named by Wall Street Journal as the best in Mexico City.
The restaurant is run by chef Enrique Olvera, who trained at the Culinary Institute of America and who oversees the onboard menu in business class of airline Aeromexico. Pujol serves Mexican cuisine as refined and elegant plates built from indigenous ingredients that pay tribute to Mexico's rich culinary history.
Pujol's offering boasts a varied seven-course tasting menu that packs an incredible punch. While the selection changes seasonally, the signature Mole Madre, Mole Nuevo – two concentric rings of the traditional Mexican preparation, one of which is aged for 2,500 days – is a stable feature, alongside a steamy dish of baby corn with chicatana ant mayonnaise. The chef's favourites feature on an omakase menu and include the likes of tostada with kimchi and a Kampachi taco served with avocado and seaweed.
10. The Chairman (Hong Kong, China)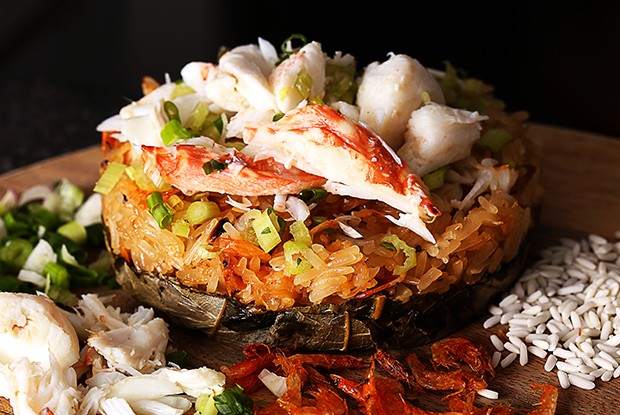 The World's 50 Best Restaurants
The Chairman remains one of the most influential Cantonese restaurants in Hong Kong, staying steadfastly dedicated in its pursuit of exploring, championing, and preserving the traditions of the cuisine. No one would ever accuse chef-restaurateur Danny Yip and his team of choosing style over substance, either—while the cooking here is sublime, intriguing and miles ahead in terms of sourcing and technique, there is not much else to be said about the staid decor and general lack of frills. But no matter, as the food takes centre stage in a menu that prides freshness, flavour and texture according to age-old Cantonese adages. Ingredients are tirelessly sourced from the best purveyors, whether it's the local seafood from Aberdeen Fish Market to beancurd sheets from Shu Kee. The steamed flower crab in aged huadiao wine and chicken oil is the restaurant's most famous dish—so much so that you no longer need to pre-order it, such is the steady supply of the local crustaceans— but do not overlook the highly accomplished creations such as deep-fried crabmeat and mushroom dumplings sandwiched using thin pork lard. Service is warm and familial, whether you're a regular or a newbie. For a taste of what true Cantonese flavours can be like, this is the gold standard.
11. Den (Tokyo, Japan)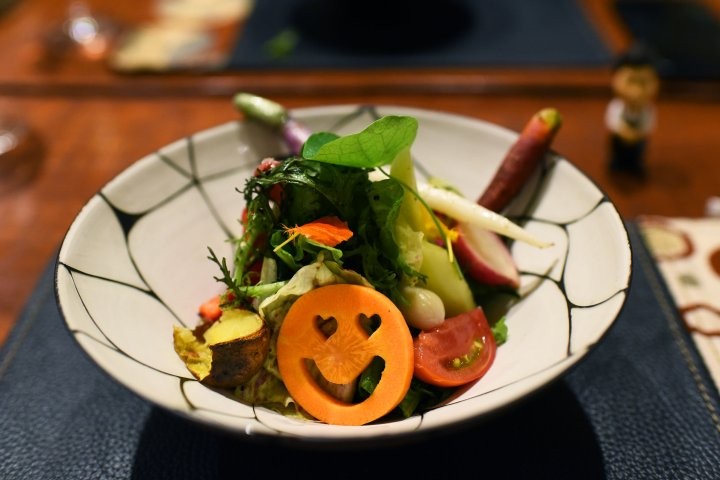 Time Magazine
Chef Zaiyu Hasegawa began cooking at age 18 in the kitchen of a ryotei (exclusive traditional Japanese restaurant) in Tokyo's Kagurazaka neighbourhood. Eleven years later he opened Den, which moved to its current location in late 2016.
Hasegawa's mother was a great inspiration to him at the outset of his culinary career. Working as a geisha in one of Japan's ryotei, she often brought home Bento for him to taste, sparking his interest in gastronomy and a love of traditional cuisine.
Rather than sticking to the elegant, refined but often impersonal traditions of high-end kaiseki cuisine, Hasegawa offers an elevated, deeply personal take on Japanese home cooking. He draws on diverse influences, both home-grown and gleaned on overseas trips, but always based around prime ingredients from ocean, pasture and forest.
12. Steirereck (Vienna, Austria)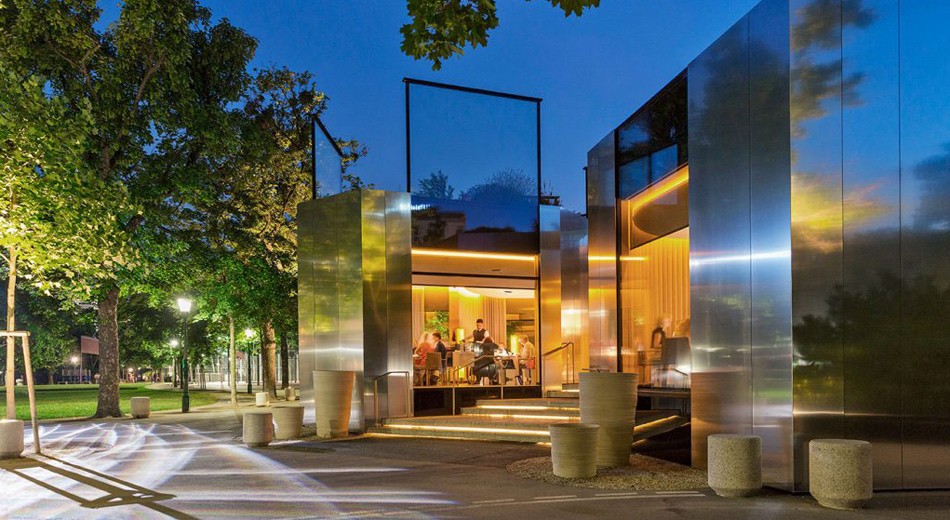 Restaurant Steirereck
Steirereck is one of the best restaurants in the world. The need for more internal space and the ever-increasing demands placed on this sector meant that a comprehensive re-formulation became necessary, despite renovations being completed only a few years before.
In 2012 there was an invited competition which aimed to find a solution. The high expectations of the clients, the Reitbauer family, are revealed by the contrasting pairs of words that were to describe the design. These words included "unique and elegant, timeless and innovative".
Heinz and Birgit Reitbauer are the chef and front of house doyenne respectively. While the restaurant has been in the family for generations, only under the couple's tenure has it become a byword for cutting-edge cooking rooted in the Styrian countryside. Chef Reitbauer is dedicated to agricultural research as well as cooking, hence the unusual ingredient sourcing. His wife oversees every detail of service, from the mouth-watering wine list to the sprawling cheese offering, with precision and grace. She and her team's attention to detail, unflappable knowledge and genuine warmth also earn Steirereck the Gin Mare Art of Hospitality Award 2021.
13. Don Julio (Buenos Aires, Argentina)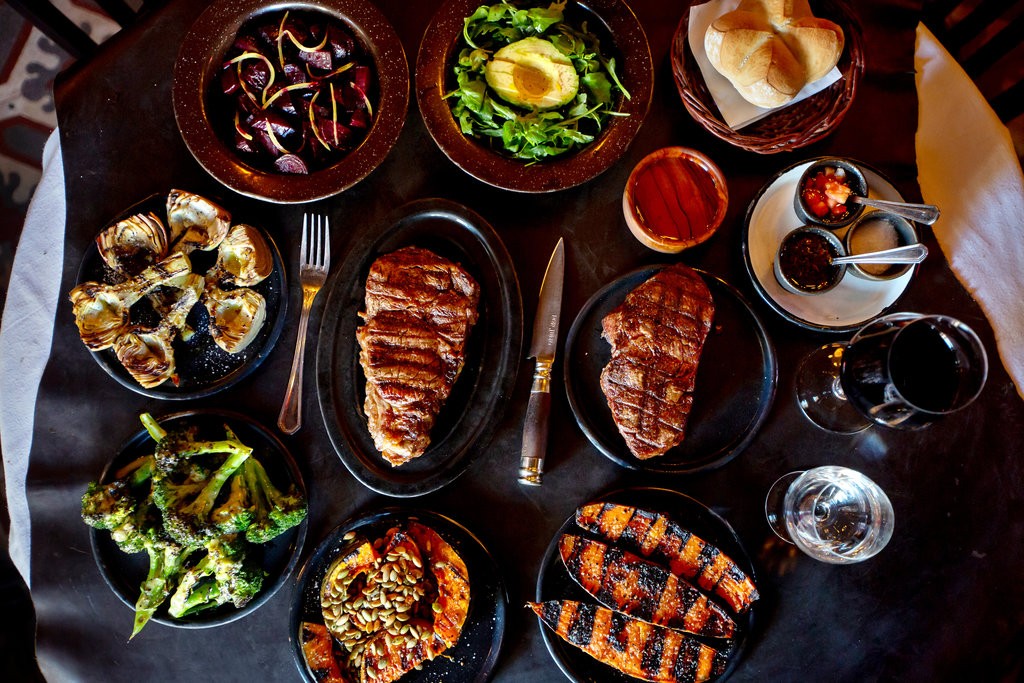 Photo: The New York Times
It was a precocious 20-year-old Pablo Rivero who threw the few savings he had, along with backing from his grandmother and father, into a humble parrilla (steakhouse) that opened in a sketchy Buenos Aires 'hood shortly before Argentina's most devastating economic crisis unleashed its turmoil in 2001.
Today, Parrilla Don Julio tops the bucket list of almost every visitor to the Argentine capital, a restaurant frequented by porteños and tourists alike, the one steak you absolutely must eat when in town, and a name that's become synonymous with Buenos Aires. Yet, 20 years ago, its first diners were neighbourhood locals keen to devour a decent steak and chips (and many remain faithful patrons today), and it probably didn't cross Rivero's mind that Don Julio would mark two decades in the business, never mind be crowned number one in Latin America's 50 Best Restaurants in this most complex of years, 2020.
Family is key to the Don Julio narrative, the Buenos Aires establishment that has become the first non-Peruvian establishment since 2013 to take the top spot in the regional awards. It's an accolade that should be celebrated, given that 'steakhouses' aren't usually the recipients of the big prizes. The Don Julio story runs deeper than that – and is an integral element of Argentine culture and heritage.
Restaurateur and sommelier Rivero says: "Our mission has been the same from the beginning: placing value on our traditions and culture. There's a family behind Don Julio, a family originating from Rosario in the middle of Argentina who laid down roots in Buenos Aires. A butcher and livestock producer for a grandfather, a livestock-producing father, and a son who needed to forge a future, joined forces, bringing their ambitions and relevant experiences to the table, to ensure that I could have a parrilla using the beef we raised." For many years his mother Graciela managed the till while dad Enrique sourced products from around Argentina: Enrique's most recent find was goat kid sweetbreads.
Located on a sunny corner with a bevelled entrance, a classic architectural style in Argentina, in pre-Coronavirus times hungry punters would curve around the ruddy façade, eager to consume off-the-menu entraña (skirt steak) washed down with a bottle of fruity Malbec. Don Julio's popularity knows no bounds. While grass-fed beef was the original key to the parrilla's success (that, paired with one of Buenos Aires' finest wine cellars rigorously selected by Rivero), the goalposts started shifting around 2012, and Don Julio started to take on a new dimension.
14. Mugaritz (San Sebastian, Spain)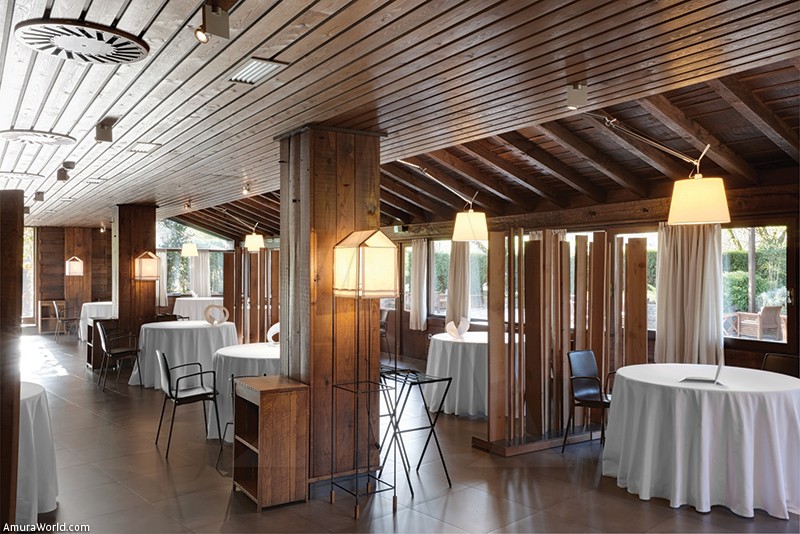 Amura Yachts & Lifestyle
Mugaritz is playful, avant garde and highly innovative. It's a creative dining experience developed by chef Andoni Luis Aduriz aimed to open minds; Aduriz freely admits that not all of his plates are designed to be enjoyed by diners – a gelatinous pork tendon arriving mid-way through the experience is a case in point. Dishes on the 20-to-30-course menu – which change throughout its eight-month season – bear emotive names such as How Long a Kiss Lasts or Depends On How I Look At It.
Expect the unexpected: Mugaritz is not for the faint-hearted. Drawing from a rich tapestry of Basque ingredients, Aduriz turns them on their head to serve crab upon a frozen tongue, raw pork heart or bellota ham plated on musical dishware that's perfectly timed so all diners eat and orchestrate together.
15. Lido 84 (Gardone Riviera, Italy)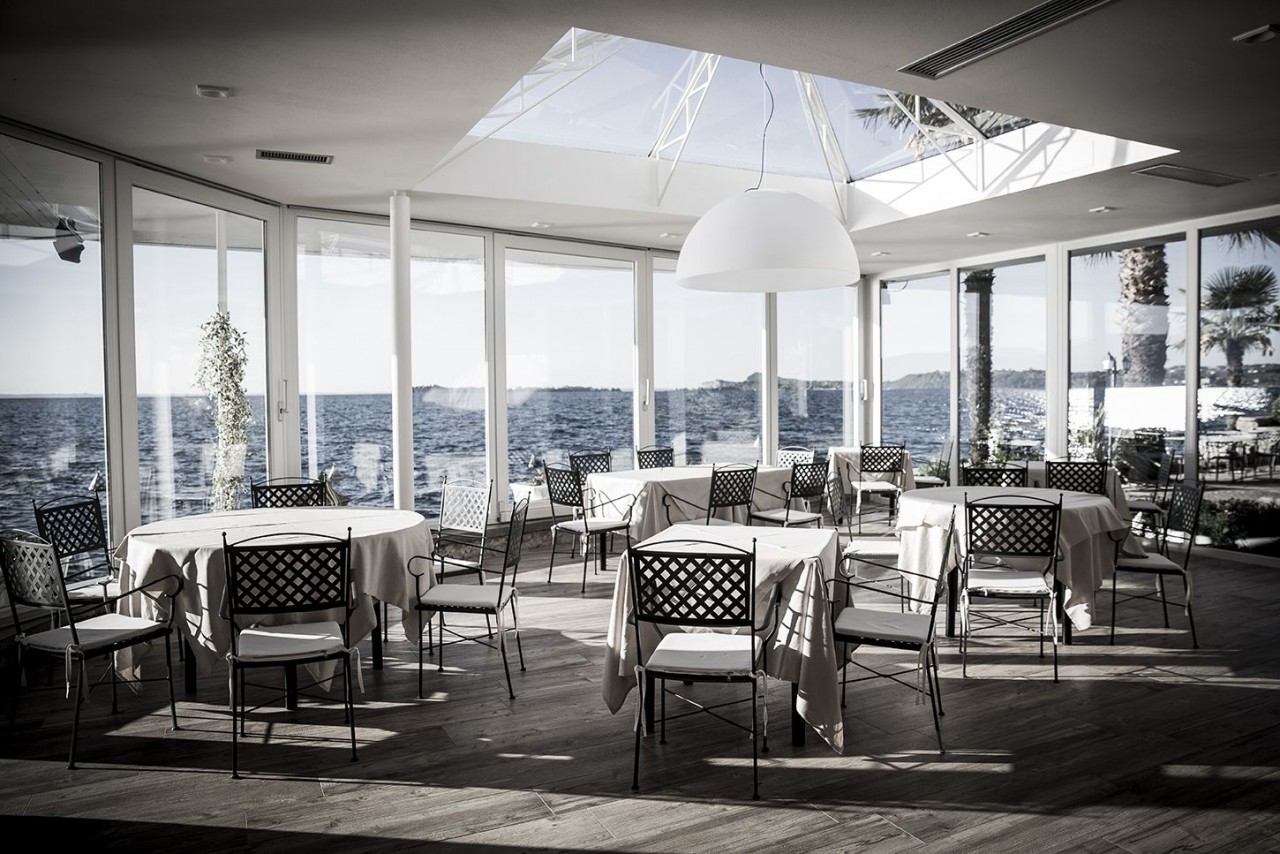 Photo: Pinterest
Lido 84 was opened by Riccardo Camanini and his brother Giancarlo in March 2014. Just six months later, it was awarded a Michelin star, and today it's one of the most well-respected restaurants in the country.
The building was originally an outdoor swimming pool (or lido), and Riccardo has made sure its heritage has been kept intact, with the exterior looking much the same as it always has. Inside, however, the dining room is an homage to 1960s art deco, the Italian film actor Riccardo Fellini and the colours of Lake Garda. The restaurant sits right on the lake's shoreline, in the town of Gardone Riviera, with incredible views out onto the water with views of La Rocca di Manerba, an old castle and natural park.
Inside, Lido 84 feels intimate, open and relaxed, where art deco style meets the natural hues of the surrounding countryside. But those dining in the veranda are treated to a panoramic view of the lake thanks to the wall-to-ceiling glass panels, which is particularly special during sunset.
There is a huge emphasis on education and transparency at Lido 84, and Riccardo ensures all of his chefs spend no more than two months at each station. Chefs also bring dishes out into the dining room, in a bid to break down the boundaries between the kitchen and front of house. There are usually around nine chefs and four waiters, but everyone is a fully paid member of the team; Riccardo doesn't believe in internships as he thinks someone has to be with a business for at least two years before they understand it.
Diners have the choice between an à la carte, a six-course tasting menu and a more experimental seven-course tasting menu called 'Oscillazione' ('Oscillation') which features some more unusual dishes. Many dishes have a sense of theatre to them, with the chefs finishing them off table-side, and aim to perfectly capture the flavours of the local area. Seasonality and sustainability are at the heart of everything, with Riccardo using fish from the lake, foraging unique herbs and even making the most of the cedar trees which grow around the restaurant.
Top 15 Best Space Movies of All Time

Science fiction has always addressed the big questions surrounding the nature of life, what it means to be human, and what being alone in the ...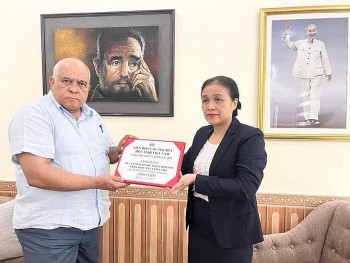 Focus
According to Cuba's News Agency Prensa Latina, on August 16, President of Vietnam Union of Friendship Organizations Nguyen Phuong Nga said that Vietnamese people will always stand by and support Cuba no matter what difficulties our friend is facing.