9 Vietnamese peacekeeping officers complete duties in Africa
9 officers on March 12 returned Vietnam as they have terminated their peacekeeping duties in Africa after a prolonged stay due to the COVID-19 pandemic.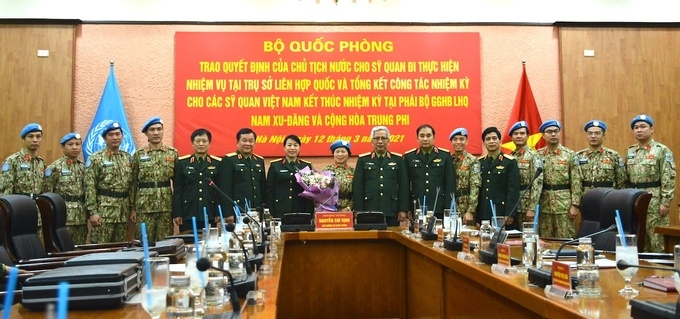 The 9 peacekeeping officers taking photo with leaders of the Ministry of National Defense (Photo: VNE)
"All 9 officers have had an excellent performance, some are even exceptionally excellent. Leaders of the Peacekeeping Mission have sent a letter of merit to credit their contribution", Major General Hoang Kim Phung, Director of the Vietnam Peacekeeping Department was quoted by VNE.
Phung said the 2019-2020 term was a memorable one for all Vietnamese officers. The complicated development of COVID-19 in the Central Central African Republic and South Sudan has brought along certain difficulties in force rotation. Many Vietnamese officers had their working terms extended, (from 2 – 10 months longer than scheduled).
"UN force members had to work in difficult living conditions, facing high transmission risk and poor treatment conditions, which put many officers under stress and more serious psychological issues", Lieutenant Colonel Le Ngoc Son, one representative from the United Nations Peacekeeping Mission in South Sudan (UNMISS), told VNE.
"Through the hardship, we could see that Vietnamese officers' experience and awareness are as strong as international counterparts. I hope other officers could not just keep up but lift this spirit in the coming time", Lieutenant General Nguyen Chi Vinh, Deputy Minister of National Defense, expressed his joy.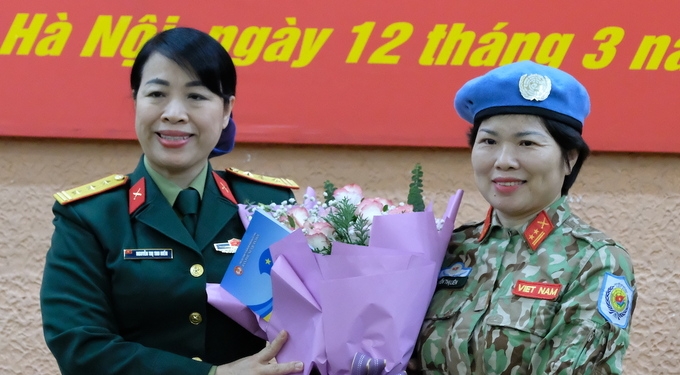 Lieutenant Colonel Nguyen Thi Lien received flowers from Senior Lieutenant Colonel Nguyen Thi Thu Hien, Deputy Head of the Women's Military Commission on the morning of March 12. (Photo: VNE)
Meanwhile, on March 12, Lieutenant Colonel Tran Duc Huong received the President's decision to go on a peacekeeping mission at the United Nations headquarters (New York) on the morning of March 12.
Senior Lieutenant General Nguyen Chi Vinh, Deputy Minister of National Defense, handed the President's decision to Lieutenant Colonel Tran Duc Huong for a two-year tenure (2021-2023) mission at the United Nations headquarters.
Vinh said, the Government has prepared for training and application for positions at the United Nations since 1995, but after 25 years since then, no one has been admitted to work there. So, he was delighted to have three Vietnamese officers recruited into the United Nations headquarters. "When there are officers at the staff center of UN, the country's position will be raised, we will also have enough information to timely deploy troops participating in United Nations peacekeeping mission in the coming times", Vinh said.
Huong used to work at the UN Peacekeeping Mission for 2 terms. Therefore, according to Vinh, Huong needs to be promoted to work at the UN headquarters. "Why can't the mission leader be a Vietnamese? We need to have that kind of ambition and determination," Vinh stressed.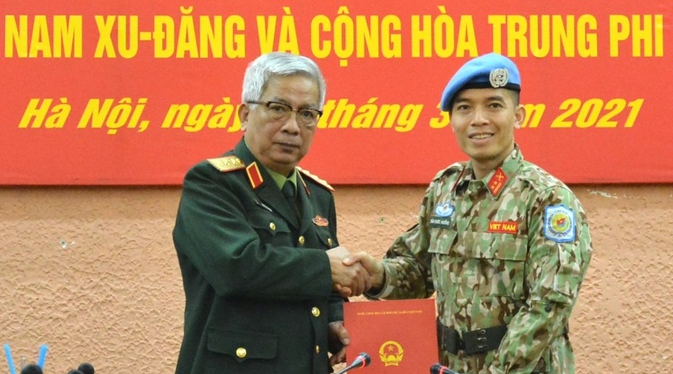 Lieutenant General Nguyen Chi Vinh (L), Deputy Minister of National Defense, handed the President's decision to Lieutenant Colonel Tran Duc Huong (R). (Photo: VN Express)
Huong's main tasks include building and deploying military plans for peacekeeping missions and missions on function, editing and adjusting strategy statements, predictions, operational plans, and combat conventions.
He will also be in charge of strategy and campaign consulting on military issues, especially on adjusting payroll organization of functioning missions, about-to-established missions, or closed missions. Besides, his job includes supervising the payroll organization, equipment, and capacity for military forces and military units, preparing and participating in the visit to the survey, evaluate, visit pre-deploy, research military capacity.
Lieutenant Colonel Tran Duc Huong was recruited for the position of Planning Staff Officer, Military Planning Division, Department of Peace Operations, UN Headquarters in October 2020, after passing 3 rounds of application and examination, competed with about 200 applicants from UN member countries. This is the second officer of the Vietnam People's Army to be recruited at the UN headquarters in New York, after Lieutenant Colonel Luong Truong Vinh.
From June 2014 to December 2020, Vietnam sent 179 officers and employees of the Ministry of National Defense to work on UN mission of peacekeeping. In 2020, the Vietnam Peacekeeping Bureau has three officers who pass the tests to become employees at the UN policy-making agency in New York headquarters; military coordination and the Army of the Central African Republic in Central Africa.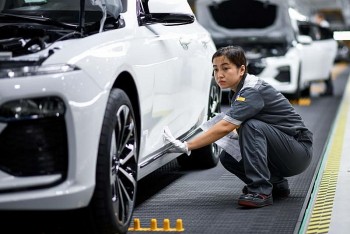 Economy
VinFast automaker will begin taking pre-orders for its VF e35 and e36 electric SUVs in the United States in the first half of 2022, with deliveries expected by the end of the year, said Global Chief Executive Michael Lohscheller.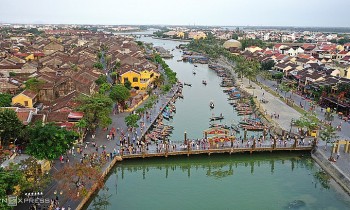 National
Vietnam News Today (October 16): Hanoi to host Vietnam-Singapore forum for senior energy industry leaders; Localities remove quarantine, testing regulations for tourists; "Living safely with Covid-19" requires flexible and effective adaptation; Vietnamese university listed in Times Higher Education's ranking by subjects.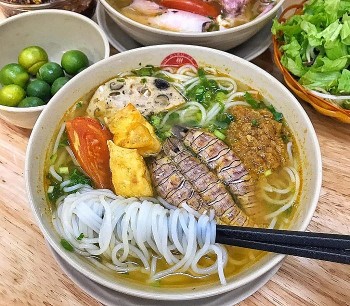 Travel
Not only famous for its beautiful landscape and cultural spots, Quang Ninh is also a favourite destination for food lovers for its diverse and impressive cuisine.