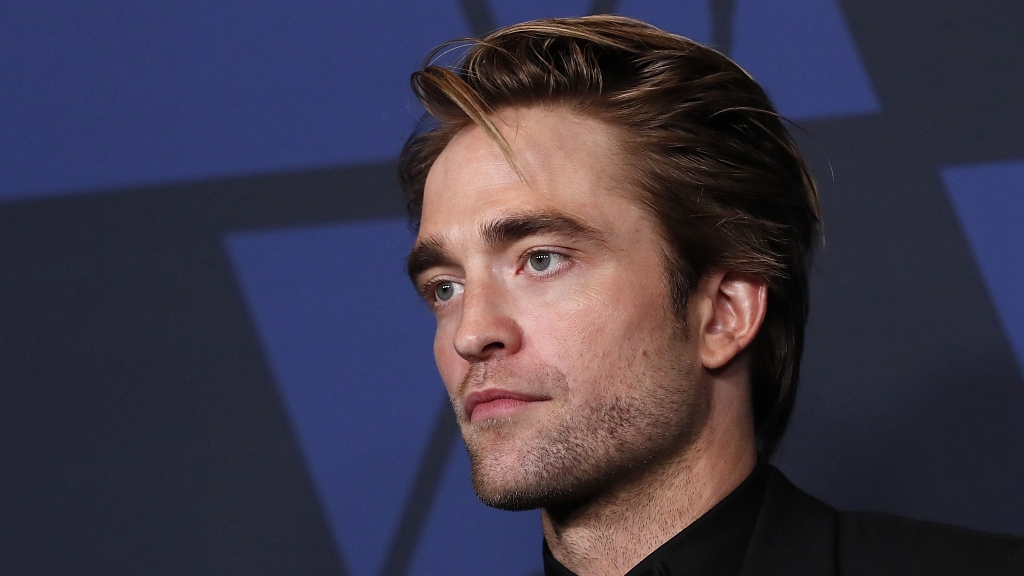 Robert Pattison is the latest celeb to contract nCoV (Photo: CGTN)
The New York Times on September 3 confirmed Robert Pattison has tested positive for COVID-19.
Earlier, a Warner Bros. spokesperson had announced: "A member of The Batman production has tested positive for COVID-19, and is isolating in accordance with established protocols. Filming is temporarily paused."
Although the studio did not name the person who contracted the virus, sources had earlier named Pattinson to multiple outlets, including Vanity Fair, which was first to report the news.
Filming on the latest reboot for DC's Caped Crusader began earlier this year but was first stalled in March amid the outbreak.
Pattinson, 34, then began quarantining in a London apartment paid for by the movie studio.
Hollywood has only resumed production of movies and TV shows in the past few weeks after struggling to accommodate complex safety procedures, testing, and social distancing on film sets that employ dozens of crew, make-up artists, actors, extras and other production staff.
Rocketing to household name-status as the brooding vampire Edward Cullen in the Twilight film series, actor Robert boasts an esteemed career, according to Mirror.
His role as Bruce Wayne and his nightcrawling, crime-fighting alter ego marks a return to bigger, Blockbuster style films after a string of artier, smaller scale flicks.
The Batman also stars Andy Serkis as Bruce's butler Alfred, Zoe Kravitz as Catwoman, Colin Farell as notorious gangster The Penguin, and Paul Dano as the question mark-obsessed Riddler.
Jeffrey Wright also co-stars as Commissioner Gordon, while John Turturro takes on the role of a crime boss.
The film is directed by Matt Reeves, renowned for his work on the Planet of the Apes franchise.
Long list of other celebrities who contract nCoV
Fame is no guarantee that COVID-19 won't affect you, with some of the world's most high-profile figures confirming they've battled the virus, ABC.net.au reported.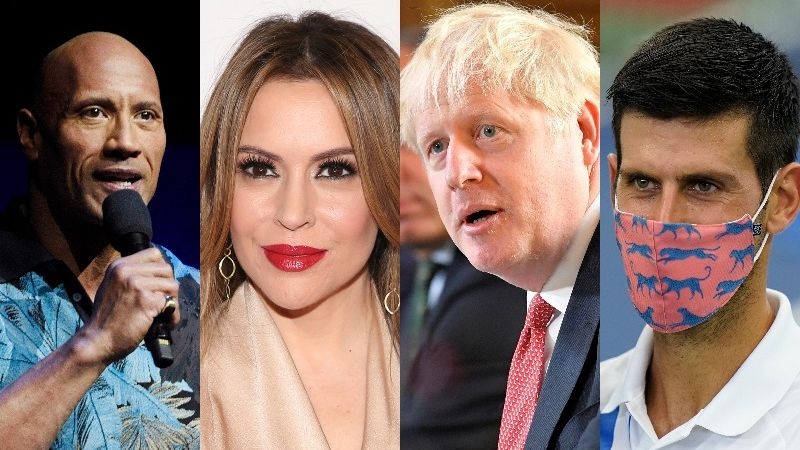 Dwayne Johnson, Alyssa Milano, Boris Johnson and Novak Djokovic are among dozens of celebrities, politicians and athletes who have tested positive for coronavirus. (Photo: Reuters/ AP)
Dwayne 'The Rock' Johnson
One of Hollywood's biggest names, Dwayne "The Rock" Johnson, took to social media to confirm he and his family had recovered after contracting COVID-19.
The 48-year-old, his wife Lauren and their two young daughters, aged 4 and 2, contracted the virus from close friends.
In a video posted online, the former wrestler says overcoming the virus was one of the most challenging things his family had been through.
"I wish it was only me who tested positive, but it wasn't," he said in the video.
He urged people to follow health advice and wear masks.
Neymar
Brazillian football superstar Neymar tested positive for coronavirus this week after returning from a holiday at the Spanish island of Ibiza.
His father and nine-year-old son were also infected.
Brazilian media reported the Paris Saint-Germain striker cut short his trip and returned to the French capital on Sunday after feeling unwell.
He's one of a number of PSG players who have tested positive.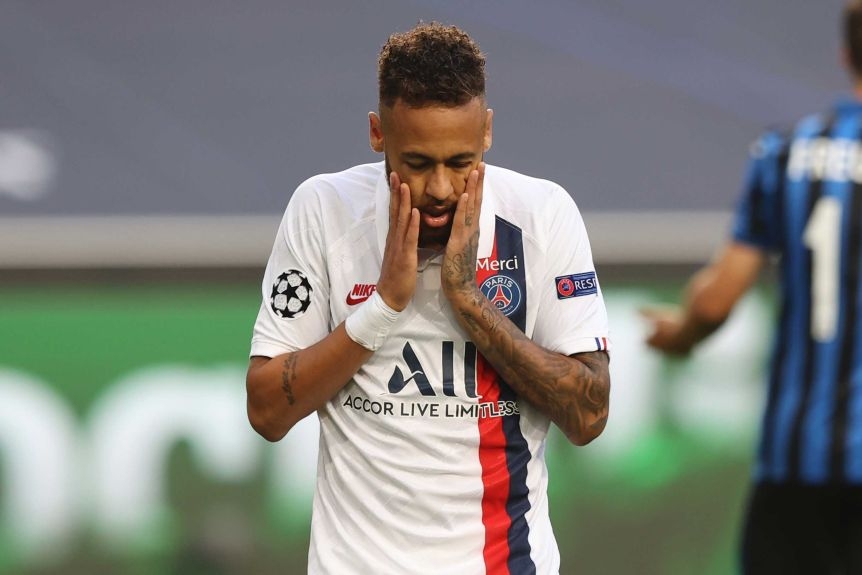 Brazillian football superstar Neymar tested positive for coronavirus this week after returning from a holiday at the Spanish island of Ibiza (Photo: AP)
Alyssa Milano
The Charmed actor revealed on social media that she sought an antibody test after a series of negative initial tests, which came back positive last month.
She said she first became unwell in March with severe symptoms, some of which lingered for weeks and even months.
"This illness is not a hoax," she shared on Instagram.
"I thought I was dying. It felt like I was dying."
Milano has kept fans updated on her recovery, sharing just this week that she's still experiencing heart palpitations and forgetting words.
Bryan Cranston
The Breaking Bad star revealed on social media in late July that he had recovered from COVID-19, urging people to wear masks.
The video posted to Instagram showed Cranston going through a plasma-donation session, something he decided to do after contracting the virus.
"I wanted to announce that I had COVID-19 a little while ago," he said.
"I count my blessings and urge you to keep wearing the damn mask, keep washing your hands, and stay socially distant."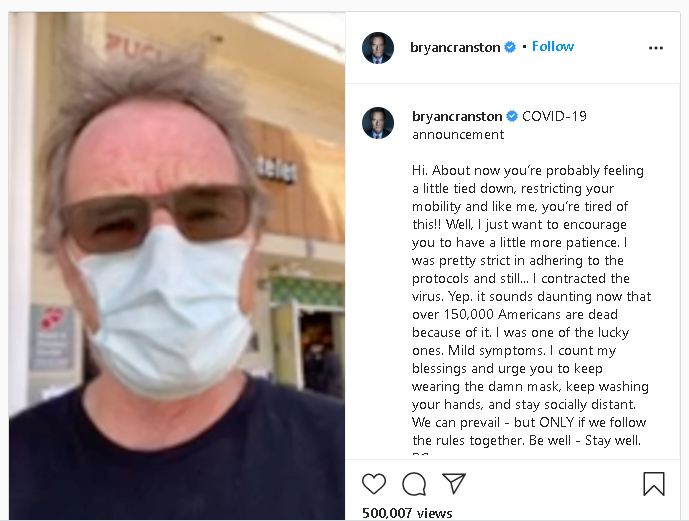 Bryan Cranston's Instagram post
Boris Johnson
The UK Prime Minister was hit hard by the virus, doing a stint in intensive care after first being admitted to hospital on April 5.
He was discharged a week later, and continued to recover at home before returning to work.
Mr Johnson recognised doctors and NHS staff in a video on Twitter shortly after his release from hospital, saying it was "hard to find words to express my debt".
"I can't thank them enough," Johnson said in his first public statement after he was moved out of intensive care. "I owe them my life."
The UK's Health Secretary Matt Hancock and Health Minister Nadine Dorries are among other British politicians to have tested positive for the virus.
P!nk
Pop star P!nk, real name Alecia Beth Moore, revealed on Instagram in April that she and her young son Jameson tested positive.
Both have recovered, and she took the opportunity to call on the US Government to make testing easier to access.
"This illness is serious and real," she wrote.
"People need to know that the illness affects the young and old, healthy and unhealthy, rich and poor, and we must make testing free and more widely accessible to protect our children, our families, our friends and our communities."
Jasmine Le