Best-Selling Albums of 2021
Morgan Wallen's Dangerous: The Double Album continues to sell the most in 2021, thanks to strong streaming and physical sales.
Morgan Wallen's Dangerous: The Double Album is expected to be the best-selling album of 2021, according to Hits Daily Double, with 3.2 million copies sold. Dangerous: The Double Album has sold 2.8 million copies worldwide. However, Adele's 30 is set to be a popular Black Friday and Christmas gift stuffer.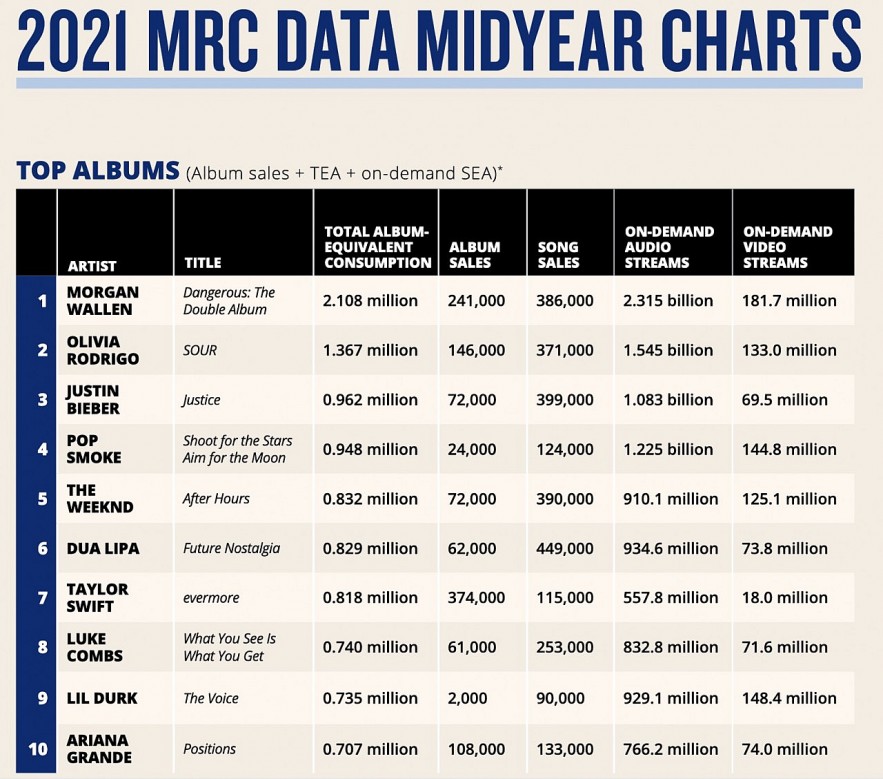 MRC Data. Photo: Digital Music News
Morgan Wallen | Dangerous: The Double Album – 2,820,000 sales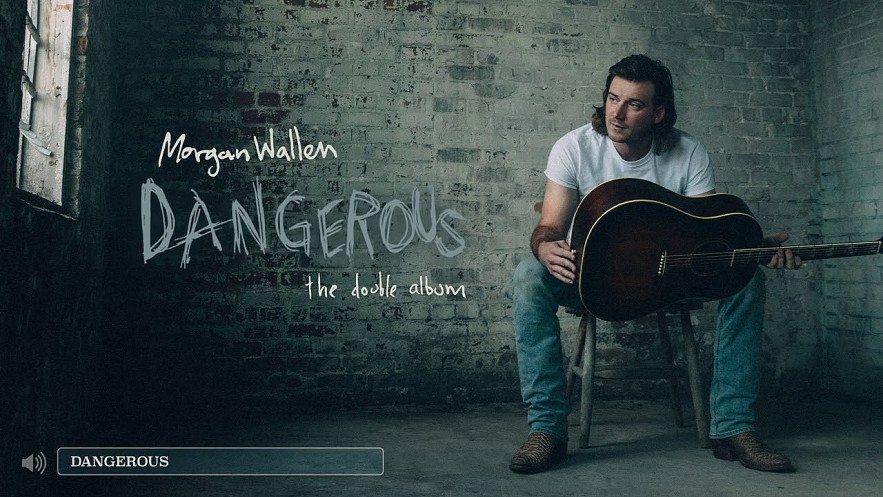 Morgan Wallen | Dangerous: The Double Album. Photo: Billboard
Morgan Wallen's album sales outperformed the competition for the most part. According to the total, Wallen's Dangerous: The Double Album earned 2.108 million album-equivalent sales, which are derived from on-demand music streams, YouTube video views, physical and digital album sales, and other formats like as song downloads. That total easily outsold second-place finisher, Olivia Rodrigo, by 740,000 units (MRC estimates Rodrigo's SOUR sold 1.367 million album-equivalent units in the first half).
Olivia Rodrigo | Sour – 2,448,000 sales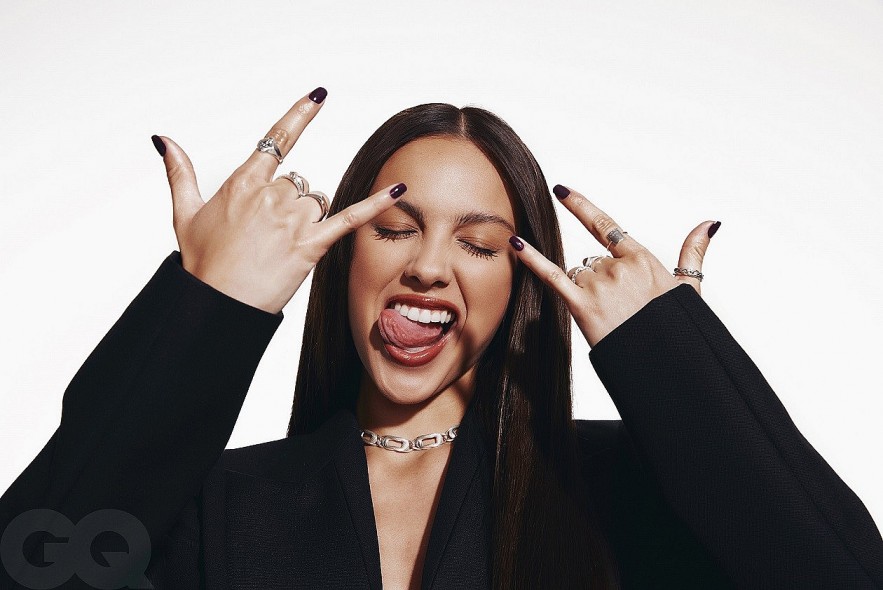 Olivia Rodrigo. Photo: GQ
Olivia Rodrigo hasn't made much headway with her new apartment's decoration, but she did manage to put one valued piece of artwork in her bedroom. A single printed-out tweet hangs ceremoniously inside a white frame. Her first track, "Drivers License," a melancholy and lyrical ballad about adolescent heartbreak, was released in January and quickly gained traction on TikTok before becoming a cultural phenomenon. In May, she followed it up with Sour, her debut album, a genre-defying series of poetic breakup ballads, each one more pointed than the previous. The specific and adolescent became suddenly universal: Sour smashed streaming records and ruled the charts while receiving rave reviews from reviewers. It had a significant cross-generational appeal, attracting a large number of listeners who were statistically more likely to be suffering from everyday back pain than adolescent yearning.
Drake | Certified Lover Boy – 1,516,000 sales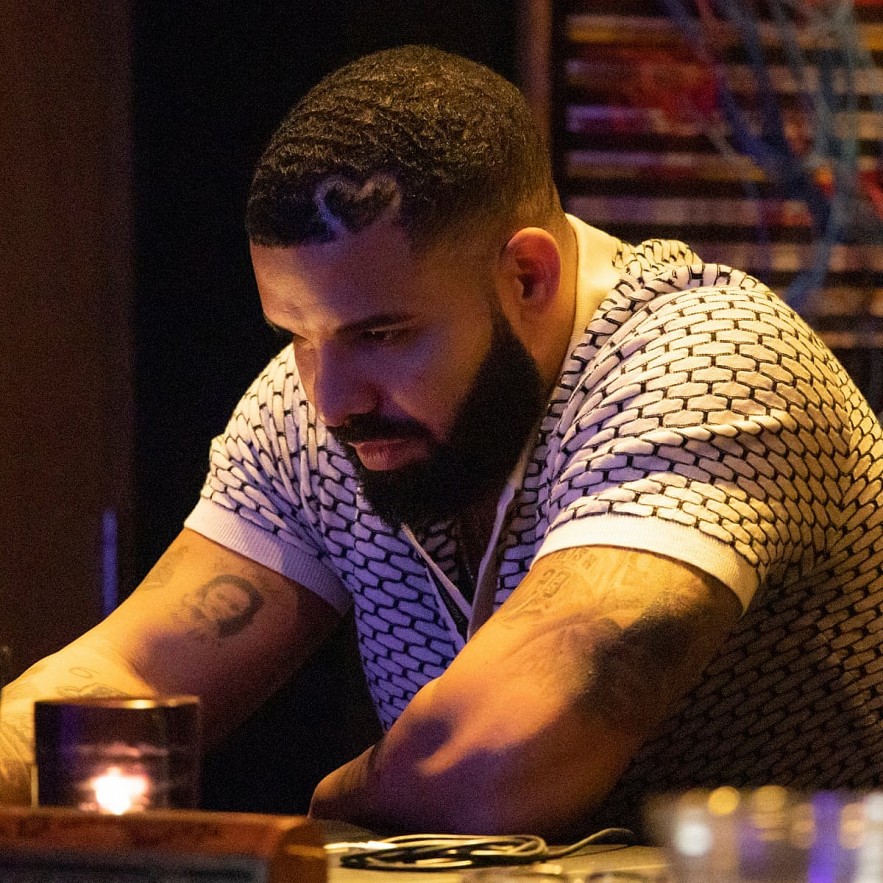 Drake | Certified Lover Boy. Photo:
Certified Lover Boy, a 21-track, 90-minute dive through Drake's tormented psyche, follows on the heels of vacuous monolith Donda from Drake's current beefing partner, Kanye West. It finds him locked between sad boi solipsism, meme-able sloganeering, and requests for respect, just as his previous album, 2018's uneven Scorpion, according to the Guardian.
Pop Smoke | Shoot for the Stars Aim for the Moon – 1,349,000 sales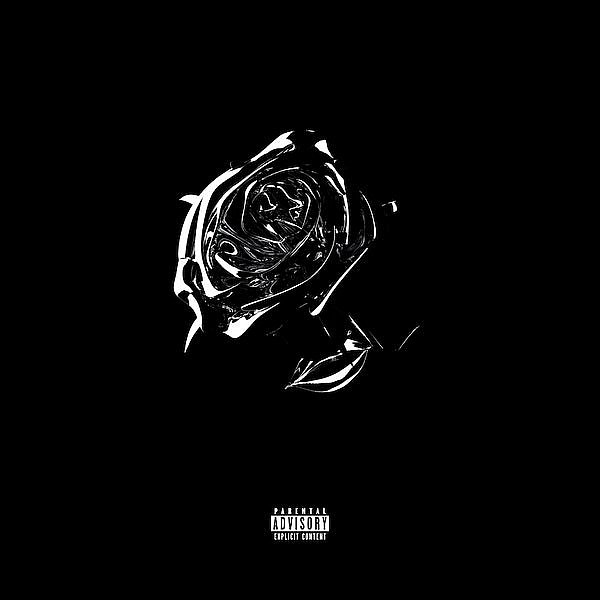 Pop Smoke | Shoot for the Stars Aim for the Moon album cover.
Shoot for the Stars Aim for the Moon, Pop Smoke's debut album, released posthumously, attempts to cement his legacy by expanding his world. It's large, polished, versatile, feature-packed, and loaded with radio and playlist-friendly singles, and it's executive produced by his would-be mentor 50 Cent. It's the kind of record that will raise streaming numbers, but it's the polar opposite of what made Pop Smoke so compelling in the first place. It felt like the airwaves had been hacked when "Welcome to the Party" and "Dior" first started playing on the radio. This Canarsie rapper with the massive voice, shouting on terrifying UKdrill sounds, couldn't possibly be sandwiched between Drake and DaBaby, right? Nonetheless, he was there.
Justin Bieber | Justice – 1,306,000 sales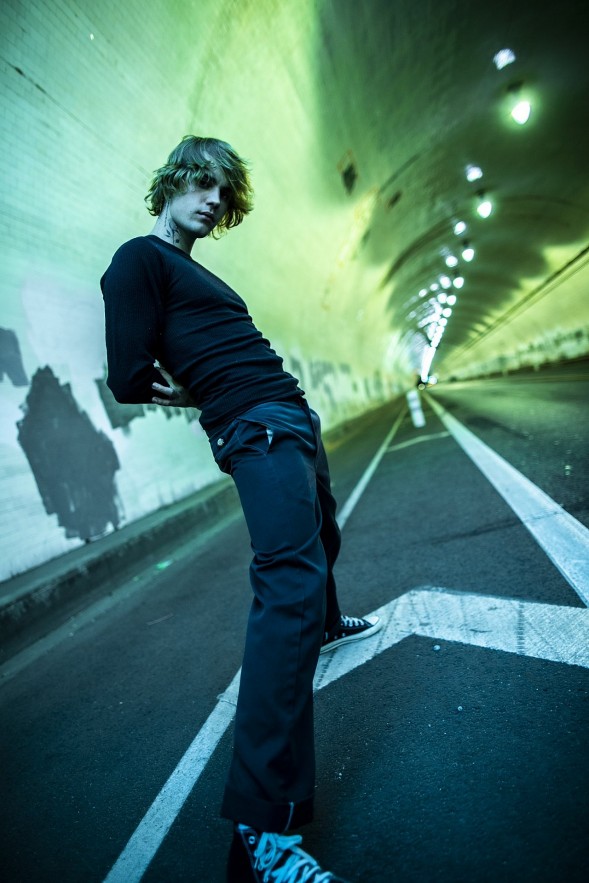 Justin Bieber - Justice. Photo: WonderlandMagazine
The singer has been hard at work releasing singles with the likes of Shawn Mendes, Chance the Rapper and Benny Blanco, all ahead of the release of his 6th studio album – JUSTICE – but it's his latest effort "Hold On" that's tickled our fancy, according to Wonderland Magazine. The touching pop song was written as a tribute to Bieber's loved ones, and the accompanying video, sorry, action-packed mini-film, is equally touching. The video depicts Justin robbing a bank to pay his partner's medical bills. It was directed by Colin Tilley, a longtime Bieber collaborator who worked with the artist on the cinematic productions for "Holy" and "Anyone." With high-speed motorcycle chases, damaged windows, flying bullets, and plenty of flashing lights, the action gradually builds to a heart-stopping conclusion... However, you'll have to keep an eye out to see what we're talking about.
The Kid Laroi | F*ck Love – 1,288,000 sales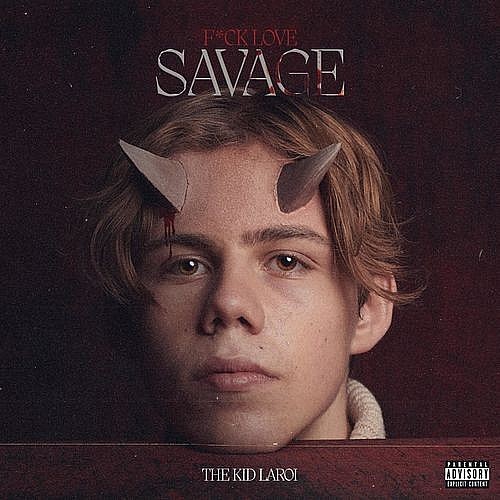 The Kid Laroi | F*ck Love album cover. Photo: Deezer
The Kid LAROI, an Australian-born singer and rapper presently located in Los Angeles, has done it again. The Kid LAROI is circling back with a digital repack following the release of his debut project F*CK LOVE, which debuted in the top 10 of Billboard's 200 chart this past summer. LAROI has matured throughout the last year, now narrating from a different space and perspective in SAVAGE, after first handling love and loss.
Dua Lipa | Future Nostalgia – 1,246,000 sales
Photo: Youtube
Dua Lipa was so eager for her music to be heard after her previous top-charting single "Don't Start Now" that she released her album Future Nostalgia two weeks early. This album is heavily influenced by pop-funk culture, with a dash of disco thrown in for good measure. Lipa believes that she and her professional producers enjoy 80s music and 90s club culture, and that this devotion inspired the birth of Future Nostalgia. The title of the first song on the track is "Future Nostalgia," which is also the title of the album. The background beats feel as if they were plucked from a future and forward-thinking film scenario. The goal of this song was to be lighthearted and entertaining, and that is exactly what this pop artist has achieved. "You want a classic song, I want to shake things up, like modern architecture, John Lautner is on his way," according to The Central Trend.
The Weeknd | After Hours – 1,175,000 sales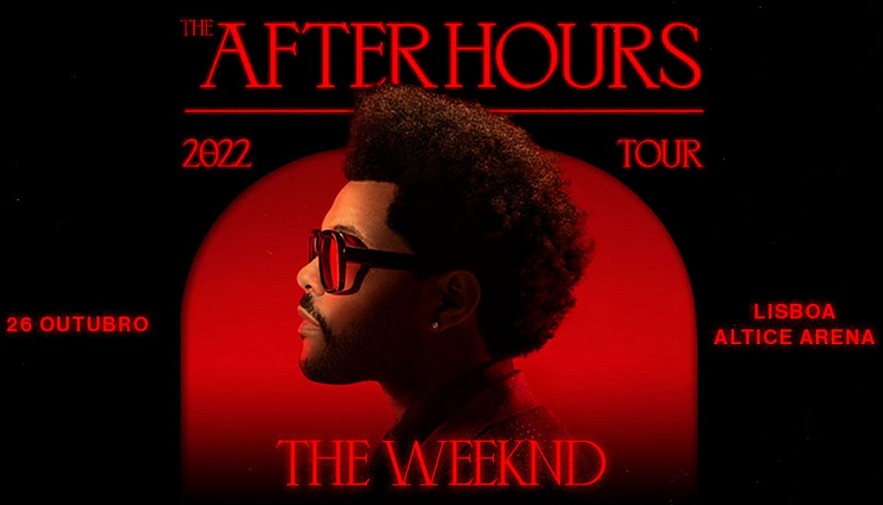 Photo: Festicket.com
The Weeknd's latest album, in many ways, heralds the start of a new era. With a futuristic sound yet a familiar R&B feel, "After Hours" pulls back the early optimism of fame. The album conveys an aural and lyrical examination of loneliness, in addition to his characteristically laid-back synths. It expresses dissatisfaction with The Weeknd's current lifestyle and departs from his previous songs like "I Feel It Coming" and "Can't Feel My Face," which featured a more carefree falsetto.
The Weeknd frequently returns to the superficial parts of life in his music, such as wealth, sex, and drugs, which provide instant gratification and do not involve feeling. "I was running away from facin' reality, uh / Wastin' all of my time outliving my fantasies / Spendin' money to compensate, compensate," he sings in "After Hours." In other words, he does not appear to have a specific message for his audience, but rather appears to just want to convey his feelings. And, while The Weeknd's latest album is more overtly about this kind of empty pleasure, it's not a new concept for him.
Luke Combs | What You See Is What You Get – 1,135,000 sales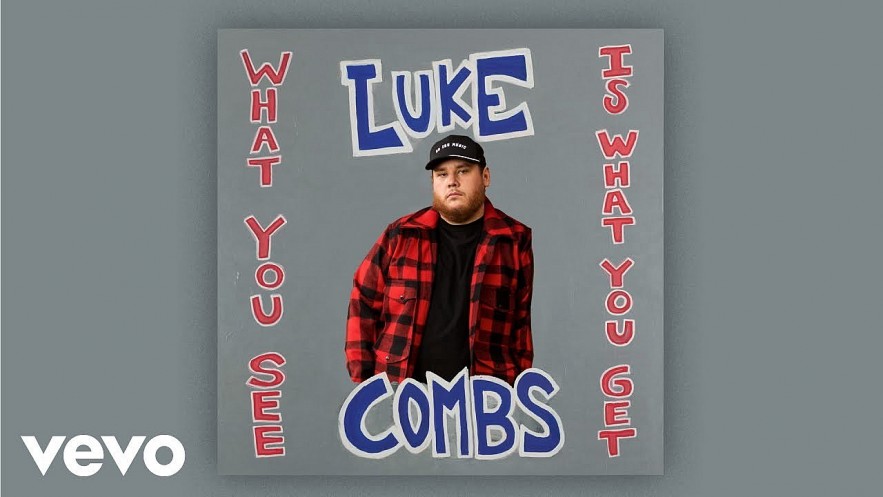 What You See Is What You Get Album Art. Photo: Vevo
Luke Combs is about to release one of the year's most anticipated albums, and in addition to releasing another boot-stomping, beer-slamming duet with Brooks & Dunn this afternoon, Luke also unveiled the album's title and cover artwork.
You get exactly what you see. will include 17 tracks, including "1,2 Many" as well as the five tunes from Luke's The Prequel EP. Luke came to Instagram this afternoon to discuss his artwork selection and why he chose Nashville artist Rob Hendon to create the cover.
Leave a comment for VietnamTimes if you have a song that has been stuck in your brain throughout quarantine in 2021.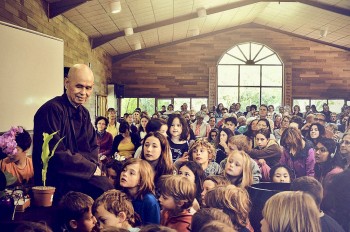 Viet's Home
The master of meditation "passed away peacefully" at the Tu Hieu Temple in Hue – where his spiritual journey began and Vietnam's Buddhist heartland, the Plum Village Community of Engaged Buddhism said.