Celebrating 10 Years of Berlin's Only German-Vietnamese Bilingual Kindergarten
Recently, the German-Vietnamese bilingual kindergarten named An der alten Kastanie (Under the old chestnut) in Berlin celebrated its 10th anniversary.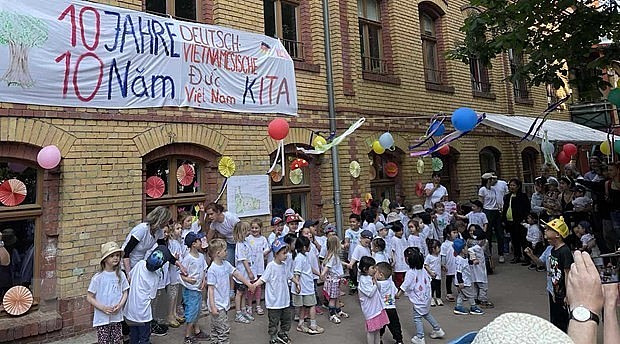 German-Vietnamese bilingual kindergarten named An der alten Kastanie (Under the old chestnut) in Berlin. Photo: VNA
This is the first German-Vietnamese bilingual kindergarten model and is considered the only one today in Germany to help children (whose parents of Vietnamese origin) born and raised in Germany to learn Vietnamese, preserving culture and bond with families and homeland of Vietnam.
Attending the event were Minister Counselor of the Embassy of Vietnam in Germany Chu Tuan Duc, Phan Quang Van, first secretary in charge of educational cooperation and management of overseas students, kindergarten leaders, teachers and students studying at the school.
Speaking at the ceremony, the school's representative reviewed the journey of formation and development with the efforts of all teachers and students.The kindergarten received the support of parents, including many Vietnamese and people of Vietnamese origin.
Stemming from the idea of preserving Vietnamese for children in the Lichtenberg district, where there are many Vietnamese in Berlin, the school was established, quickly becoming a trusted and favorite address of many parents who want to send their children to school.
On this occasion, the school also sent its gratitude to all the teachers as well as ABW company who supported since the early days of establishment.
On behalf of the Embassy, Minister Counselor Chu Tuan Duc congratulated the kindergarten on its journey of sustainable development with positive results. Besides helping children of Vietnamese origin to integrate into German society, the kindergarten also helped them retain their Vietnamese cultural identity, contributing to the enhancement of socio-cultural diversity.
For the Vietnamese community, parents are also happy and supportive of sending their children to kindergarten. This place helped them maintain Vietnamese language and preserve their cultural identity. The children could also talk in Vietnamese with their parents at home as well as communicate with their relatives in Vietnam.
The kindergarten An der alten Kastanie (Under the old chestnut) is located in an area where most foreigners live, most of the children attending here have Vietnamese parents. Therefore, the school's activities are mainly multicultural oriented combining German-Vietnamese bilingual education. The mission of the school is to support children to develop their self-assessment ability and a passion for life.