Difference among Southest Asia countries's Covid vaccination strategies
Southes Asia countries come up with difference strategies with Covid vaccination, since AstraZeneca, Pfizer-BioNTech, Moderna, Sputnik V and Sinovac have been accepted in the region.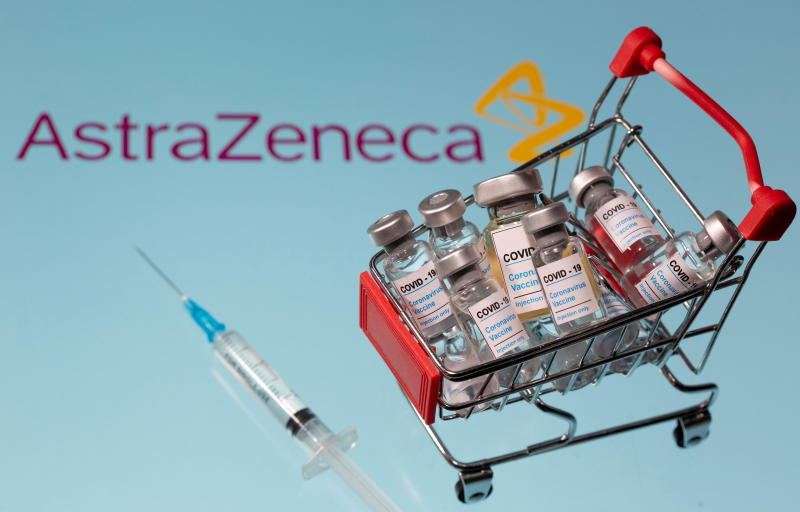 A small shopping basket filled with vials labeled "Covid-19 - Coronavirus Vaccine" and a medical syringe are placed on a AstraZeneca logo in this illustration taken Nov 29, 2020. (Reuters)
In the race to immunize people against the coronavirus, Singapore has pulled ahead of its neighbors to become the first in Southeast Asia to start an official Covid-19 vaccination program.
The city-state began inoculating healthcare workers on Dec. 30, when it gave shots to 40 staff from its national infectious diseases center.
Indonesia, which was the first in the region to receive a vaccine shipment, needs to wait for more data before approving China's Sinovac Biotech Ltd. shots for use. Southeast Asia's biggest and most populous economy has announced multiple agreements to receive potential vaccines as the nation fights the region's worst coronavirus outbreak.
Philipines
The Philippines received its first batch of COVID-19 vaccine Sunday, among the last in Southeast Asia to secure the critical doses despite having the second-highest number of coronavirus infections and deaths in the hard-hit region.
A Chinese military transport aircraft carrying 600,000 doses of vaccine donated by China arrived in an air base in the capital. President Rodrigo Duterte and top Cabinet officials expressed relief and thanked Beijing for the the vaccine from China-based Sinovac Biotech Ltd. in a televised ceremony, according to CTV News.
"COVID-19 vaccines should be treated as a global public good and made available to all, rich and poor alike," Duterte said, warning that "no one is safe until everyone is safe."
Aside from the donated Sinovac vaccine, the government has separately ordered 25 million doses from the China-based company. Health Secretary Francisco Duque III said the delivery of an initial 525,600 doses of AstraZeneca's vaccine that was initially scheduled for Monday would be delayed by a week due to supply problems.
The Philippines has reported more than 576,000 infections, including 12,318 deaths, the second-highest totals in Southeast Asia after Indonesia. Lockdowns and quarantine restrictions have set back Manila's economy in one of the worst recessions in the region and sparked unemployment and hunger.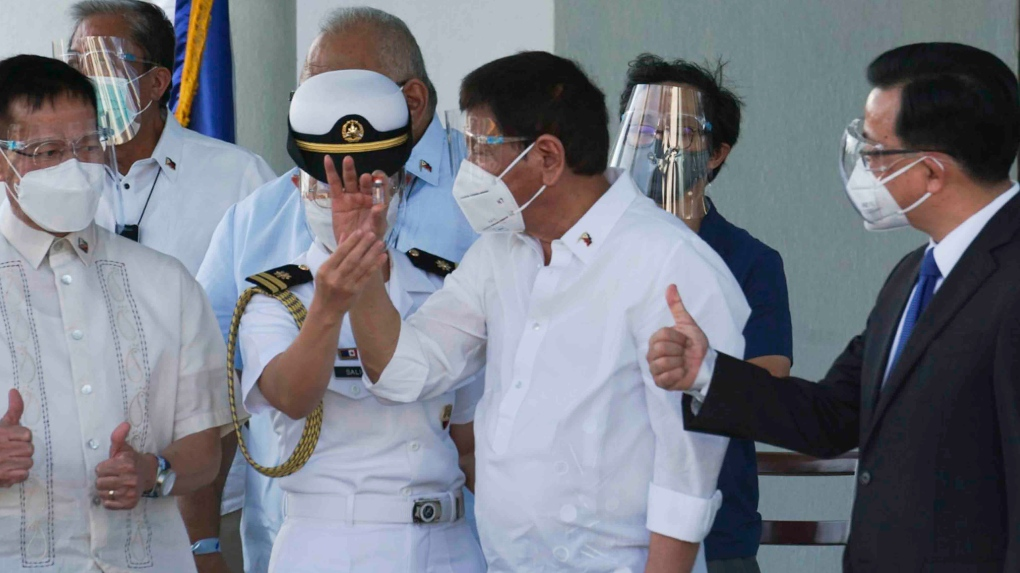 In this photo provided by the Presidential Communications Operations Office-Office of the Global Media Public Affairs, Philippine President Rodrigo Duterte, center, holds a vial containing the Sinovac vaccine from China as it arrives at the Villamor Air Base in Manila, Philippines on Sunday Feb. 28, 2021. (PCOO-OGMPA via AP)
Thailand
Thailand wants to inoculate about 50% of its population by next year. It plans to get 26 million doses from the World Health Organization-backed Covax program, 26 million from AstraZeneca, and 13 million more from other sources, providing immunity to more than 30 million people. Not wanting to rely solely on inoculations from abroad, Thailand is also developing its own anti-coronavirus shot.
An mRNA vaccine research project is set to start the first phase of clinical trials in April and the second phase in June. The vaccines may be available by end-2021 after receiving emergency-use authorization.
A DNA vaccine effort by Thailand-based BioNet-Asia is expected to start its first phase of human trials in Australia early 2021.
The country has said it plans to roll out 200,000 doses of Sinovac vaccines in February, 800,000 in March, and 1 million in April.
Thailand has an advance agreement with AstraZeneca to secure Covid-19 vaccines, which are expected to be distributed by mid-2021, the prime minister has said
The government expects 50,000 doses to arrive in February.
The government has ordered 61 million shots. The regulatory nod already given will also open the door for imports by private Thai companies for administering the doses to people who can afford to pay.
The country said early January it plans to roll out locally-produced AstraZeneca vaccines in May.
Under agreement with AstraZeneca, Siam Bioscience will produce vaccines at its facilities, and Thailand will receive technology transfer.
Malaysia
Malaysia is spending $504 million to buy enough shots to cover 26.5 million people, or about 80% of its population. It will start vaccinations from February, according to Prime Minister Muhyiddin Yassin. The government aims to get as many people inoculated within a year of getting the first batch of vaccines in February, Science Minister Khairy Jamaluddin said mid-January, according to CTV News.
The first phase of vaccinations, which will begin by end of February and last until April, will focus on inoculating 500,000 frontline workers, followed by the elderly and high-risk groups between April and August. The third leg will run from May through February 2022 for those aged 18 and above, the prime minister has said.
Pfizer vaccines will probably be administered to those in urban areas due to the need for ultra-cold storage, while AstraZeneca vaccines will be deployed to rural areas.
Malaysia has secured 12.8 million doses of the AstraZeneca vaccine through the Covax facility and directly, enough to inoculate 20% of the country's population, according to the government.
The country has secured 25 million doses of the Pfizer-BioNTech vaccine, enough to cover 39% of the population.
It has also signed agreements for 12 million doses of China's Sinovac and up to 6.4 million doses of Russia's Sputnik V vaccine.
Vietnam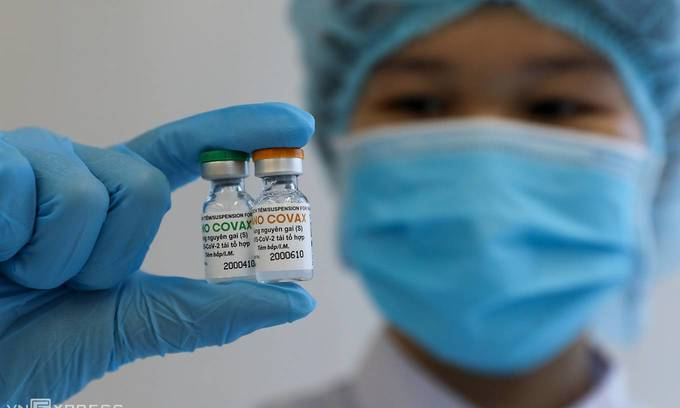 A medical worker holds up two vials of Nanocovax, a Vietnamese Covid-19 vaccine, on December 17, 2020. Photo by VnExpress/Giang Huy.
The country is working on developing vaccines and will work with suppliers when vaccines are available, according to a spokeswoman at the foreign affairs ministry.
Vietnam is in talks with Pfizer and other medicine manufacturers in the U.S., U.K., China and Russia on acquiring coronavirus shots, Tuoi Tre newspaper reported, citing health ministry officials, according to Bloomberg.
Vietnam on Dec. 17 started first-phase clinical trials of its coronavirus vaccine Nanocovax, developed by Vietnam's Nanogen Pharmaceutical Biotechnology, with production expected to start in 2022 if tests are successful.
Two other Vietnamese vaccine manufacturers will start human trials for their coronavirus shots in February and March.
Myanmar
Myanmar began inoculating its nearly 55 million population at the end of January. Before the military coup in early February, Aung San Suu Kyi's administration had said frontline health workers and key government officials would be prioritised in the first phase of vaccinations, to be followed by vulnerable groups such as those older than 65 years.
Myanmar kicked off vaccination for the general public on Feb 5, less than a week after the coup. Interim President Myint Swe and officials from all ministries with the rank of director or above were also inoculated, along with the elderly in townships with the highest infection rates, according to the health and sports ministry. Suu Kyi, who is under detention at her residence, was also vaccinated on Feb 6, according to her party officials.
Myanmar has vowed to inoculate 38.4 million people older than 18 by the end of this year.
The previous government had also been cooperating with GAVI, the vaccine alliance, to get shots for 20% of its population through the Covax facility. The Southeast Asian nation was also planning to allow the private sector to import World Health Organization-approved vaccines later this year.
Other than the AstraZeneca deal it has signed, Myanmar also expected vaccines from Chinese developers to arrive in early 2021, with some doses from the Covax facility expected before April 7.
Singapore
The city-state has set aside roughly S$1 billion ($750 million) for vaccines, tapping the likes of Arcturus Therapeutics Holdings Inc, Moderna, Pfizer and Sinovac for supplies. It estimates it should have enough for its around 5.5 million-strong population by the third quarter of 2021.
The city-state is prioritising healthcare workers, the elderly and those in jobs or settings where risk of a super-spreading event is high -- such as the construction, marine and process sector, including migrant workers. For the elderly, it began with seniors aged 70 and above.
Singapore aims to vaccinate the entire adult population, though this will be voluntary. Vaccines will be free for all Singaporeans and long-term residents. It is setting up vaccination centres across the island.
Singapore started vaccinations on Dec 30, 2020
Prime Minister Lee Hsien Loong got a first dose of the vaccine on Jan 8, making him the first member of cabinet to get the coronavirus vaccine shot
The government said more than 175,000 people have received their first dose of the Covid-19 vaccine as of Feb 2. Roughly 6,000 have received their second vaccine dose.
The city-state received its first shipment of the Pfizer-BioNTech vaccine on Dec 21.
Those who have received shots include staff working in healthcare, frontline and essential services, as well as staff and senior citizens in nursing homes. Some employees at the National Centre for Infectious Diseases have also received their second dose.
Pilot vaccinations for senior citizens started Jan 27.
Singapore granted interim authorisation in February for Moderna's Covid-19 vaccine to be used in the city-state. Moderna is the second vaccine to be authorised in Singapore
Singapore's Ministry of Health said that the country will roll out the Moderna vaccine for individuals aged 18 years and above when shipments of the vaccine arrive
If there are no disruptions to the schedule, the first shipment should arrive around March.
Arcturus and Singapore's Economic Development Board have entered into a supply agreement for the right to buy the ARCT-021 vaccine
Arcturus may ship the first batch of the Covid-19 vaccine it's developing with local scientists early 2021
Results so far show that the vaccine could be effective as a single dose, the Straits Times reported, citing a professor who co-developed the vaccine with Arcturus.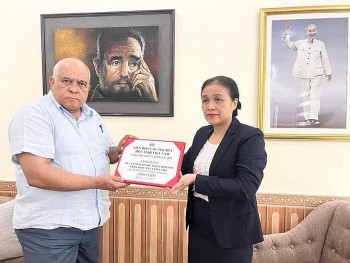 Focus
According to Cuba's News Agency Prensa Latina, on August 16, President of Vietnam Union of Friendship Organizations Nguyen Phuong Nga said that Vietnamese people will always stand by and support Cuba no matter what difficulties our friend is facing.