PM Nguyen Xuan Phuc meets medical workers ahead of Tet festival
Prime Minister Nguyen Xuan Phuc has described doctors and health workers as soldiers standing at the frontline in the fight against the COVID-19.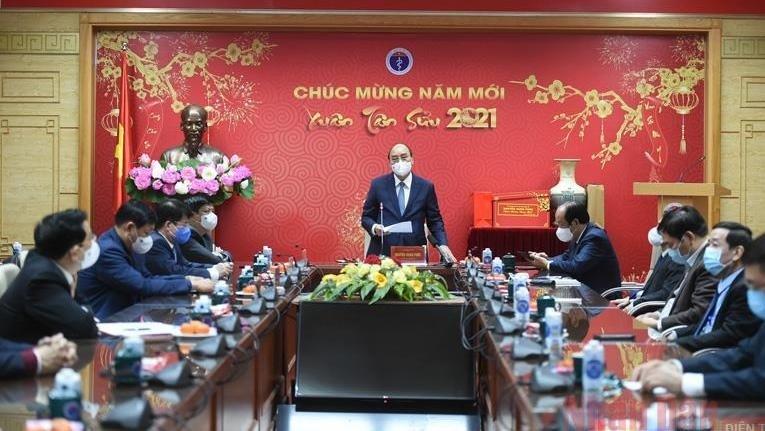 PM Nguyen Xuan Phuc works with Ministry of Health. (Photo: NDO)
When people head home for the Lunar New Year holiday on the last working day (February 9), our health workers continue to be the front liners in all 63 cities and provinces, particularly in major COVID-19 hotpots in Ho Chi Minh City, Hai Duong, Quang Ninh, Gia Lai, in order to protect public health, Phuc said.
Thanks to their efforts, Viet Nam has been recognized as a successful model in containing the pandemic and become one of few economies recording positive growth.
The Government chief said he felt moved to learn that many health workers have not returned home and met their relatives over the past year.
At a meeting with medical workers on the occasion of the Tet (Lunar New Year) holiday, the PM stressed that the health sector has made direct and very important contribution to the country's socio-economic achievements in 2020, as part of concerted efforts by the entire political system and people.
The sector has taken drastic actions and coordinated closely with other sectors and agencies during the epidemic combat, he added.
The leader extended thanks and appreciation of the hard work and the sacrifice of all medical workers, especially those who are working in pandemic-hit areas, as well as their families, according to the VNA.
The pandemic would develop more complicatedly in 2021 with new variants, he said, calling on the sector to mobilise all resources to contain the epidemic and treat patients.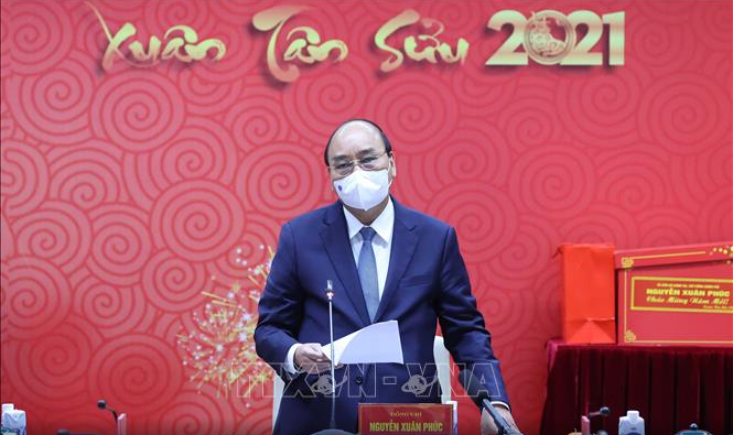 PM Nguyen Xuan Phuc spoke at the meeting. Photo: VNA
He stressed the need to provide sufficient equipment and supplies for medical workers to ensure their safety at the highest level and prevent transmission to medical workers and their family members.
The health sector must stay ready for any circumstances, and put in place plans for timely supporting localities, building COVID-19 treatment hospitals, and readying medical supplies in case the pandemic spreads on a larger scale, he said.
He required agencies and localities to take practical measures to care for frontline medical workers, especially during the Tet holiday.
The government leader informed that he had signed a decision on allowances for medical workers and others who are engaged in pandemic prevention and control work.
On the occasion, PM Phuc talked online with local officials and medical workers in several pandemic-affected localities and hospitals, giving encouragement and wishing them a happy new year.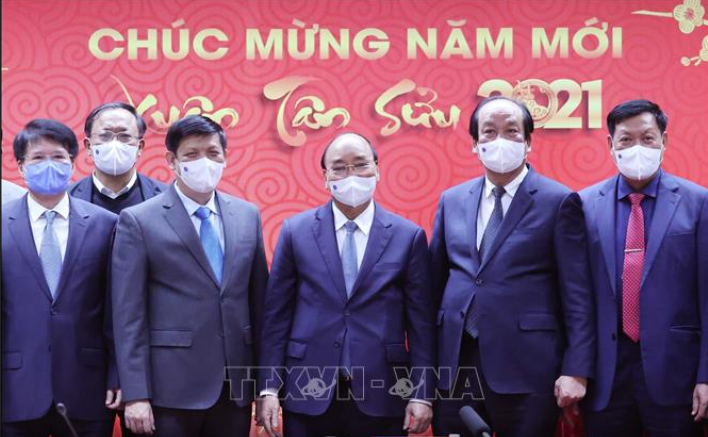 PM Nguyen Xuan Phuc and other delegates at the meeting. Photo: VNA
At the meeting, Deputy Minister of Health Nguyen Truong Son spoke from Ho Chi Minh City that the ministry on February 8 established a special permanent team for the COVID-19 combat in Ho Chi Minh City in order to mobilise all resources for contact tracing in the city.
From Hai Duong province, Professor Tran Nhu Duong, head of the COVID-19 prevention and control group under the health ministry in Chi Linh town, said as from January 27, Hai Duong has traced 12,000 F1 cases, and collected samples of 75,000 people for testing.
The ministry has also sent many experts and officials, as well as equipment to the locality since the pandemic broke out there, he said.
As the pandemic remains complicated due to detection of new and more transmissible variants, Phuc urged the health sector to protect safety of its health workers and exert full efforts on containing the pandemic and treatment of COVID-19 patients.
He took the occasion to call on the whole political system and people to join hands in the fight against COVID-19, firstly by implementing the sector's 5K message: Khau trang (facemask) – Khu khuan (disinfection) – Khoang cach (distance) – Khong tu tap (no gathering) – Khai bao y te (health declaration), said VGP.
The same day, PM Phuc signed Resolution No. 17/NQ-CP on financial support for health workers and those who work at concentrated quarantine facilities, ports of entry, and border areas during the Lunar New Year holiday (five days).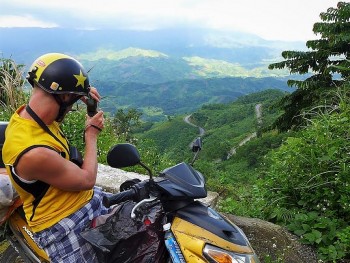 Viet's Home
Written with such love and care for Vietnam, the brilliant travel guides of Tom Divers inspire expats and foreign tourists to explore the wild, remote corners of the nation.