UK and Europe daily weather forecast latest, February 3: Rain and snow warnings issued for parts of the UK
The UK is forecasted to cope with a rare amber snow warning for parts of the country, among other ones. Meanwhile, rain and wind are expected in the north, warm in Spain and western Mediterranean, conditions is turning colder in Scandinavia.
UK's weather forecast
The Met Office has issued swathes of weather warnings for the UK this week from Monday up until Saturday. Among several yellow weather warnings, an amber snow warning has now been issued by the Met Office for parts of the East Midlands, north-west England and Yorkshire and the Humber on Tuesday, Express reported.
On Monday a yellow rain and snow warning covers parts of Northern Ireland from 4pm until 12pm on Tuesday. A yellow snow and ice warning also covers much of Scotland, northern England and some parts of the Midlands from 10pm on Monday night until 11.59pm on Tuesday.
An amber snow warning is active from 3am until 1pm on Tuesday, and affects cities such as Sheffield and Leeds. The Met Office warn as much as 15cm, or approximately six inches, of snow could fall for some areas under the warning.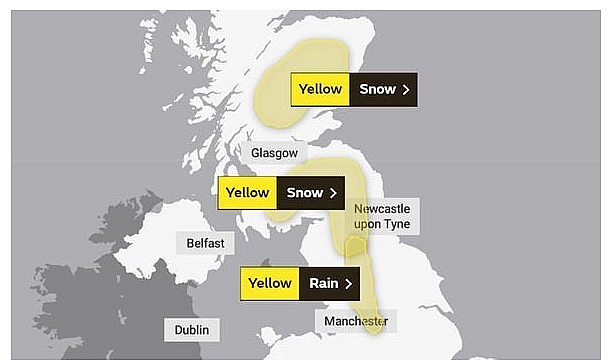 Met Office warnings for Wednesday (Image: MET OFFICE)
The Met Office warning reads: "An area of snow is expected to move north across northern England during Tuesday morning before easing and clearing from the south into the early afternoon. 3-8 cm of snow is likely across the area with 10-15 cm in places - mainly above 200 m."
Parts of the East Midlands, the north-east, the north-west and Yorkshire are also under a yellow rain warning from 6pm on Tuesday until 4am on Wednesday.
Several other snow and rain warnings have been issued from Wednesday this week, with the last warning due to expire on Saturday at 6am. Already swathes of the UK have witnessed significant snowfall in recent weeks, but the Met Office forecast more snow over the next few days.
Met Office Chief Meteorologist, Frank Saunders, said: "Rain will push into the South West of the UK on Monday evening, bringing some heavy rain for southern areas. As the weather front 'bumps' into colder air further north, the rain will turn to snow, and with up to 4cm falling quite widely a snow and ice warning has been issued."
"5-10 cm could fall above 150m in Southern Scotland and northern England with the potential for 20cm or more across the highest roads. As well as snow, a period of freezing rain is possible for parts of northern England."
WXCHARTS snow depth maps, which use data from MetDesk, show significant snow accumulation across parts of the UK by Tuesday night.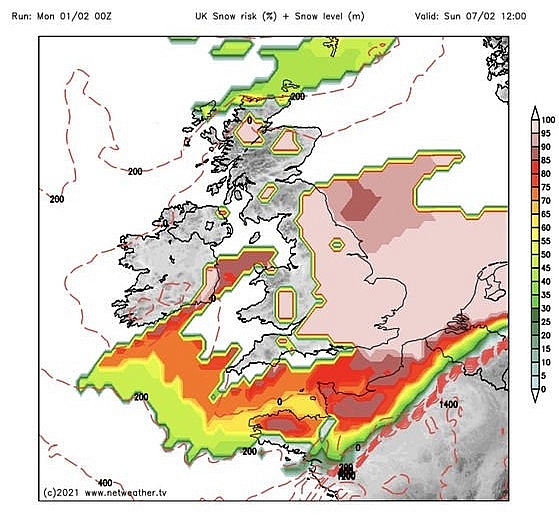 London snow: A dense pool of cold air is forecast to hit the UK this week (Image: NETWEATHER)
The heaviest snow depth is forecast for parts of Scotland, with as much as 15 inches (38cm) of snow depth predicted for some areas. Snow depth is forecast to be widespread across Scotland, but parts of northern England could also see some snow depth too.
Scotland is also expected to see further snow on Friday this week, according to the Met Office. This weekend is also forecast to be "cold for all" as chilly temperatures are expected to hit Britain.
Met Office Deputy Chief Meteorologist, Jason Kelly, said: "While the south of the UK hangs onto the milder air for much of this week as we approach the weekend, the area of low pressure responsible for the snow across the north of the UK will clear, allowing colder air to push south and west across much of the country."
"Further snow is expected for most parts of Scotland on Friday, while Saturday will be cold for all."
A dense pool of cold air over Scandinavia continues to exert a strong influence on the UK weather as weather systems from the Atlantic try to extend their influence. Snow is likely to remain a hazard along the leading edge as it 'bumps' into colder air further north and east.
Met Office Chief Meteorologist, Steven Ramsdale said: "We see further weather fronts bringing rain and snow east and north across the UK, but the most significant event in the forecast is a feature from late Monday evening, which threatens to bring rain and some snow across large parts of the UK."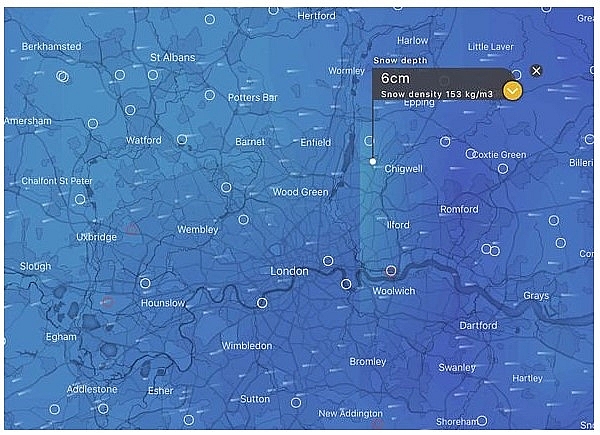 London snow: There is a chance of snow arriving on Wednesday (Image: WINDY.COM)
"As it moves further north and meets the colder air, the rainfall will readily turn to snow or even freezing rain, affecting a large part of England and Wales north of the M4 corridor."
"Yellow weather warnings have been issued for Tuesday and Wednesday highlighting the risk of disruptive snowfall with the high ground of northern England and Scotland most likely to see the largest snow accumulations."
"The risk of freezing rain will be an additional threat across parts of eastern Wales and parts of the Midlands."
On February 3
According to Weather Online, snow continues to fall across much of Scotland on Wednesday, the majority of it focused across central and eastern areas. Western Scotland should be dry Rain at first in Southeast England, although this will be clearing away. A mix of sunshine and showers for Wales and western England although more persistent rain will be affecting western and northern parts of Ireland. The best of any sunshine in the afternoon affecting the far south of England. Cold again in Scotland,highs at 2C in the north, but milder for the rest of England and Wales at 8 to 10C.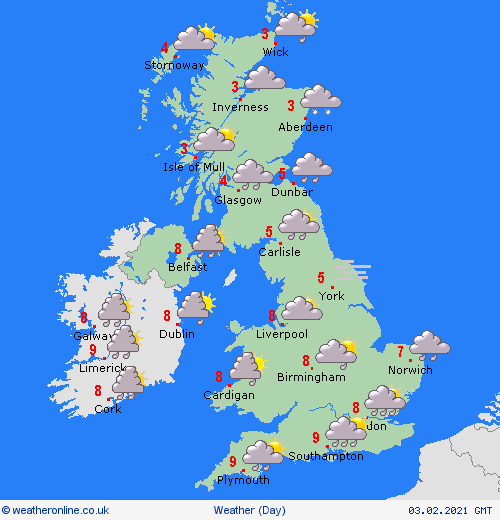 Photo: Weather Online
Rain in south clearing eastwards. Rain continuing for northern areas, particularly Scotland where some snow, particularly for higher parts in the east. Cold and windy in north, Met Office reported.
Outlook for Thursday to Saturday
Persistent and heavy snow continuing across parts of northern Scotland. Further rain, locally heavy for northern England/southern Scotland. Sunshine and showers elsewhere. Cold in the north, spreading south by Saturday.
Europe's weather forecast
High pressure will continue to strengthen across south Portugal and Spain allowing for dry and fine conditions for many although heavy rain will affect north Portugal and northwest Spain along with strengthened winds. Dry and fine across the Balearic Islands and it will be an improving day for Sardinia and Corsica. Outbreaks of rain across south Italy and Sicily will become more isolated. Staying wet across Greece and western Turkey. Drier further east here.
South France will improve first thing to allow for a dry day here but northern and central areas will see a front with rain push across, possible snow on its leading edge. Rain spreading east across the Low Countries as well as Germany with the rain falling as snow across northern areas here as well as the higher ground. Rain, sleet and snow will move in across Switzerland, Austria and Hungary through the day. Over much of Italy and the Balkan States will see high pressure build in here. Some patchy rain, sleet and snow across northern Poland.
Photo: Stirimeteo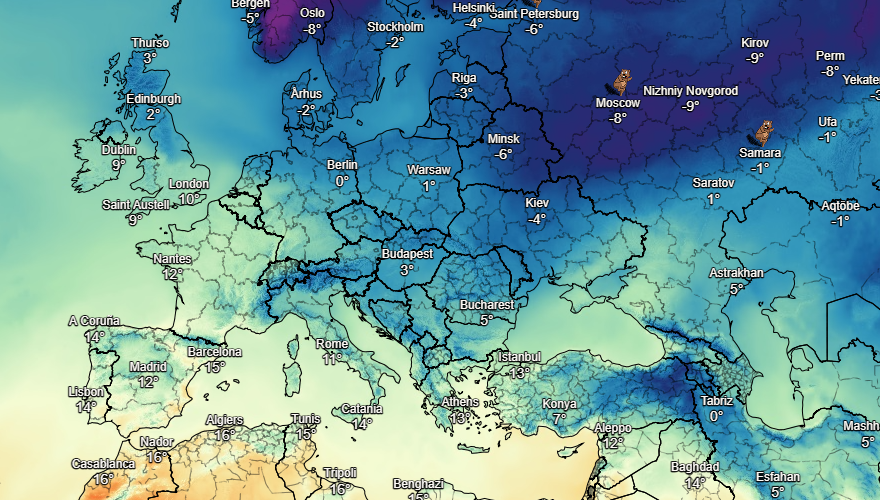 Photo: Stirimeteo
With high pressure across Scandinavia it will be largely dry although an area of low pressure will bring snow showers through the Baltic States as well as eastern parts of Sweden and the far south of Finland. Dry yet cold across Denmark.
On February 3
According to Weather Online, showers across central and northern Spain. Rain affects western parts of Portugal. Eastern and southern Spain should be fair with the Balearics also be warm and sunny. Italy will have a fine day with more sunshine to come here. Staying fair across Greece with lots of sunshine. A fine day to come in Turkey too.
Periods of showery rain in the west of France but dry with some watery sunshine in the south. Feeling warm across much of southern France too. Wind and rain in the Low Countries and northern Germany, where there will also be a risk of snow. Windy in southern Germany, a few snow showers here. Rain for southern Poland, but some sleet or snow to the north. Hungary should be fair and sunny whilst Hungary and Austria will have some showers or outbreaks of rain.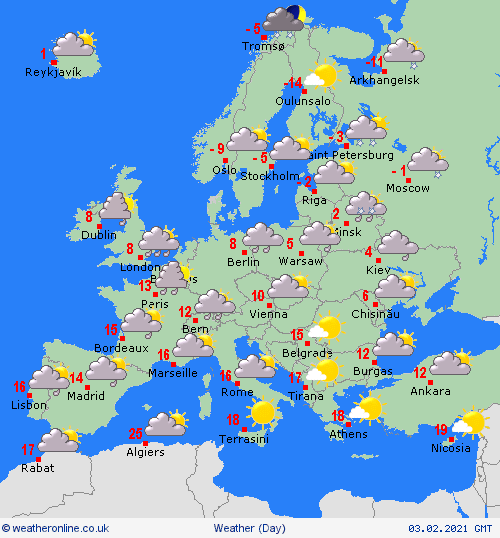 Photo: Weather Online
Wet and windy for the south of Denmark, this rain turning to snow. The Baltic States should be mostly fair with sunny spells. Wind and cold conditions for Finland, a few snow flurries. Sleet and snow for the far south of Sweden but most of the country should be dry, although always a risk of snow flurries on eastern coasts. Fair, dry and chilly for Norway.