Vietnam, India Seek to Enhance Bilateral Relationship
Nguyen Phu Trong, General Secretary of Vietnam had a phone call with Indian Prime Minister Shri Narendra Modi.
Vietnam is an important pillar of India's foreign policy, especially the "Act East" policy, Indian Prime Minister Narendra Modi said during a phone call held on April 15 with Party General Secretary Nguyen Phu Trong, reported VOV Friday.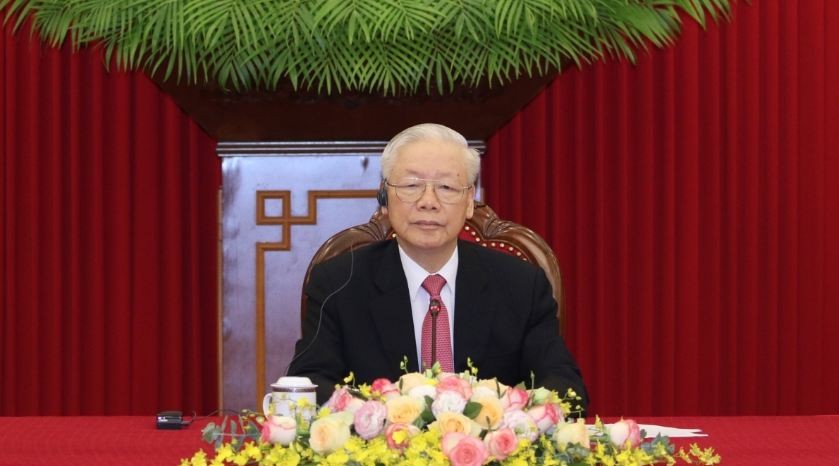 Party General Secretary Nguyen Phu Trong has affirmed Vietnam's recognition of the great importance to fostering a comprehensive strategic partnership with India. Source: VOV
During the phone conversation, PM Modi informed the Vietnamese Party chief about the recent situation in India, including economic recovery, as well as building supply chains to meet domestic requirements and moving towards integration with global supply chains.
General Secretary Trong congratulated Narendra Modi on the various achievements of the Indian Government and people recorded under his leadership, including Covid-19 pandemic prevention and control efforts and the recent victories of the Indian People's Party (BJP) in state legislative elections.
The Vietnamese Party leader briefed the Indian PM on the nation's economic and political situation, socio-economic development goals, and foreign policy set out by the 13th National Party Congress.
He emphasized that the country attaches importance to and wishes to strengthen the comprehensive strategic partnership with India, both within the bilateral framework, as well as at regional and international multilateral forums.
The two leaders complimented each other on the 50th anniversary of the establishment of diplomatic relations between India and Vietnam being celebrated this year.
Moving towards the 50th anniversary, which was first started in 1972, the two leaders expressed their delight at the strong and effective development of the joint comprehensive strategic cooperation.
They expressed satisfaction over the rapid pace of wide-ranging cooperation under the Vietnam-India Comprehensive Strategic Partnership which was established during the Indian Prime Minister's visit to Vietnam in 2016.
Economic and trade ties are essential pillars of the two countries' comprehensive strategic partnership.
Vietnam-India bilateral trade increased rapidly from USD 200 million in 2000 to more than USD 13 billion in 2021, and the two countries are aiming for USD 15 billion this year.
As of February 2022, India ranked 25th out of 140 countries and territories investing in Vietnam with 315 valid projects worth more than USD 918 million, mainly in the processing industry, manufacturing, electricity production and distribution, and mining.
On the other hand, Vietnam had nine investment projects, mainly wholesale and retail ones, in India, whose total value exceeded USD 6 million.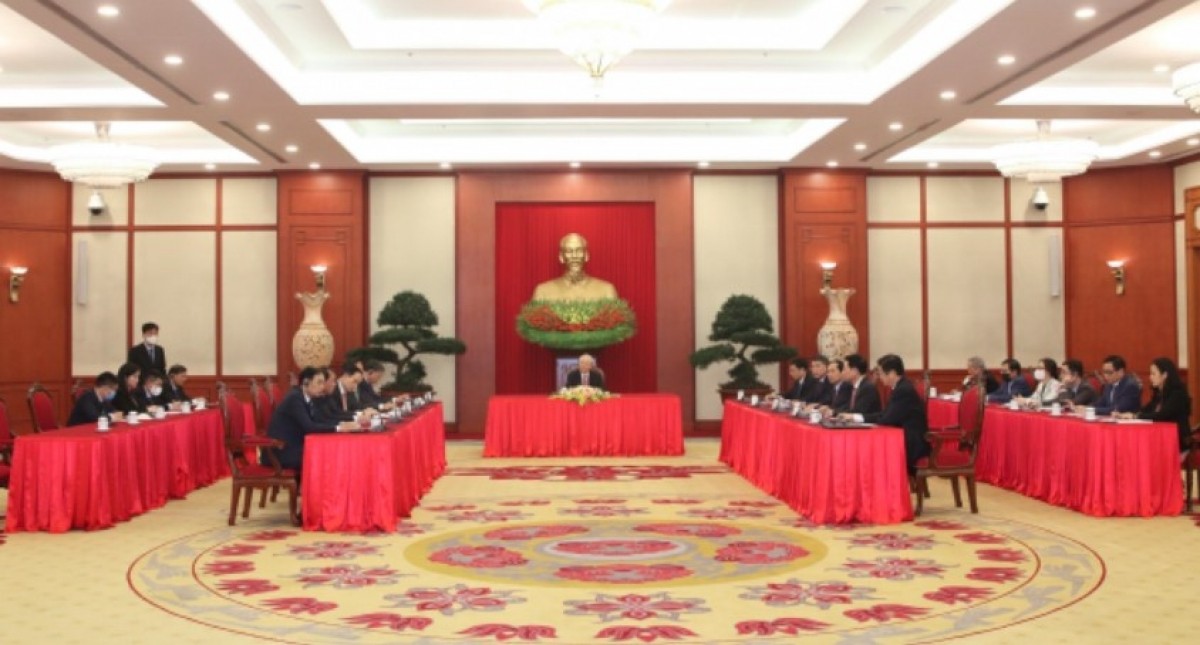 An overview of the phone talks between Party General Secretary Nguyen Phu Trong and Indian Prime Minister Narendra Modi. Source: VOV
Both sides also agreed to further strengthen political trust, and hold high-level meetings across Party, Government, National Assembly, and people channels, while also promoting relations between the Communist Party of Vietnam and other political parties in India, including the ruling Indian People's Party.
General Secretary Trong suggested that the two countries boost co-ordination at multilateral mechanisms such as the UN and ASEAN, as well as through other regional cooperation mechanisms in which, both sides can work together to maintain peace and security, uphold international law, promote international cooperation, and protect the legitimate interests of developing countries.
They also exchanged views on regional and global issues of shared interest, including the ongoing crisis in Ukraine and the situation in the South China Sea (Bien Dong Sea in Vietnamese).
Regarding the South China Sea issue, they underscored the necessity of maintaining peace, stability, cooperation, development, and respecting international law, including the 1982 UN Convention on the Law of the Sea (UNCLOS), sovereignty, sovereign rights of nations, and freedom of aviation and navigation.
With regard to the situation in Ukraine, the pair reaffirmed the importance of respecting international law, not using force, and threatening to use force.
Moving forward, they hope that relevant parties will promote dialogue and negotiations to end hostilities and restore peace on the basis of respecting the legitimate interests of concerned parties in line with international law, as well as ensuring the safety of people, and dealing with humanitarian problems.
As part of the occasion, General Secretary Trong cordially invited PM Modi to visit Vietnam once again at an appropriate time in the future, and his invitation was accepted with pleasure.