Vietnam News Today (Jan. 17): Severe Cold Spell Hits Northern Vietnam, Lasts till Tet Holiday
Vietnam News Today (Jan. 17): Severe cold spell hits northern Vietnam, lasts till Tet holiday; Vietnam, US promote cooperation at the UN Human Rights Council; Health Ministry warns of risks of COVID-19 outbreaks; Airlines increase night flights, tighten security measures ahead of Tet.
Vietnam News Today (Jan. 17) notable headlines
Severe cold spell hits northern Vietnam, lasts till Tet holiday
Vietnam, US promote cooperation at the UN Human Rights Council
Health Ministry warns of risks of COVID-19 outbreaks
Airlines increase night flights, tighten security measures ahead of Tet
Vietnamese products hold firm position in domestic market
More flights take off in Vietnam for Tet holiday season
Paris Peace Accords – success of Vietnam's diplomacy: symposium
A difficult year ahead but there is room for economic growth: Experts
AeroExpo Hanoi & Vietnam Aviation Forum 2023 scheduled for March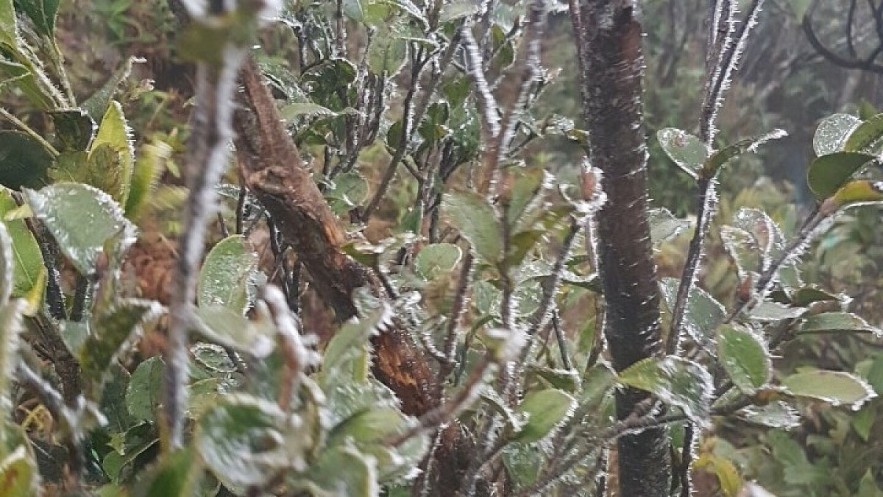 The temperature at Mau Son mountain peak in the northern mountainous province of Lang Son drops to 0 on January 16 morning.
Severe cold spell hits northern Vietnam, lasts till Tet holiday
Vietnamese northerners are likely to feel the chill during the lunar New Year (Tet) holiday as the ongoing strong cold spell is anticipated to last for several days till the Tet break.
On January 16 morning, temperatures at Mau Son mountain in the northern province of Lang Son dropped to 0 degrees Celsius, according to data given by the National Centre for Hydrometeorological Forecasting.
Nine northern provinces throughout the north recorded temperatures of below 10 degrees Celsius, including Dong Van, Tam Dao, Sa Pa, Sin Ho, Ngan Son, Trung Khanh, and Pha Din. Mau Son mountain peak in northern Lang Son province was even covered with a thin layer of frost when the local temperature tumbled to zero.
In Hanoi, daytime temperatures fell sharply to 12 degrees Celsius in Ba Vi district, and 13 degrees Celsius in the districts of Hoai Duc and Son Tay.
Weather experts say the cold air wave will continue to gain strength over the coming days, with temperatures in the north dropping sharply to between 13 and15 degrees Celsius and lasting until January 18. There will be snow, frost, and ice occurring in high northern mountains.
For this cold spell, the lowest temperatures in the north are forecast to hover at around 9 – 12 degrees Celsius and between 6 – 9 in the mountains, and even drop to as low as 3 in the high mountains, according to VOV.
By January 19, temperatures are set to gradually increase with the Northern Delta and the North Central region getting rid of the cold weather.
Vietnam, US promote cooperation at the UN Human Rights Council
US Permanent Representative to the UN Human Rights Council (UNHRC) Ambassador Michèle Taylor commended Vietnam's priorities and initiatives at the Council while meeting Deputy Minister of Foreign Affairs Do Hung Viet in Hanoi on January 13.
The priorities and initiatives will create an important foundation for cooperation between Vietnam and the US at the UNHRC, she said, congratulating the country on its election as a council member for 2023-2025.
Ambassador Taylor affirmed that Vietnam is always an important partner of the US, saying the bilateral comprehensive partnership is growing fruitfully.
Deputy Minister of Foreign Affairs Do Hung Viet and US Permanent Representative to the UN Human Rights Council (UNHRC) Ambassador Michèle Taylor pose for a photo on January 13, 2023. Photo: WVR
The Ambassador expressed her hope to contribute to enhancing the relationship in the time ahead, covering cooperation at multilateral forums like the UNHRC.
For his part, Deputy Foreign Minister Viet spoke highly of cooperation outcomes between the two countries over the past years, and suggested them step up the collaboration, creating a premise to deepen the relations on the basis of mutual benefits and respect for each other's independence, sovereignty, territorial integrity and political regime, cited WVR.
Highlighting the coordination between the two countries at the UNHRC the Deputy Foreign Minister suggested the US back Vietnam's initiatives and priorities at the council, particularly those on vulnerable groups, non-discrimination, gender equality, human rights, climate change response and digital transformation.
Vietnam stands ready to take into consideration cooperation recommendations of countries, including the US, in the spirit of mutual respect, dialogue and cooperation, ensuring human rights for all.
Health Ministry warns of risks of COVID-19 outbreaks
The Ministry of Health (MoH) has warned of the potential risk of COVID-19 outbreaks due to the emergence of new variants of SARS-CoV-2.
According to the ministry, the COVID-19 pandemic has been still under control when the daily number of new cases stands at double digits. For two consecutive weeks, Vietnam has not recorded COVID-19 related fatality. Among the severe patients being treated, there is no case requiring mechanical ventilation.
Regarding the XBB.1.5 sub-variant of Omicron recently discovered in the US, the ministry said documents from the World Health Organisation (WHO) showed that the XBB.1.5 sub-variant was the cause behind the increase of COVID-19 infections in the US. This sub-variant has been detected in Europe, Australia and parts of Southeast Asia.
Angela Pratt, Chief Representative of WHO in Vietnam, said current diagnostic and protective measures remain in place, including WHO-approved COVID-19 vaccines, she said.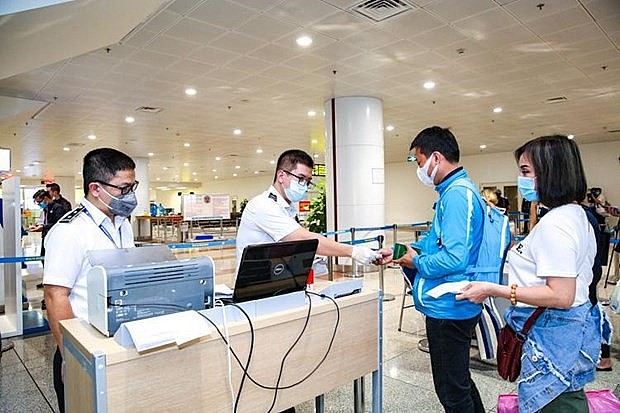 Illustrative image. Photo: vneconomy.vn
The MoH requested localities to enhance surveillance at border gates, public areas and medical establishments to swiftly detect and timely handle suspected cases, especially those entering from areas which record COVID-19 outbreaks and appearance of new variants.
Localities and medical facilities have also been required to coordinate with hygiene and epidemiology institutes, and hospitals that have the ability to identify new variants to take samples for testing and research, thus assessing risks.
Specialised units have been asked to regularly assess and analyse the situation and risk factors, thus proactively developing scenarios and response plans to all possible situations, according to VNA.
Vice Director of the MoH's Preventive Medicine Department Nguyen Luong Tam on January 15 inspected the COVID-19 pandemic at Lao Cai international border gate in the northern mountainous province of Lao Cai.
The provincial Department of Health was demanded to strictly implement directives of the MoH, and soon give advices to the provincial People's Committee on approving the plan for COVID-19 prevention and control in 2023, and enhancing communication activities at border gates to raise awareness of pandemic prevention among people and tourists.
Airlines increase night flights, tighten security measures ahead of Tet
Several days ahead of the Lunar New Year (Tet) holiday, the Civil Aviation Authority of Vietnam (CAAV) has requested that airlines add night flights and tighten security measures in a bid to meet the increasing demand of travelers for the festive celebrations.
Hordes of local people have converged on airports over recent days as they fly home for Tet celebrations together along with their family, causing overcrowding at local airports.
In a recent dispatch, the CAAV requested airlines arrange night flights to meet travelers' needs in line with the aviation infrastructure, whilst also ensuring security and safety, noting that this is the most effective solution to address the backlog which hits airports at this time of year.
Airlines were also asked to arrange equipment and human resources, including pilots and flight attendants, to serve flights during the Lunar New Year break and the spring festivals.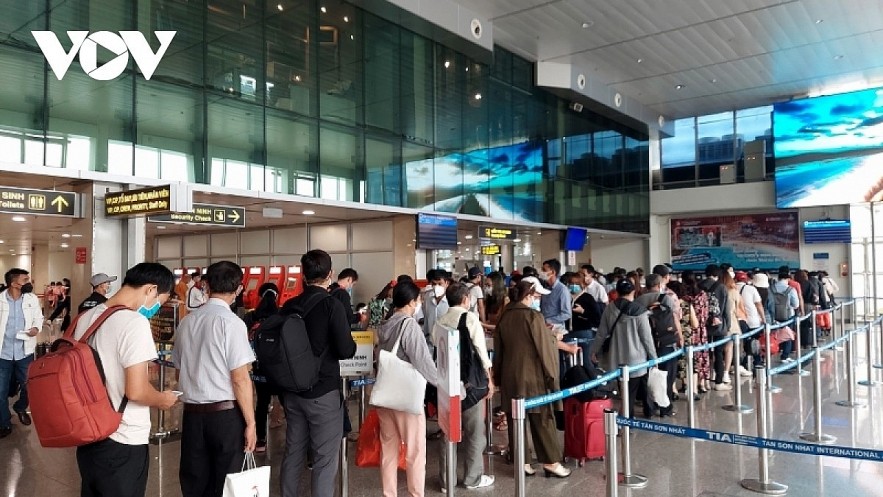 Tan Son Nhat International Airport in Ho Chi Minh City, the largest in Vietnam, is crowded with people travelling home for Tet celebrations.
The CAAV asked airports to deploy additional aviation security personnel, means, and equipment at the airports to quickly perform security screening and return baggage to passengers in a timely manner.
It is important to strengthen inspection and supervision of the observance of regulations on flight delays, cancellations, security, safety, and service quality of units operating at airports in order to ensure security and safety, as well as food safety and hygiene on flights and at airports, the CAAV said in its dispatch.
After more than two years of staying in Ho Chi Minh City and several southern localities due to the impact of the COVID-19 pandemic, many workers and students have chosen to fly home for Tet celebrations, resulting in a general scarcity of airfares.
Major domestic airlines have therefore moved to increase the number of flights in operation, with national flag carrier Vietnam Airlines offering more than 90,000 seats on 500 flights for the third time during the peak time from January 6 to February 5. Budget airlines such as Bamboo Airways and Vietjet Air also moved to increase 15% and 30% of their flight numbers, or more than 600,000 seats more compared to the normal schedule.
However, most of the added seats have already been occupied. In addition, the increasing demand for travel during the Tet break has also fueled ticket prices, reported VOV.
To purchase a ticket at a reasonable price, travelers are advised to choose either flights late at night or early in the morning. They are also recommended to arrive at the airport at least two hours before the departure time for domestic flights, and three hours for international flights, as well as doing online check-ins in advance to avoid overcrowding at the airport.
Vietnamese people will have seven days off work for the Tet break, starting on January 20. Many people, especially workers and students, have chosen to depart earlier than scheduled as they seek to spend more time staying with their family after more than two years of being stuck due to the impact of the COVID-19 pandemic.
Vietnamese products hold firm position in domestic market
Thanks to the campaign to encourage Vietnamese people to prioritise Vietnamese products, which has been carried out for years, and the stable quality of the products, made-in-Vietnam commodities have drawn increasing attention of consumers.
With the Lunar New Year (Tet) is just around the corner, domestic supermarkets such as Mega Market, Big C, Hapro Mart, Saigon Co.op and Winmart have been filled with products for Tet, most of which are domestic.
According to Le Manh Phong, Managing Director of Big C & Go! in Hanoi and northern region under the Central Retail Vietnam, Vietnamese products are making up over 90% of the total products available in the supermarkets chain.
Bui Trung Chinh, Food Purchasing Manager for the southern region at AEON Vietnam, said that the majority of products sold in the supermarket are supplied by Vietnamese partners, with over 80% being domestic products.
Data from the Ministry of Industry and Trade (MoIT) showed that currently, Vietnamese products are occupying more than 90% of space at domestic distribution facilities, and 60-96% of foreign supermarkets in Vietnam. At traditional markets, the rate is at least 60%, cited VNA.
Particularly, since the COVID-19 pandemic broke out, 76% of Vietnamese consumers have said that they choose domestic products, especially those with trademark and high quality, it said.
Le Viet Nga, Vice Director of the Domestic Market under the MoIT, said that the ministry and domestic firms have paid special attention to material zone to ensure the quality of products, while improving the design and packaging to meet the demands of consumers. At the same time, suppliers have focused on environmental issues and communications to draw more consumers, she said.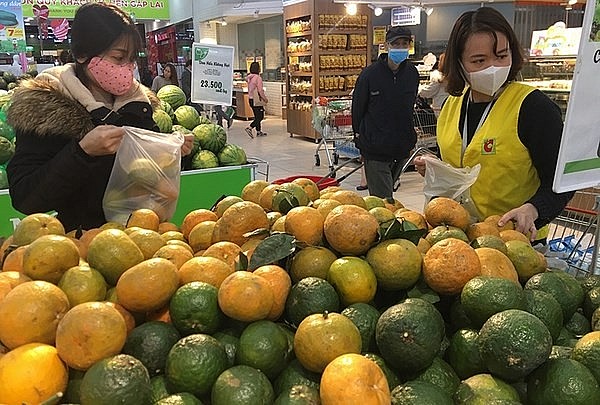 Shoppers at Big C Thang Long supermarket. Source: qdnd.vn
However, experts held that with the engagement in many free trade agreements, the nearly 100-million-strong Vietnamese market is becoming an increasingly attractive destination for foreign commodities, which means fiercer competitions facing Vietnamese goods.
They advised domestic firms to raise their production capacity through the strengthening of science-technologies.
Nga said that in order to support Vietnamese firms to improve their competitiveness at the domestic market, the Prime Minister has signed a decision on the development of the market in association with the campaign to encourage Vietnamese people to use Vietnamese products, with an aim to ensure Vietnamese strong products making up 85% of modern distribution channels and over 80% in traditional channels.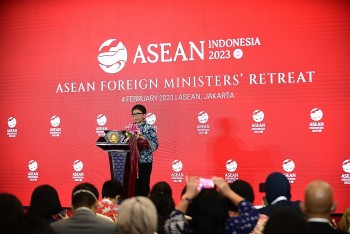 National
Indonesia hosted the first major meeting for its 2023 ASEAN Chairmanship - the 32nd ASEAN Coordinating Council (ACC) meeting and the ASEAN Foreign Ministers' (AMM) Retreat.