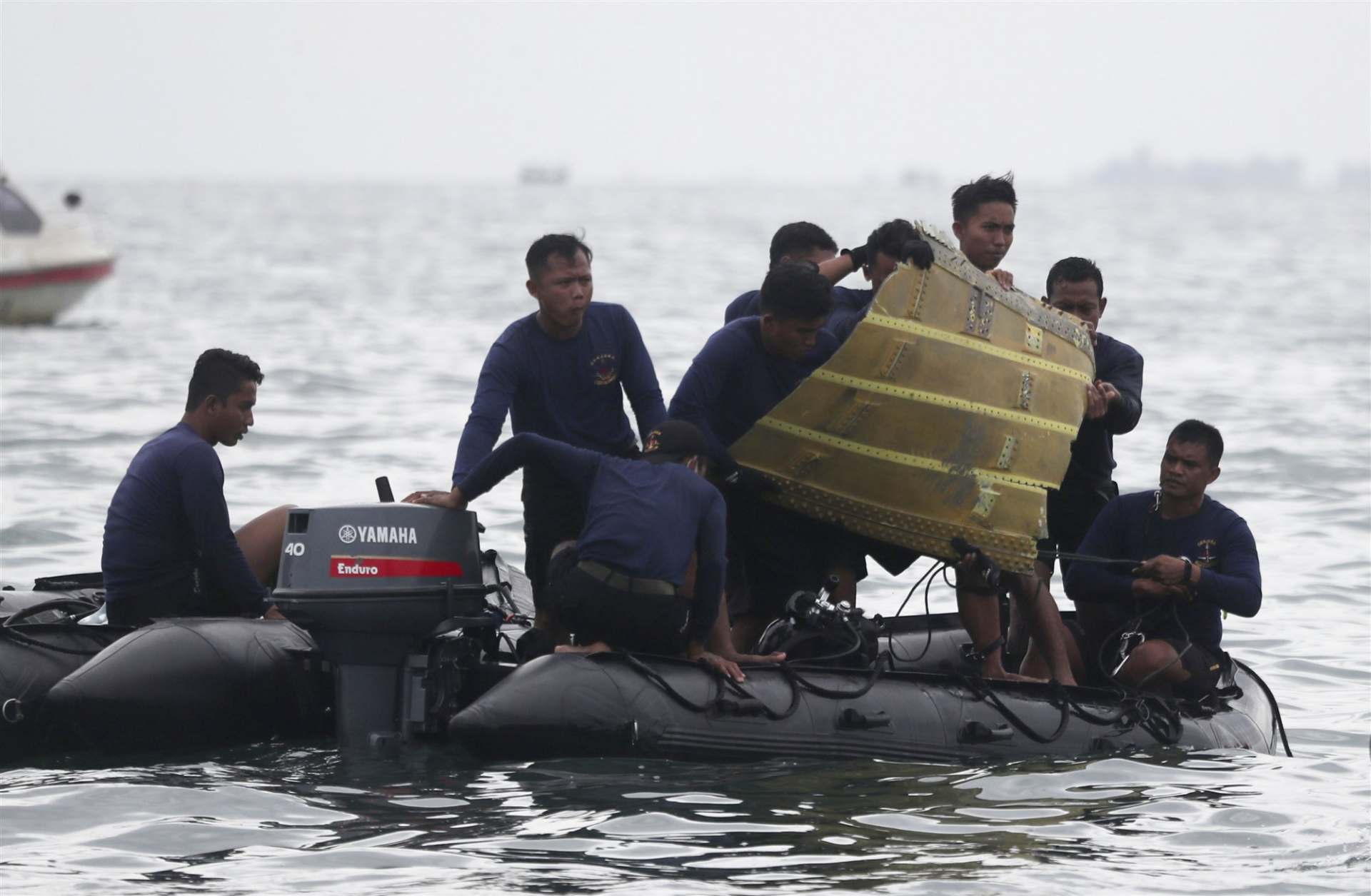 Indonesian Navy divers pull out a part of an airplane out of the water during a search operation for the Sriwijaya Air passenger jet that crashed into the sea on January 9. Photo: AP
Vietnamese Deputy Prime Minister and Minister of Foreign Affairs Pham Binh Minh on January 10 sent a message of condolences to Indonesian Minister of Foreign Affairs Retno Marsudi after an Indonesia passenger jet crashed into the ocean with 62 people on board.
The Sriwijaya Air jet reportedly carried 50 passengers and 12 cabin crew on its flight from Soekarno-Hatta Airport to Pontianak, West Kalimantan, Minister of Transportation Budi Karya Sumadi said, during a virtual press conference held here on January 9 night.
The Indonesian Ministry of Transportation had earlier confirmed that the air traffic controllers lost contact with Sriwijaya Air flight number SJ182 at approximately 2:40 p.m. Western Indonesian Standard Time (WIB), Antara News reported.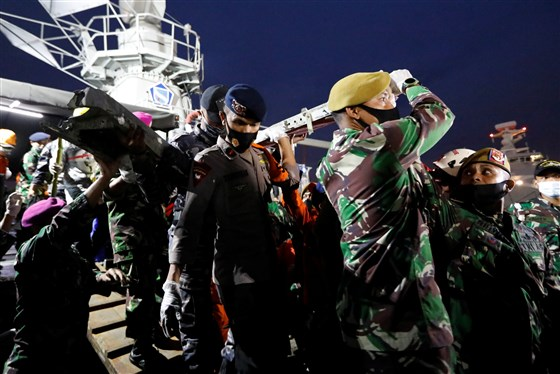 Indonesian police officers and soldiers carry debris of Sriwijaya Air flight SJ182, which crashed to the sea on January 9. Photo: Reuters
The Boeing 737-500 plane, with registration number of PK CLC, had its last contact at a position 11 nautical miles north of Soekarno-Hatta International Airport, Tangerang, in suburban Jakarta, after passing an altitude of 11,000 feet and while increasing its altitude to 13,000 feet.
The search team recovered remains and properties believed to be those of passengers of the plane.
Search teams filled two body bags with limbs and other human remains and sent them to Kramat Jati Police Hospital in East Jakarta, Senior Commissioner Yusri Yuni, spokesman of the Jakarta Metro Jaya Police, said at the Integrated SAR Command Post located in the Jakarta International Container Terminal (JIC) 2, Tanjung Priok, North Jakarta, on January 10.
"Since yesterday, there have been two body bags (sent to the hospital). We are together with TNI (the Indonesian Military) and Basarnas (the National Search and Rescue Agency)," he said.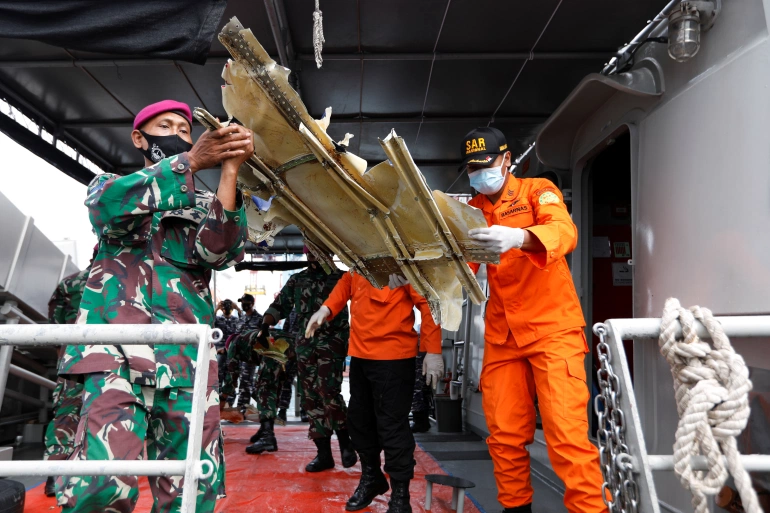 Indonesian rescue workers carry debris of Sriwijaya Air flight SJ-182, which crashed into the sea. Photo: Reuters
Indonesia National Transport Safety Committee (KNKT) chief Soerjanto Tjahjono said the locations of Flight SJ 182's two black boxes had been identified.
"Hopefully, we can retrieve them soon," said military chief Hadi Tjahjanto, without giving an estimated timeframe.
There were no clues yet as to what caused the crash, the first major air crash in Indonesia since 189 passengers and crew were killed in 2018 when a Lion Air Boeing 737 Max in 2018 also plunged into the Java Sea soon after take-off from Soekarno-Hatta International Airport.
Even before the latest crash, more people had died in air crashes in Indonesia than in any other country over the past decade, according to Aviation Safety Network's database.
President Joko Widodo, speaking at the palace in Bogor, expressed "deep condolences" over the disaster and urged the public to pray the missing people could be found, Reuters said./.
Nine dead as plane crashes in Hawaii

Nine passengers and crew were killed on Friday evening when their plane crashed near an airfield in Hawaii, authorities said, during what broadcaster CNN said ...
Rosy Huong