VUFO Appreciates Policy Beneficiaries
The Vietnam Union of Friendship Organizations just presented gifts to policy beneficiaries of Ha Nam province and Thai Nguyen province.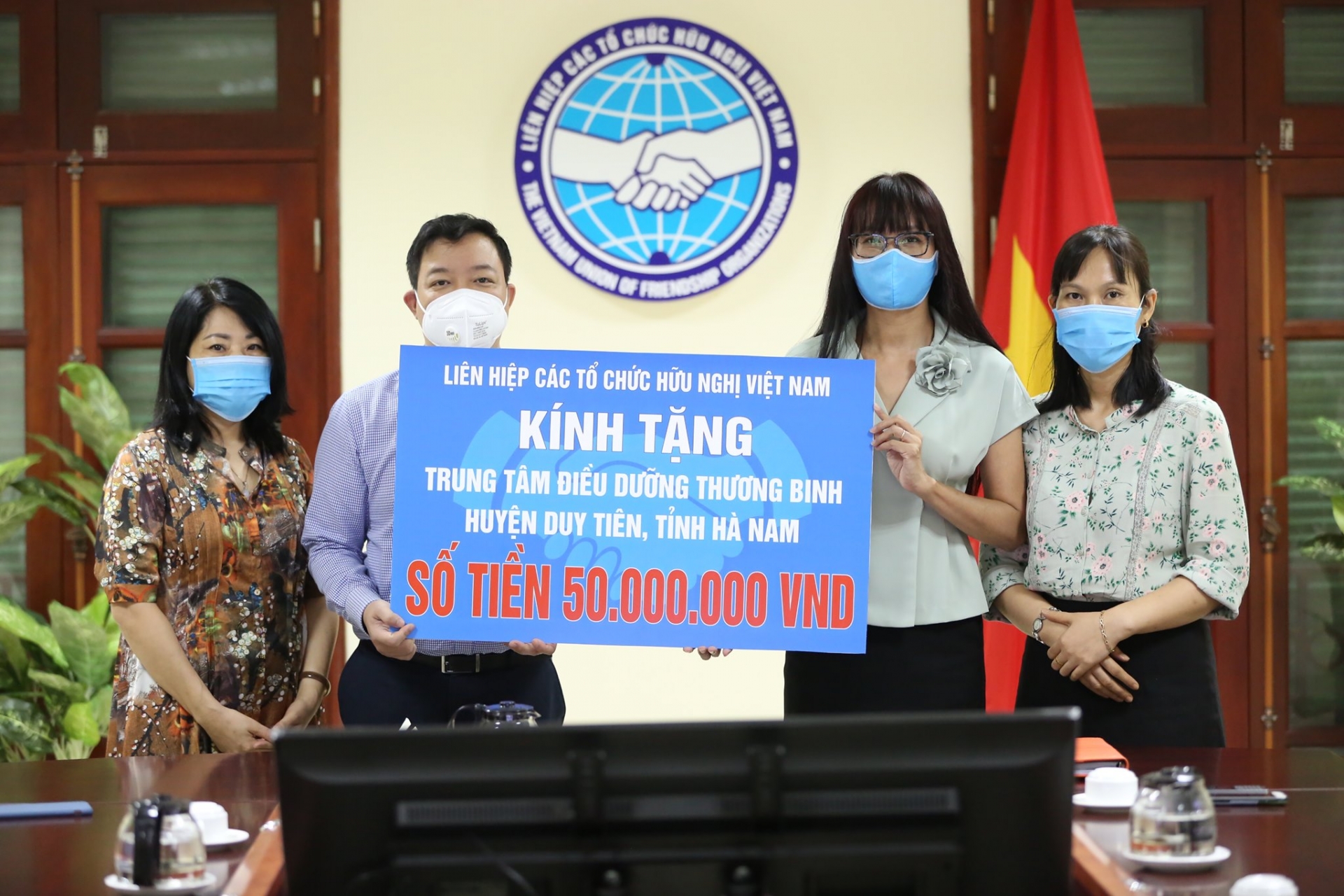 VUFO representatives symbolically present gifts to Duy Tien War Invalid Nursing Center, in the northern province of Ha Nam. Photo: VUFO
On the occasion of the 74th anniversary of War Invalids and Martyrs' Day (July 27), the Vietnam Union of Friendship Organizations (VUFO) on July 26 handed over gifts to policy beneficiaries through online meeting with Ha Nam and Thai Nguyen provinces.
Attending and chairing at the Friendship Union bridge were Nguyen Ngoc Hung, member of the VUFO Presidium Standing Committee, Head of the People's Aid Coordination Committee and Nguyen Thi Thu Giang, President of the Trade Union.
The gift of VND 50 million (USD 2.100) sponsored by the Medical Committee Netherlands-Vietnam (MCNV), was given to Duy Tien War Invalid Nursing Center, in the northern province of Ha Nam with the witness of the representative of provincial People's Committee and Department of Labor, Invalids and Social Affairs.
At Thai Nguyen bridge point, in the presence of representatives of leaders of provincial Union of Friendship Organizations and Department of Foreign Affairs, Dinh Hoa district and Phu Dinh commune, family of wounded soldiers Bui Xuan Cach has been received VND 70 million (USD 3.000) to build a house. The sum was recently mobilized from the Buddhist Compassion Relief Tzu Chi Foundation by VUFO.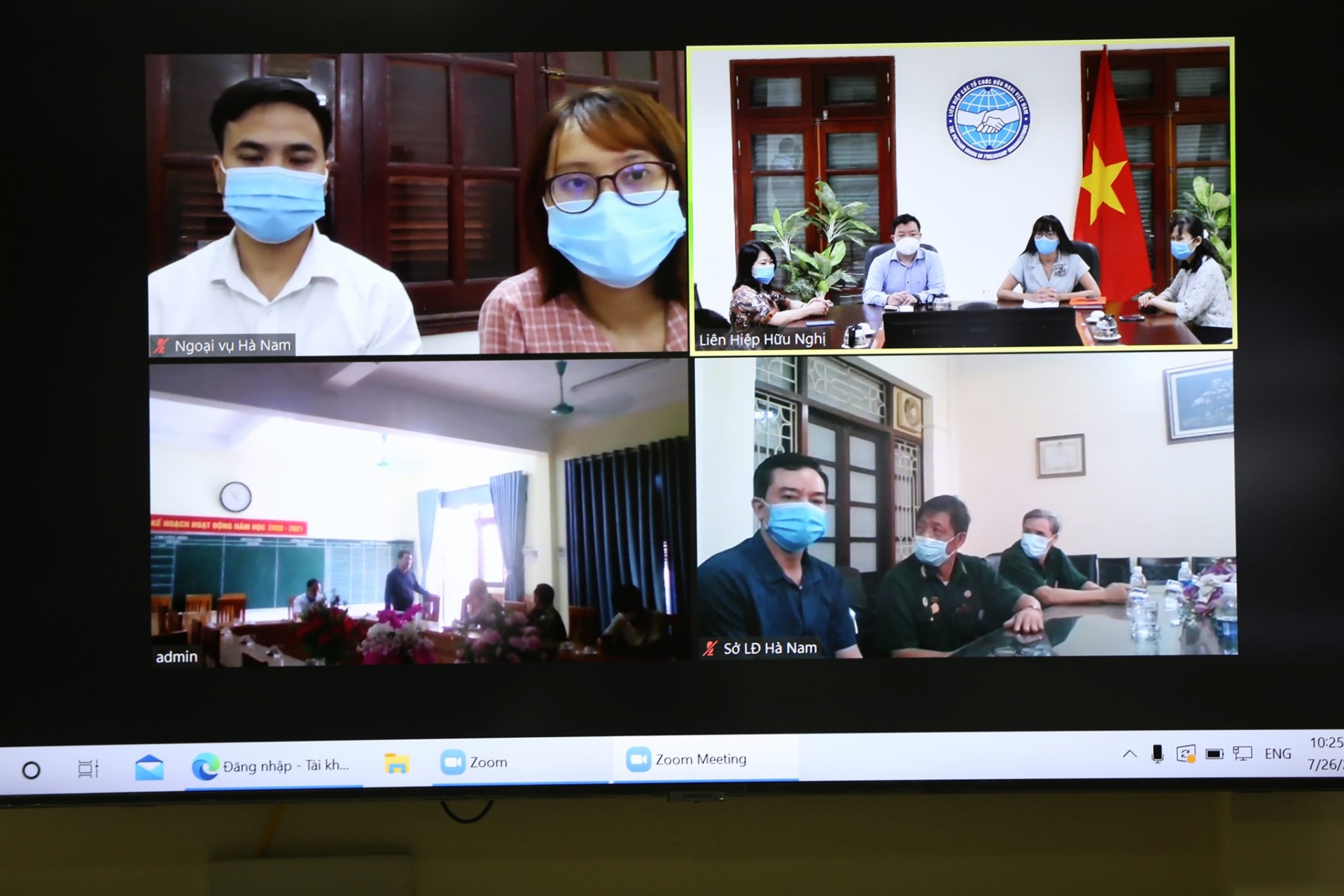 VUFO representatives talk with representative of Ha Nam People's Committee and Department of Labor, Invalids and Social Affairs. Photo: VUFO
Nguyen Ngoc Hung, on behalf of the VUFO leaders, expressed his profound gratitude to war invalids and families of former revolutionaries for their dedication to the struggle for national independence and defence.
Appreciating those valuable contributions and being aware of the community's responsibility to policy beneficiaries, the Party Committee and Leaders of the Friendship Union always pay attention to and employees in the whole union actively responding to the activities of "repaying gratitude", demonstrating the tradition of "drinking water, remembering the source", turning this meaningful activity into an annual activity of the friendship union.
Duy Tien nursing centre, one of the five ones under the watch of the Ministry of Labour, Invalids and Social Affairs, was established in May 1957. Over the past six decades, the centre has cared for thousands of war invalids, even nearly 700 during peak times.
It now provides care for seriously wounded and sick soldiers with injury severity from 81% and above. The oldest veteran is over 90 years old while the youngest veteran is just over 60.
Doctors and nurses at the centre have to help the veterans eat, bathe, and to take their medicine every day.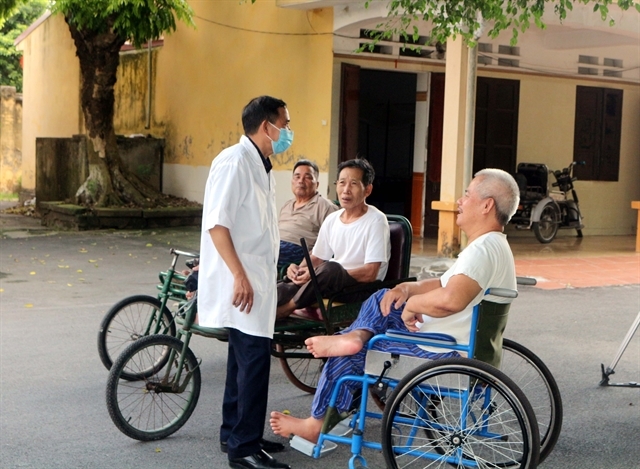 A doctor and a veteran in Duy Tien War Invalids Nursing Centre in Ha Nam Province. VNA/VNS Photo Nguyen Chinh
The Vietnam Invalids and Martyrs Day (July 27) is a special chance for the entire country to commemorate millions of martyrs and war invalids who sacrificed their lives and health during the wars.
In 1947, just two years after President Ho Chi Minh delivered the declaration of independence, the first decree on preferential policies for war invalids and fallen soldiers was issued.
The same year, July 27 was designated as the national war invalids day, which was later renamed the War Invalids and Martyrs Day, to call on the entire community to support war invalids and martyrs' families in acknowledgement of their contributions to the nation.
World
Mattarella is Italy's 12th president and head of state since the country became a republic after the Second World War.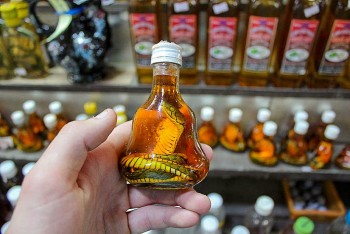 Multimedia
A trip to Vietnam can be exciting, and many activities and things to explore during your journey. Here is top 10 crazy experiences that you must try once before 30, which we promise you will not regret it.
Handbook
Choosing the best superhero films of all time is no easy task. Let's scroll down to find out the best ones we've listed.