With Third Grade Education, Vietnamese American Author Pens Best Seller
A Vietnamese American female author wrote two best-selling memoirs despite only finishing third grade. She is the founder of two charitable organizations, Global Village Foundation and East Meets West, delivering humanitarian and emergency assistance to people in need, focusing on sustainable community development projects, education and peace-building at the grassroots level in Vietnam.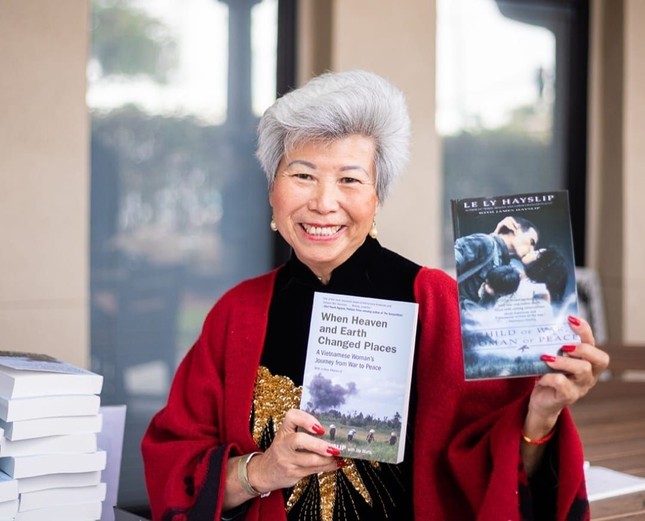 Le Ly Hayslip, an award-winning author of two memoirs that later served as the basis for the Oliver Stone film Heaven and Earth.
Entering the best seller list of The New York Times is the dream of all authors in the world. Few people know that a Vietnamese author also once had a book that was honored by the most prestigious American newspaper, moreover, it was also turned into a movie by million-dollar director Oliver Stone.
This famous book called When Heaven and Earth Changed Places was written in 1989 by Phung Thi Le Ly, also known as Le Ly Hayslip. The story tells about the life of Bay Ly, a girl born in Ky La village, Hoa Phung commune, Hoa Vang district, Da Nang City. The peaceful life of poor people in here was ruined by the war, separating many families.
Immediately after its release, When Heaven and Earth Changed Places caused a great buzz because up to that time, it was the only English-language autobiographical book about the experiences of Vietnamese villagers caught between the war.
Vietnamese American Pulitzer winner Nguyen Thanh Viet called it "a great novel about the Vietnam War." The story of American soldiers in the Vietnam War sparked a global response. It was quickly classified by The New York Times as a best seller and has been translated into 17 languages around the world.
It is surprising that before becoming a writer, Ms. Le Ly only graduated from the third grade of the village school because of the war. When she was 20 years old, she moved to the US, there she studied philosophy, when not in class, she went to library to read books.
She recounts the process of writing When Heaven and Earth Changed Places, "I kept writing, as if given a mission to 'speak for those who are lying down, for those who do not know how to speak, or have no chance to speak'. I asked an American to edit it, who later also became a writer. The second book Child of War, Woman of Peace edited by my first son. With two books, I want to send the same message. Don't let anyone live in war."
Le Ly Hayslip and Oliver Stone.
The popularity of the book was extended when three-time Oscar-winning anti-war director Oliver Stone offered to buy its movie rights. In 1993, the film was released under the name Heaven and Earth. This work is part of his series of three films about the Vietnam war after Platoon and Born on the Fourth of July. The film has been shown many times in Vietnam and on VTV.
During the making of the film, Le Ly and director Oliver Stone became close friends.
Answering the question of Tien Phong newspaper, why would an American director who is a Christian like Oliver agree to let his entire film be explained entirely by Buddhist teachings, Ms. Le Ly said that Buddhism is a religion that she's been attached to since she was born. In her hometown, people live between heaven and earth, always trying to grow crops and follow the Buddha's teachings. When director Oliver bought the rights to the book, she wanted the stories to be told as they were.
"To introduce Oliver to Buddhism, I talked to him a lot, took him to the temple, and showed him documents and books about Buddhism. Even on long days, Oliver Stone immersed himself in the solitude of the temple in California."
When she is asked if she was satisfied with the screen adaptation of her book, the female author hailed Oliver as great director, saying he has hardly changed much, everything she want to say in the book is in the movie.
In addition to writing, Ms. Le Ly also writes poems. In the film, there are lullabies sung by herself.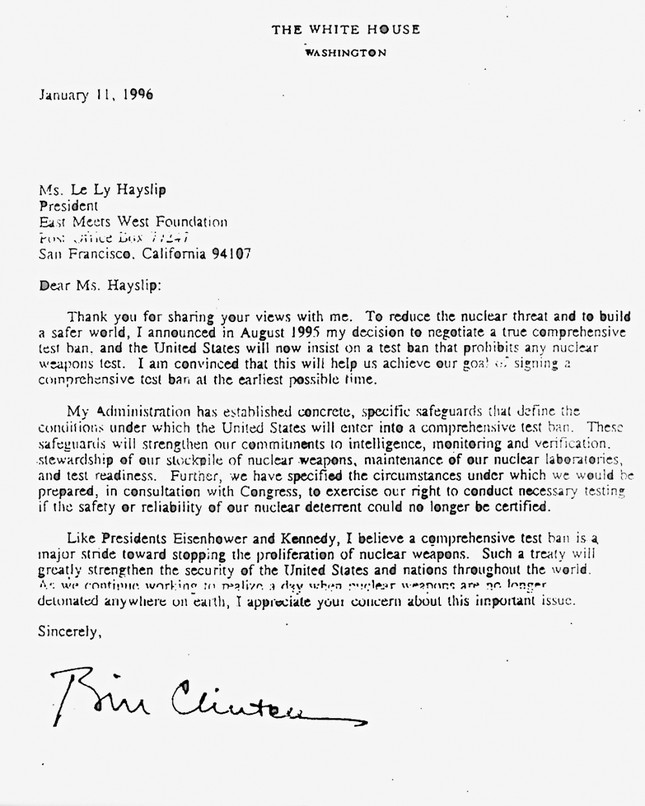 President Bill Clinton sent a letter to Ms. Le Ly.
Le Ly Hayslip's full name is Phung Thi Le Ly was born in 1949 in Hoa Vang district, Quang Nam province. When she was 14 years old, she was detained and tortured... Following her mother to Saigon to work as a maid for a rich family, she became pregnant, both mother and daughter, therefore, were fired. At 16 years old and carrying a child, she sold cigarettes, even worked as a prostitute to make ends meet.
In 1969, she worked as a nurse for a hospital in Da Nang and married an American engineer, then in 1970 she moved to the US to settle down. Here she actively went to find a job, then started her own business and became a successful owner.
In the 1980s, Ms. Le Ly bravely sent the US government a letter calling for the lifting of the embargo on Vietnam. In 1996, President Bill Clinton wrote a letter of thanks to Le Ly. And in 2000, she was one of the people invited by President Bill Clinton in the delegation to visit Vietnam.
In 1986, she returned to her homeland for the first time, following Vietnam's open door policy.
In 1987, she sold all her assets and founded a NGO East Meets West to help rebuild Vietnam after the war. By 1999, when the organization became stable, she gradually transferred to other fields.
In 2000, she founded the charitable organization, Global Village, to preserve national cultural values and support the poor in Vietnam in the fields of education, vocational training and community development.