Youths inspired by Israeli farming hold free green tours to farms outside Saigon
The cost of the tours covers transport and lunch
A number of youths have organized complimentary trips to farms and a chocolate mill on the outskirts of Ho Chi Minh City and neighboring provinces to introduce green farming modeled after that in Israel.
A tourist takes a close look at cocoa fruits. Photo: Tuoi Tre
Destinations include cocoa and eggplant gardens, an earthworm farm and a 'DIY'chocolate mill with self-built equipment.
Departing at around 6:00 am, the excursion, called 'Hanh Trinh Cacao' (A Cocoa Journey), launched by a group named 'Hien Thuc Hoa Giac Mo Nong Nghiep Israel tai Viet Nam' (Realizing the Israel-Modeled Farming Dream in Vietnam), took a group of tourists from Ho Chi Minh City to Cho Gao District, located in the Mekong Delta province of Tien Giang, 70km from the southern metropolis.
The excursionists were about to get first-hand experience of a comprehensive process that included cultivating and the preliminary processing of mango-sized cocoa fruits, followed by turning their flesh into finger-licking chocolate bars.
The tour participants were mostly students majoring in agro-forestry and youths planning to launch chocolate start-ups.
The first destination was a cocoa orchard run by 60-year-old Vo Van Nhan.
Nearly 30 young visitors followed Nhan around his orchard laden with eye-catching cocoa fruits, listening attentively to him giving details on how to tend to seedlings, remove harmful fungi, and apply grafting techniques.
The enlightening, detailed explanations helped them fully appreciate the hard work that goes into growing the plants.
They then assisted Nhan's wife with tasks including harvesting the fruits, peeling off their fleshy pulp and feeding them into grinding machines.
The young guests were next able to savor the distinctive taste of the cocoa flesh and the wine distilled from its juice.
Nguyen Duc Dung is the leader of the group 'Realizing the Israel-Modeled Farming Dream in Vietnam.'
Israel has advanced their farming technologies to an amazing degree.
"Being around farmers will help tourists appreciate farmers' challenges and help them come up with ways to supply raw materials, distribute and ultimately consume their products," he noted.
The tour's next stop was Kimmy's Chocolate, also located in Cho Gao.
The company, which takes great pride in its wide array of handmade sweets, is run by Bui Durassamy, dubbed the 'old chocolate man.'
The 65-year-old of Vietnamese and Indian blood settled in Cho Gao in 2015 after living in Canada for over 40 years.
Bui guided his visitors around his chocolate factory, which emitted a tempting fragrance and was equipped with machinery he built himself.
The elderly entrepreneur gave a detailed demonstration of the production phases. These range from cracking open pods, fermenting and drying the cocoa seeds, roasting and winnowing the cocoa, before grinding the nibs and blending cocoa liquor and molding chocolate to produce slabs that will not melt at room temperature.
He willingly answered questions from intrigued visitors without attempting to conceal 'trade secrets.'
The guests were also treated to mouth-watering chocolate pieces and Bui's story of launching his start-up.
The man had a plan to build a chocolate factory after he saw local farmers chopping down their cocoa plants, as a cooperative refused to purchase their products.
Undaunted by overwhelming difficulties initially, particularly in building different kinds of machines on his own, the man persevered and is now enjoying the fruits of his labor.
His success story inspired the enterprising young tour participants.
'Cocoa tours' to Tien Giang cost VND200,000 (US$8.7), which is enough to hire buses and prepare lunch.
Aspiring tour organizers
Young visitors learn about the chocolate-making phases at Bui Durassamy's chocolate factory in Cho Gao District, Tien Giang Province. Photo: Tuoi Tre
In the spirit of promoting innovative farming, another group called 'The He Uu Tu' (Elite Generation) has also launched free trips to green veggie and earthworm farms on the outskirts of Ho Chi Minh City on weekends.
Le Minh Vuong, 25, the group's leader, revealed that his group's name does not imply a privileged minority but a gathering of youths who aspire to make a difference and achieve success in the agricultural sector.
Their closest tour sends weekenders to a farm of trun que (Perionyx excavatus), commonly known as composting worms or blues, which is tucked away in a rubber forest in the outlying district of Cu Chi.
The commercially produced earthworm is marketed for its ability to create fine worm castings quickly and has recently become more popular in many countries for composting purposes.
Its dung makes excellent fertilizer while its flesh is typically used as nutrient-rich animal feed.
The 'The He Uu Tu' members offer the trips in the hope of encouraging their clients to adopt the lucrative farming model in their own start-ups.
On another tour, visitors are guided around an eggplant garden grown without the use of chemicals to meet a Japanese company's stringent requirements.
The garden owner applies the earthworm compost in the preliminary processing of soil.
The owner or technical staff also introduce to tourists a drip irrigation system which pumps nutrients and water drop by drop into the plants several times a day.
Guests also learn about Japanese entrepreneurs' ways of doing business, their revenues and then have the chance to eat the eggplants straight off the tree./.
VNF/TTO
Friendship
The project office of Zhishan Foundation Taiwan coordinated with the fund for children in north-central Nghe An province to award scholarships for students.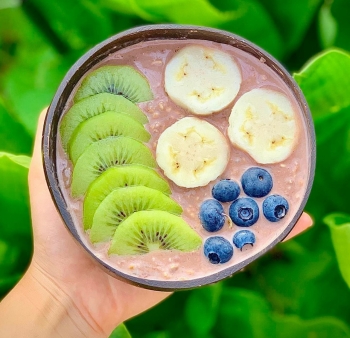 Handbook
Clean eating is not about eating clean or dirty food. It is about what benefical nutrition you consume. Check out 14 simple clean eating dishes to maintain your diet and fitness.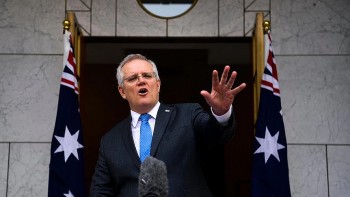 World
Scott John Morrison is an Australian politician serving as the 30th and current prime minister of Australia. He assumed office in August 2018 upon his election as leader of the Liberal Party.