120 Japanese Enterprises Invest in Ha Nam
The delegation of Japan's Shiga prefecture emphasized that Ha Nam province is a potential market for businesses to invest in expanding production and business scale.
A delegation of Japan's Shiga prefecture led by Governor Mikazuki Taizo visited and had a working session with the People's Committee of Ha Nam on November 3 to learn about this northern province's investment environment, VNA reported.
Mikazuki said the Japanese enterprises operating in Ha Nam highly value the local investment climate as provincial authorities have always provided favorable conditions for the production and business activities of foreign companies, especially those from Japan, and they have reserved an industrial park for Japanese firms.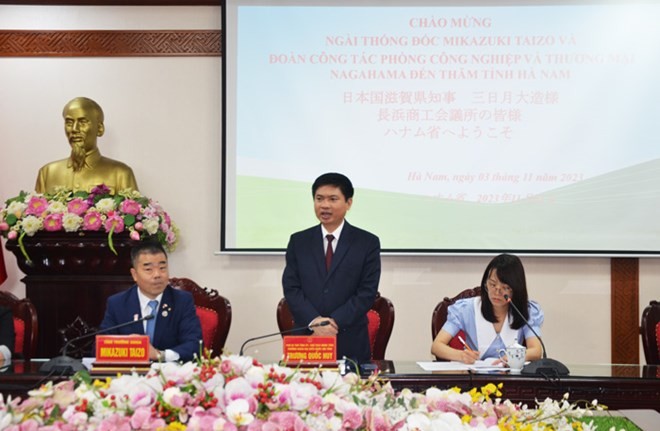 Chairman of Ha Nam Provincial People's Committee Truong Quoc Huy spoke at the working session. Photo: People's Committee of Ha Nam province
The delegation includes many enterprises with modern technology planning to invest in the province, he noted, calling on Ha Nam to continue creating optimum conditions for them to explore the local investment climate so that more and more investors from Shiga, as well as Japan, will land their investments in the province, thereby contributing to the Vietnam - Japan relations.
Introducing local potential, strengths, and incentives for investors, Chairman of the provincial People's Committee Truong Quoc Huy said Ha Nam has been consistently implementing its commitments to investors such as ensuring comprehensive infrastructure, swiftly handling administrative procedures, helping provide and recruiting workers, supplying all necessary services, and guaranteeing security and order.
Up to 120 Japanese enterprises are investing a total of over USD 2 billion in Ha Nam. They have proved their reputation by applying advanced technology, adhering to Vietnam's laws, creating a safe working environment for workers, and contributing to local economic development, he said.
In addition to economic cooperation, Ha Nam province also has close cooperation in culture and sports with Japanese localities. The Chairman of Ha Nam Provincial People's Committee also wants the working group to research and consider investing in other areas of the province such as education, health, and culture.
The official expressed his hope that following this trip, Ha Nam will welcome more investors and enterprises from Shiga.
On October 26, a delegation from Japan's Gunma prefecture, which 29 enterprises from different sectors joined, visited Ha Nam. Gunma has 56 businesses currently operating in Vietnam, including one investing in the province's Dong Van II industrial park.
Operations of FDI enterprises, especially those from Japan, in Ha Nam, have contributed to boosting economic restructuring, increasing the value of industrial production, particularly supporting industries, manufacturing and processing, and creating jobs for laborers. In 2022, Japanese businesses contributed over VND 3.35 trillion (USD 137 million) to the local budget.