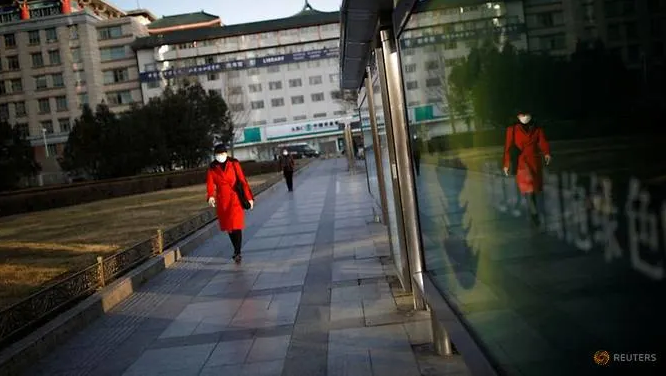 A woman wearing a face mask walks near office buildings as the country is hit by an outbreak of the new coronavirus, in Beijing, China Feb 3, 2020. (Photo: REUTERS/Carlos Garcia Rawlins)
The epidemic, which has spiralled into a global health emergency, is believed to have emerged in December from a market that sold wild game in Hubei's capital Wuhan.
Hu Lishan, an official in Wuhan, warned Wednesday that despite building a hospital from scratch and converting public buildings to accommodate thousands of extra patients, there was still a "severe" lack of beds in the region.
Pregnant women infected with the new coronavirus may be able to pass it to their unborn child, doctors at the Wuhan Children Hospital said on Wednesday (Feb 5), according to state broadcaster CCTV.
Two newborns in Wuhan have been infected, the youngest was diagnosed at 30 hours old.
Authorities in several other cities in China have placed restrictions on the number of people allowed to leave their homes.
Close to 60 million people remain under lockdown in China, with three cities reporting over a thousand confirmed cases each.
At least 25 airlines have suspended or reduced flights to and from China, and at least nine countries are denying entry to travelers from China.
Global concerns have also risen about the virus, with cases confirmed in more than 20 countries.
Thousands of people are being quarantined on two cruise ships, docked in Japan and Hong Kong, after former passengers were confirmed to have the virus.
What we know about the coronavirus
There's still a lot we don't know about the Wuhan coronavirus, and scientists around the world are racing to gather data and develop a treatment.
Here's what we can tell you so far:
Is there a cure? No -- but there are signs of progress. Doctors in Thailand say they have successfully treated a patient with a combination of antiviral drugs.
What are the symptoms? Coronavirus symptoms can look like the flu -- fever, cough, trouble breathing. If you show these symptoms and recently went to China, or have been in contact with someone who visited, experts advise going to the doctor.
How does the virus spread? The virus is thought to spread from person to person through respiratory droplets emitted by coughing or sneezing. There's also a possibility the virus can exist in and spread through contaminated fecal matter. There's currently no evidence that the virus is airborne -- meaning, for instance, it doesn't travel across a large room.
Who is at risk of infection? People of all ages can be infected with the virus, but older people and those with pre-existing medical conditions are especially vulnerable to severe complications.
How can I protect myself? Take the same precautionary measures you would during flu season. Wash your hands often with soap and water, cover your nose and mouth when you sneeze or cough, avoid close contact with people or large gatherings, and wear a face mask.
Is it safe to travel? Many countries including the US have advised against travel to China. Many airlines have suspended travel to and from China, and countries have implemented bans on travelers from China./.
VNF/CNN/AFP