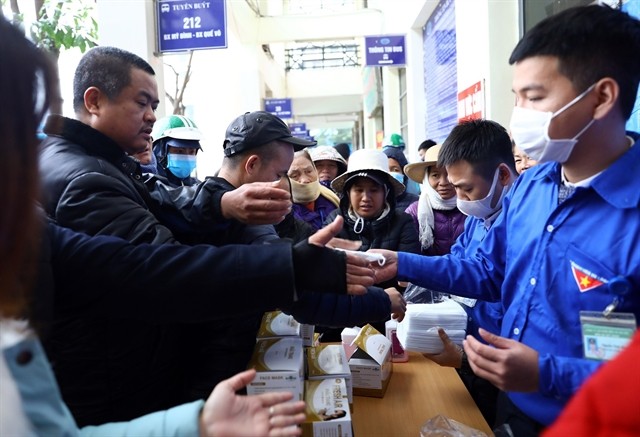 Member of Youth Union from the Hà Nội Transport and Services Corporation provide face mask free of charge to passengers at Mỹ Đình Bus Station in Hà Nội. — VNA/VNS Photo Huy Hùng
Việt Nam has prepared for the worst in its plans to deal with the novel coronavirus (nCoV) epidemic, said Deputy Minister of Health Nguyễn Thanh Long.
Speaking at a meeting with the press on Wednesday afternoon, he said the country was preparing for all possible scenarios, with about 3,000 beds and medical equipment ready to receive and treat patients in case of an outbreak of the disease.
Long said it was predicted that the nCoV epidemic might reach its peak in the next 7-10 days in China but in Việt Nam it was too early to forecast.
The deputy minister said people should not be too worried about the disease and stockpiling food was not necessary.
Among three recent epidemics, namely Middle East Respiratory syndrome coronavirus (MERS-CoV), Severe Acute Respiratory Syndrome (SARS) and nCoV, MERS-CoV has the highest mortality rate, up to 34.5 per cent while that of SARS and nCoV was 10 per cent and an estimated 1.8 per cent, respectively.
"In fact, we have had 10 people test positive for the virus. Three of them have been discharged from hospital and the rest are in progress," he said, adding: "It is a success for the health sector."
"We must be calm as not all nCoV infections are fatal," Long said.
Most of the deaths from to the disease were in Wuhan City, the only two fatalities reported outside mainland China were also those returning from the city, he added.
"We believe that our health sector has the ability and capacity to treat this disease," he said.
The deputy minister said the Government considers controlling the nCoV epidemic as a priority task, requiring the participation of the whole society.
"Compared to the SARS epidemic of 2003, the measures we are implementing now are much more stronger," Long said, emphasing that quarantines were the most important measure.
All people returning from nCoV-hit areas would be quarantined immediately.
As of Wednesday, about 900 people had been isolated at border gates. Most of them are Vietnamese.
Long said Việt Nam has classified three quarantine layers to cope with the spread of the epidemic.
The first is absolute quarantine for people who tested positive, those at risk of infection, and those who has recently been in China's Hubei Province, while the second is a 14-day quarantine period at border gates or at home under authorities' supervision for Vietnamese nationals and foreigners who entered the country via China.
The third level is limited travel or contact with the public for relatives of quarantined people and those who made contact with them.
The deputy minister said the Vietnamese health sector was providing coronavirus infection treatment at a level equal to elsewhere in the world, adding that there is so far no specific treatment or vaccine against the nCoV.
Coronavirus is transmitted very quickly from the saliva of infected people when coughing, sneezing or direct contact with infected people and from surfaces contaminated with the virus. Therefore, he said, the prevention of the virus needed many measures.
Of these, washing hands with soap many times a day and avoiding contact with lots of people were the easiest and most important ones.
Long said Việt Nam has not covered up any information related to the epidemic and the Ministry of Health has updated all new confirmed infection cases.
As of 4pm on Wednesday, the epidemic had claimed 493 lives and infected 24,567 people in 27 countries and territories, according to the Ministry of Health./.
VNS