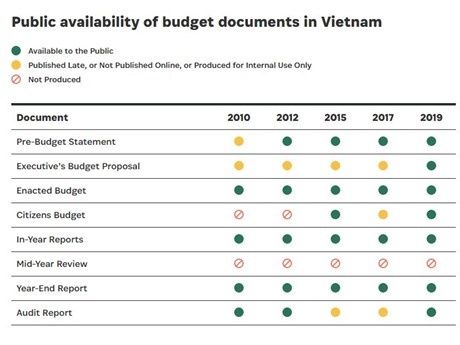 Public availability of budget documents in Viet Nam - Photo: the Open Budget Survey (OBS) 2019
The OBS is the world's only independent and comparative assessment of the three pillars of public budget accountability - transparency, oversight, and public participation - and been conducted by IBP biannually since 2006.
Vietnam's budget transparency scored 38 out of 100, an increase of 23 points compared to 2017. The average score globally was 45.
Vietnam scored 11 out of 100 for public participation and 74 out of 100 for budget oversight, up four points and two points, respectively, from 2017.
Vietnam increased the availability of budget information by publishing the Executive's Budget Proposal, the Citizens Budget, and the Audit Report online and increasing the information provided in the In-Year Reports.
The country has so far published online seven out of eight budget documents: the Pre-Budget Statement, the Executive's Budget Proposal, the Enacted Budget, the Citizens Budget, In-Year Reports, the Year-End Report, and the Audit Report, in a timely manner.
To further strengthen public participation in the budget process, the OBS suggests Viet Nam's Ministry of Finance prioritize the following actions including piloting mechanisms to engage the public during budget formulation and to monitor budget implementation.
In addition, the ministry should actively engage with vulnerable and underrepresented communities, directly or through civil society organizations representing them.
In the upcoming time, the ministry sait it wwill continue open works of State budget, apply information technology in open State budget to facilitate people to get access to State budget information.
Jennifer Tran
VNA, VGP