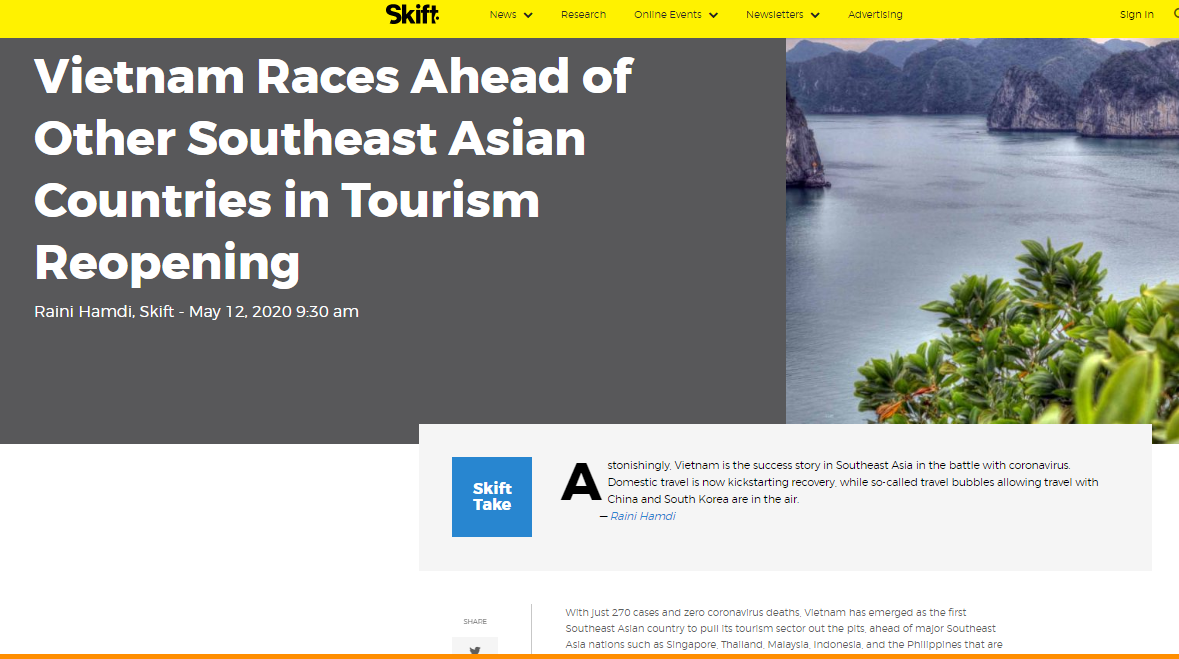 (Photo: Captured)
Accordingly, the magazine said Vietnam's domestic travel is kickstarting recovery, at a much faster speed than major naions such as Singapore, Thailand, Malaysia, adding that Indonesia, and the Philippines are still under various degrees of lockdown.
With domestic flights, bus, train services, restaurants, and retail outlets gradually resume normal activities, international flights are under discussion to reopen this June, Skift Takes reported that Vietnam is given a headway over Thailand.

Vietnam Tourism Advisory Board, a non-profit comprising industry leaders and stakeholders, has asked the government to hold "early bilateral negotiations with source markets that have contained community transition," vice chairman of the board, Kenneth Atkinson, told Skift.
Together, China and South Korea account for 55 percent of arrivals to Vietnam, so "they are really critical," added Michael Piro, chief operating officer, Indochina Capital. Of 18 million visitors last year, six million were from China and four million South Korea.
"Such travel corridors will open up both business and leisure travel", Piro was quoted as saying.
As reported by Skift Take, A lot of manufacturing companies have already shifted to Vietnam from China. FDIs are a mirror of the tourism flows. As those travel bubbles open up, FDIs will start to flow in again and tourism money will start to flow back.
But Atkinson is realistic that bubble talks may end up bursting. Fears of a second wave, as seen with new cases in China and South Korea, are another uncertainty.
Still, both Atkinson and Piro are hopeful of Vietnam opening borders with China.
Domestic driver
"Prospects of domestic travel kickstarting recovery, as it did after the 2003 SARS outbreak, appear bright", Skift Take describes Vietnam's vision, adding that inquiries for hotel and Airbnb bookings for the recent national holiday April 30 to May 1 rose for areas close to major cities.
Piro, who owns several bars and restaurants in Ho Chi Minh City, said when the outlets reopened recently, the numbers they achieved were better than those before the virus. "Though it's still early days, that tells me the locals are super eager to get out of their houses. The government's done a great job in re-instilling confidence in people and, seeing that the situation is now under control, people want to move about".
Vietnam's healthy domestic travel market is thanks to an 11 percent GDP per capita growth rate since 2000, one of the fastest rates in the world. Another factor is the government invests 11 percent of GDP on infrastructure such as roads. "No other country in Southeast Asia spends more on infrastructure than Vietnam," said Piro, adding that 60 percent of domestic travel is by road although air travel has also been stimulated by the growth of low-cost carriers led by Vietjet and Jetstar.
(Photo: Captured)
Changing roles with Thailand
"Vietnam now finds itself in the unusual position of a first-mover over Thailand in attracting Chinese and Korean travelers in a post-coronavirus world, burnishing its image as an upstart to its more mature neighbor", Raini Hamdi, author of the article, wrote.
"As it is, it took Vietnam just seven years to go from six million arrivals to 15 million, while Thailand took 15 years".
Even before Covid-19, it was fighting a heavy-duty battle to win back Chinese tourists after a fatal Phuket boat mishap. Add to that, Vietnam may be in a better place to cater to changing consumers post-pandemic.
Piro's view is that after being locked up for so long, people are going to look for more experience-driven travel and off-the-beaten paths, as opposed to being in cities.
Given Vietnam's 3,000-kilometer coastline and varying topography, visitors could be in caves, waterfalls, mountains, rice fields, beaches, Mekong all within a week.
Vietnam tourism has been gradually returned to normal since late April thanks to the relaxed social distancing order. Since mid-April, some domestic air carriers including the national flag carrier Vietnam Airlines, low-cost Vietjet Air and Bamboo Airways have announced to re-open flights between provinces and cities in the country as the novel coronavirus has been steadily constrained.
The Civil Aviation Administration of Vietnam's (CAAV) had also proposed to lift the international flight suspension order starting June 1, roughly three months after the issuance.
Travel destinations across the country are allowed to resume activities as long as preventive measures against the virus are ensured.
Jasmine Le