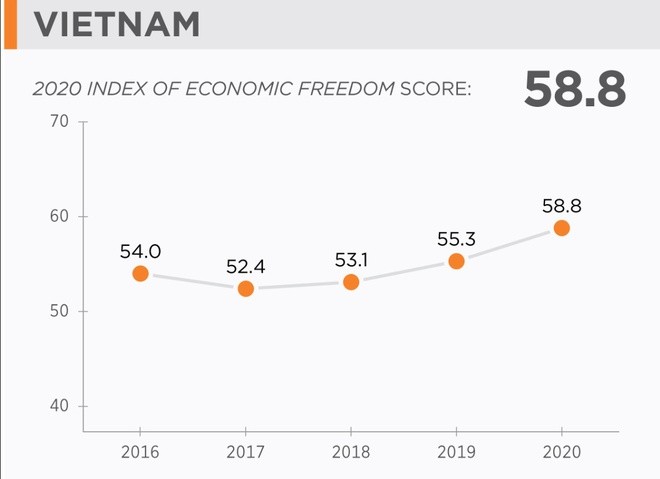 Vietnam's economic freedom index through years
Vietnam's economic freedom score is 58.8, making its economy the 105th freest in the 2020 Index. Its overall score has increased by 3.5 points due to a dramatic gain in fiscal health.
Vietnam is ranked 21st among 42 countries in the Asia–Pacific region, and its overall score is slightly below the regional and world averages.
Last year, Vietnam's score was 55.3 and ranked 128 in the world. Meanwhile, the score in 2018 was 53.1, ranking 141 in the world. Thus, after only 2 years, Vietnam has increased 36 places.
The report noted Vietnam's strong GDP growth reflected an improvement in business freedom, driven by export-focused manufacturing and processing sectors.
However, the report also recommends that economic freedom will be enhanced in Vietnam if the government can successfully expand economic liberalization by promoting international trade and restructuring state-owned enterprises. Improvement of the investment climate will be slow without improvements in judicial effectiveness and stronger efforts to fight corruption.
The Heritage Foundation, founded in 1973 in the United States, is an educational and research organization dedicated to promoting economic freedom.
VNT