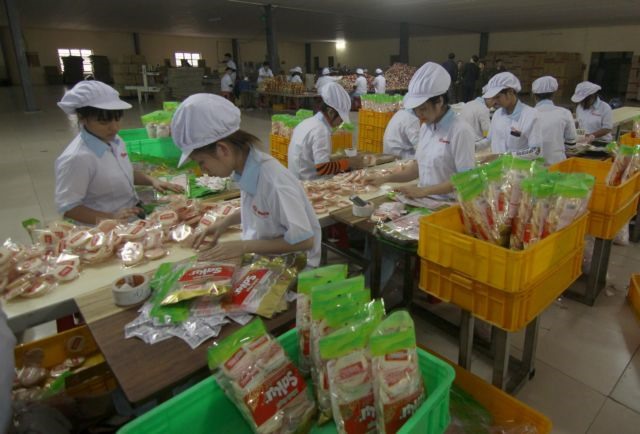 Confectionery production. Vietnamese confectioners have upped their game in recent times, resulting in both rising domestic sales and exports. (Photo source: VNA/VNS/Vũ Sinh)
Vietnamese confectionery businesses have upgraded production technologies to improve quality and efficiency, and developed new product lines to retain market share at home and also boost exports amid fierce competition.
Bibica Corporation, one of the country's largest confectionery firms, opened a factory in Long An Province last year with modern lines imported from Europe and the US.
The company said it is part of a long-term development strategy with a focus on investing in modern technologies, increasing capacity and improving products to meet new trends.
In recent years Bibica has also focused on distribution systems and finding new markets.
Its number of sales outlets went up from 95,000 in 2016 to 130,000 by the end of last year, and it exported its products to over 21 markets, including quality-conscious ones such as the US, Japan and Singapore.
Another confectionery producer, Huu Nghi Food, is building a VND800 billion (US$34.2 million) food factory in Bac Ninh province. It is one the most modern of its kind in Southeast Asia, and it is expected to be open this year.
The company said the factory would help increase productivity and both meet domestic demand and expand exports.
Bao Hung International JSC has built a second factory equipped with a European production line and invested in expanding its distribution system in. It has also worked to obtain international certificates required to export its products to more markets.
Truong Phu Chien, general director of Bibica, said Vietnamese enterprises have an advantage over their foreign rivals in terms of understanding local tastes and distribution systems.
But Pham Ngoc Hung, deputy director of the HCM City Union of Business Associations, said many consumers still prefer imports partly because of local products' limitations in terms of models, packaging, marketing strategies, and branding.
Only a few local firms could take their foreign counterparts head-on, he said.
Customs figures show that confectionery imports have increased significantly in recent years to top $360.6 million last year, with products coming mainly from Indonesia, Thailand, Malaysia, China, and South Korea.
In the reverse direction, sales were more than $660 million to 29 countries and territories, including choosy markets such as the US, Japan, Australia, France, and the UK.
Experts said therefore more communication campaigns are needed to apprise consumers about local products and their quality.
VNA