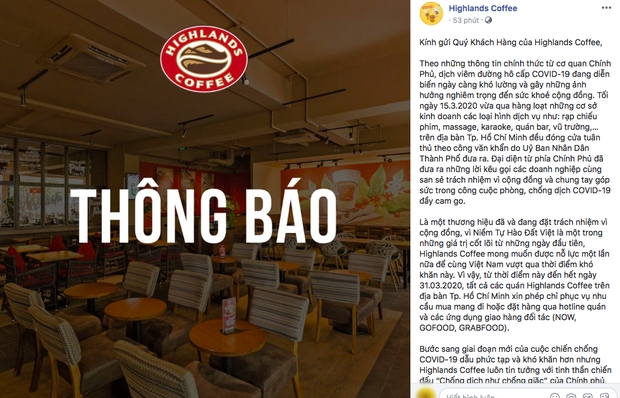 Highlands Coffee announced suspending stay-in service at its stores in Ho Chi Minh City until the end of March
Highlands Coffee has just announced to halt all services at its stores, excepting take away, as of the end of March 31. During this time, the cafés will only serve for takeaway and online order via food delivery applications.
Similarly, Starbucks has also temporarily halted serving customers at its stores in the city until the end of the month. The Coffee House has also begun offering home delivery to keep the virus from spreading.
Under the impact of the health crisis, Ho Chi Minh City authorities on March 15 issued a decision to close several business establishments like cinemas, massage parlours, bars and clubs, internet cafés, and karaoke bars, among others.
The ban has put a string of businesses on the edge, specifically cinema operators like CJ CGV that has stopped operations in the city for nearly two weeks. More telling is that its major cineplexes are located at shopping malls which house a great number of restaurants and coffee stores like Highlands Coffee and Starbucks.
Young people tend to visit cafés after a meal at the restaurants or enjoying a movie at the cinema. Thus, the closure of these establishments has indirectly impacted the coffee store chains.
In recent times, aiming to increase their foothold in the local market, Highlands Coffee, Starbucks, and The Coffee House have accelerated expanding their networks with 240, 49, and 145 stores across the country. While making online ordering available, their performance depended heavily on the physical stores.
An expert in the food and beverage (F&B) industry revealed that online business only occupies about 30 per cent of the revenue structure of an F&B company. As a result, even as they boost online channels to mitigate the shortfall at physical stores, earnings may see a significant drop.
Hanoi People's Committee has recently issued a similar decision to Ho Chi Minh City. That means the coffee brands may also have to take business online in the capital – their other largest market next to Ho Chi Minh City.
www.vir.com.vn