20 years of connection: How the internet has changed life in Vietnam
'If we had not been brave enough to open the door, we would have felt guilty now for obstructing the country's development.'
'If we had not been brave enough to open the door, we would have felt guilty now for obstructing the country's development.'
Internet users browse internet at a park in Hanoi. Photo by VnExpress/Ngoc Thanh
The best thing Vu Ngoc Anh could do was to sit tight.
He was born with brittle bone disease, known scientifically as osteogenesis imperfecta which is a group of genetic disorders that cause bones to break easily.
Growing up in a rural commune a one-hour drive from Vietnam's northern city of Hai Phong, he studied cell phone repairs after finishing high school, believing that it was the only way he could make a living while sitting in a chair.
But he has become much more than that.
From the safe comfort of his chair he has become an online content developer, a bitcoin miner, an author, an inspirer and the founder of an online radio channel and forum. At 30, he now owns an e-commerce company and has bought a house in Hanoi, one of the most expensive parts of Vietnam.
Anh has a lot to thank the internet for.
But he is not the only one whose life has changed since Vietnam got connected in November 1997.
Vu Ngoc Anh uses the internet from a shop in Hanoi. Photo by Cuong Do Manh
Around 50 million Vietnamese people, more than half of the country's population, are online.
From young toddlers to grandparents, nearly everyone uses the internet, and every person you meet on the street has something to say about something they've just read online.
Mai Liem Truc, the former director of the state-owned Post Office Department, and Tran Ba Thai, who founded the digital company NetNam in 1993, were among the people responsible for bringing internet to Vietnam.
Truc was first introduced to the internet at a conference in the U.S. in 1991 and decided it was something Vietnam needed to move forward.
At another internet conference in Japan in 1992, the pair met with some researchers from the Australian National University, who helped bring the first connection to Vietnam via an Australian domain.
The first emails sent from Vietnam were from then Prime Minister Vo Van Kiet to his Swedish counterpart in April 1994.
Truc said the Vietnamese government was very cautious about bringing the internet to Vietnam.
"There were many concerns about toxic content and the risks of losing government secrets. They were all valid concerns because we had lost so much to wars with foreigners," Truc said.
"But without the internet, Vietnam would have been isolated."
He said Vietnam had fallen behind in a lot of things. Telephones arrived in Vietnam 50 years late, while televisions were 30 years behind the times.
"But I am glad that Vietnam was not late for the internet," Truc said.
Numerous discussions resulted in NetNam being licensed as the first internet service provider in Vietnam on November 19, 1997. Two weeks later, the public had access to dial-up internet.
The launch of the internet in Vietnam came two years after web browser Internet Explorer was included in the Microsoft Windows line of operating systems, web service provider Yahoo! was founded and The New York Times began publishing daily online.
A year later, Google was launched, followed by massive investments in internet infrastructure.
But dial-up internet was not very popular in poor Vietnam. It charged by the minute, so most users would wait for a page to load and then disconnect before spending time reading the page.
Between 1997 and 2002, Vietnam had 1.8 million internet users, around 4 percent of the country's population at the time.
The number grew significantly after May 2003, when ADSL (asymmetric digital subscriber line) enabled faster data transmission and cost up to 40 percent less after private internet company FPT entered the market to compete with the state-owned Vietnam Data Communication Company.
Like anywhere else in the world, the internet in Vietnam has not stopped to amaze and entertain. It has boomed together with the launch of mobile devices such as smartphones and tablets, and is considered by many to be an essential part of life, as important as electricity or water.
Oanh, a 50-year-old woman in Hanoi, used to see the internet as a "dangerous addiction". Seeing teenagers spending hours in internet shops, she tried to "protect" both of her sons from "the evil."
Now, she is an active member of a online parenthood forum, writing regular posts with a smartphone her son bought her.
She has also learned about live-streaming and advertising products at her electronics shop on Facebook.
Vietnamese internet users have experienced certain restrictions and technical hiccups, such as regular submarine cable ruptures, yet the evolution of the internet in at least the past decade has changed long-rooted definitions in Vietnam about social life and doing business.
One person with a connected computer is all it takes to start a business that can reach out to global customers. Flappy Bird, a mobile game created by Vietnam's Nguyen Ha Dong, topped the charts in more than 100 countries and was downloaded more than 50 million times in less than a year after it was released in May 2013.
Online shopping has become a habit for 23 million Vietnamese people, according to Nielsen. Online sales in Vietnam have expanded rapidly in recent years, currently accounting for 3.39 percent of the country's retail market, which grew to $118 billion last year.
Powered by iPrice
Fabrice Carrasco, managing director of Kantar Worldpanel for Vietnam and the Philippines, predicted that e-commerce in Vietnam will grow more than fivefold by 2020 on the back of widespread smartphone usage and increasing demand for consumer convenience.
Looking back at his efforts to bring the internet to Vietnam, Truc holds no regrets.
"If we had not been brave enough to open the door, we would have felt guilty now for obstructing the country's development," Truc said./.
VNF/VNE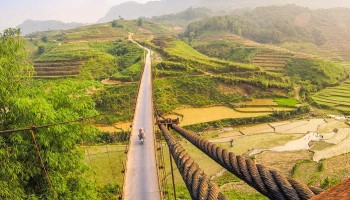 Travel
Visitors rate the 7 most amazing roads in Vietnam, weaving through mountains, jungles, and beaches, according to Lonely Planet magazine.