300 students build smart, child-friendly city
Nearly 300 girls and boys from Ho Chi Minh City have had the opportunity to showcase 21 innovative concepts of a smart and child friendly city on 18-19 October during the Ho Chi Minh City Week of Innovation, Startup & Entrepreneurship – WHISE 2018.
Their concepts are evaluated by urban planning experts, decision makers and the public (via online voting).
The top ten finalists on Oct 19 has entered the Presentation & Award Day with a final judging competition. Through this program, UNICEF and its partners have promoted children's creativity and participation into decision-making process and social solutions designing.
The 300 participants from Ho Chi Minh City, including marginalized and vulnerable children from 11 social protection centers and shelters, have participated over the summer in co-creation workshops and they worked in teams to develop their versions of a smart and child friendly neighborhood. The result of their team work is exhibited at WHISE 2018.
The event aims to demonstrate the importance of children's participation and their ability to inform adults what a smart and child friendly city could look like. (source: UNICEF).
"With this program, UNICEF is proud to demonstrate the importance of children's participation and their ability to inform us adults what a smart and child friendly city could look like, when children are encouraged to express themselves. Together with partners and children, we are looking forward to showcase their amazing and creative work at this exhibition during WHISE 2018. I am sure you will agree with me that their innovative 3D designs are indeed smart, inclusive, environmentally sensitive, friendly and fun for all children and adults", said Marianne Oehlers, Chief of Programme Partnerships Office UNICEF Viet Nam.
Facilitated by Arkki – School of Creative Education, the 11 summer workshops have opened up opportunities for children and adolescents to foster STEAM (science, technology, engineering, arts and mathematics) and 21st century skills practice. In team works, children created models in physical 3D construction, and later as virtual models through Sketch-Up and Hololens software, as professional architects and planning experts.
The concept aims to open for new perspectives for Ho Chi Minh City as a future smart city for its citizens, where children and young people are the most active and expressive participants to transform the city they live in to become friendly for all citizens including children. It has the potential to inspire new concepts of human-centered smart, green and clean living and thus contribute to SDG 11.
UNICEF is collaborating with the Saigon Innovation Hub (SIHUB), Department of Architecture and Planning of Ho Chi Minh City and Arkki to implement this program which is part of Ho Chi Minh City's Child Friendly City Initiative Project (2017-2021)./.
( VNF )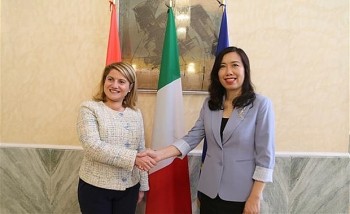 Friendship
The Vietnam - Italy political consultation is part of the occasion of the 50th anniversary of diplomatic ties and the 10th anniversary of the framework of the strategic partnership.