63-year-old woman go to law school to with desire to give free legal advice to the poor
Vi Thi Kien makes many her classmates at Can Tho University quite surprised as she is 63 years old, the same age as their grandmother.
Vi Thi Kien in the class
Kien is from Tri Ton district, An Giang province. She was born during the war and only finished 9th grade. After 1975, she worked as a contract teacher at an elementary school. Later during the Khmer Rouge period, Pol Pot troops swept into her town to kill most of her family. Thankfully, she and her sister escaped. Her teaching also ended there.
Sometime later, Kien got married. She and her husband have 4 children, including three boys and one girl. Her children are well educated. They are all successful, being doctors and engineers, having stable jobs.
"When my children were successful, I immediately thought about going to school to get a college degree. When I was young, I desired to go to university but my family was poor so I had to keep my dream down," said Kien.
Kien also said that at first, she just wanted to get a high school diploma, but the more she studied, the more interested she was to go to higher education.
She discussed with her family about going to college. Her husband and children did not object, but they were afraid that she was older, study pressure was not good for health.
As for my neighbors, I'm 60 years old, I should stay at home to take care of my offspring or travel rather than go to school. However, I kept determined to go to school.
Kien revises her lessons at home
She enrolled in high school again. At the end of grade 12 her final score was 7.2
"In 2017, I took a university entrance exam. Security didn't think I was a contestant, so he didn't let me in.
Regarding the reasons for studying Law, she said that she wanted more knowledge about the law to give free advice to those who need help.
Kien said, she is older, so her acquiring lessons is not as good as the younger. In her time, she did not study foreign languages and computers, so these subjects exercised her quite lot. Fortunately, she got help from teachers and classmates – grandchildren.
Vo Tan Phat, one of her classmate said "Every day she goes to school early. She is very studious. Her notes are very clear. Although she is older, she is a good example of learning."
Many of Kien's teachers said despite of her age, Kien has good knowledge. Her test scores are always among the top students with the highest grades in the class.
VNF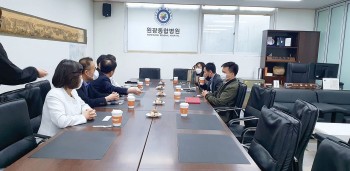 Overseas Vietnamese
A meeting was organized at the Wonkwang Hospital on the provision of medical support for the Vietnamese community in Korea in accordance with the signed cooperation agreement.