68-year-old Vietnamese earns 8th college degree
And he is already studying for the ninth
A senior Vietnamese has proven it is never too late to learn by obtaining his eighth university degree in business administration at the age of 68 from the Ho Chi Minh City Open University.
Students pose for a photo with a professor during a commencement at the Ho Chi Minh City Open University. Photo: Ho Chi Minh City Open University
Doan Minh Tuan was on the list of the university's graduates on December 9.
The weekend graduation ceremony was held for 918 students graduating from online undergraduate programs run by the Ho Chi Minh City Open University.
However, due to health issues, the 68-year-old was unable to attend the ceremony to receive his degree with his peers. The degree will be given to him later.
The 68-year-old has no plans of stopping there either.
Tuan is still pursuing a finance and banking undergraduate degree from the same university.
So far, he has finished 12 out of 37 subjects for the bachelor's degree.
Before finishing his degree in business administration, Tuan had already achieved five other bachelor degrees from the Ho Chi Minh City Open University.
These included informatics (graduating in 2011), economics and law (2012), construction engineering (2014), accounting (2016), and economic law (2016).
Apart from these degrees, the senior citizen also has a bachelor's degree in law obtained from Hue University in 2014, and an English degree granted by Hanoi University in 2009.
The studious man is originally from Ca Mau, Vietnam's southernmost province.
According to local media, Tuan is pursuing his studies so that he can be wise and capable of teaching his own grandchildren./.
VNF/TTO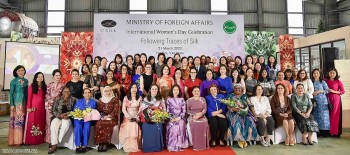 Friendship
Female ambassadors, representatives from diplomatic corps and international organizations, along with spouses of diplomats in Vietnam gathered together to find about more about silk weaving and silk products in Vietnam.