ADRA helps households overcome damages by Typhoon Damrey
On May 28-29, ADRA Vietnam cooperated with Hue Red Cross to distribute the baby chicken, food for livestock, fertilizers, fishing nets... to households in Quang Dien district, Thua Thien Hue province.
Households received breeding stocks or agricultural production materials depending on their need.
This is a part of a non-refundable aid project worth over VND 2 billion (USD 89,700) in order to help residents restore livelihood after Damrey typhoon.
The project is conducted in Quang Dien district's three communes (Quang Loi, Quang Ngan, Quang Thai) and Phong Hoa commune of Phong Dien district. The aid aims to help restore the livelihood of affected households in the community and improve the capabilty in disaster prevention, response and relief.
In more details, 500 families will be provided with seedlings and receive training on farming and husbandry techniques.
Meanwhile, 40 key officers of the localities will be trained to improve the capabilities in disaster prevention, response and relief.
Damrey typhoon (typhoon No.12) hit Vietnam in early November 2017, causing huge damage to the Central region, including Thua Thien – Hue province. In Quang Dien and Phong Dien district, hundres hectares of vegetables were submerged, dozens of fish-raising cages were swept away, large amount of seedlings were damaged./.
VNF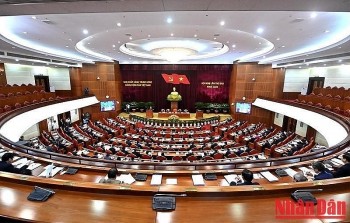 National
The 13th Party Central Committee discussed two important projects on October 4, the second working day of its 6th plenum.