After Brexit: Vietnam is not considerably affected
How Brexit will affect Vietnam's economy is an issue of much concern.
How Brexit will affect Vietnam's economy is an issue of much concern.
According to statistics, the export growth of Vietnam to the UK achieved compound growth (CAGR) of nearly 17% between 2008-2015, reaching a record of US $ 4.65 billion in 2015, equivalent to 15% of Vietnam's export value to the EU. Particularly, Vietnam has maintained a trade surplus with the UK at $3.9 billion in 2015 and $1.7 billion in the first five months of 2016.
However, statistics also show that nearly 47% of Vietnam's export to the UK are mainly household items such as telephones, computers, electronic components. In this commodity group, Vietnam depends largely on the multinational manufacturers such as Samsung or Sony, rather than trade agreement at national positions between Vietnam and the UK. Therefore, according to many experts, the UK leaving the EU won't cause significant impact on Vietnam.
Export products such as textiles, footwear and wood also do not take large proportions of Vietnam's UK trade, and though these are key commodities, the overall affect will be small on enterprise exporting these goods to UK and EU markets.
On the balance of imports, according to the General Statistics Office, the density of imports from the UK accounting for just approximately 4% of total imports into Vietnam, therefore it will not cause big changes if Brexit happens. Mr Le Dang Doanh, former director of the Institute for Economic Management, exchanged with the press on the impact of Brexit to Vietnam's economy, commenting that Vietnam is still among the countries affected by Brexit due to trade relations with Britain. When the British pound fluctuated, so too did prices of import-export goods of Vietnam.
However, many specialists evaluated, Brexit only has strong impacts on the EU, the US and major markets in Asia such as Japan and Singapore. Vietnam will not be affected significantly because we're only entering the integration process.
For the stock market, as of the end of June 26th, a total capitalization of 2 floors evaluated $75.000 billion due to the impact of Brexit referendum. Nevertheless, according to BIDV Securities Company, the stock market is influenced by domestic factors rather than the fluctuations of the world market.
As assessed by financial experts Dinh The Hien, it is investors' psychological factors that affected the Vietnam stock market rather than Brexit. In fact, the turnover between the parties is not affected considerably because of Brexit, said Mr. Hien./.
Ha Thuong ( thoidai.com.vn )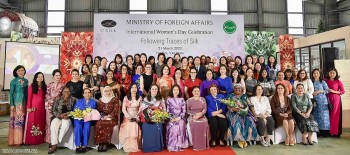 Friendship
Female ambassadors, representatives from diplomatic corps and international organizations, along with spouses of diplomats in Vietnam gathered together to find about more about silk weaving and silk products in Vietnam.