Awareness of rabies help save lives
More efforts and investment are needed to eliminate the risk of rabies in the country, said Dr Phạm Văn Đông, Director General of the Department of Animal Health on Friday at a meeting marking World Rabies Day with the theme "Rabies: Share the message, Save a Life".
Vaccinating dogs is an effective measure to prevent rabies. – Photo laodongthudo.vn
In particular, authorities and organisations must collaborate to raise public awareness, implement prevention and control measures to reduce human rabies risk, increase the number of vaccination sites for humans, improve access to healthcare services in general and increase dog vaccination.
The meeting was co-organised by the Ministry of Health (MoH), Ministry of Agriculture and Rural Development (MARD), Food and Agriculture Organisation of the United Nations (FAO), World Health Organisation (WHO) and other One Health partners calling for everyone's support in spreading information and raising awareness on rabies to save lives.
The MoH and MARD advocated for rabies prevention, control and elimination to policy makers, animal and public health professionals, dog owners and the general public.
"While effective animal and human rabies vaccines serve as important tools to prevent human deaths from rabies, awareness is the key driver for the success of community engagement in rabies prevention and control efforts", said Dr. Kidong Park, WHO Representative in Việt Nam.
"Rabies prevention, control and elimination require One Health action – effective collaboration between the human and animal health sectors. FAO and WHO will continue to raise awareness and support Việt Nam's rabies elimination efforts at all levels," he said.
Currently, rabies is reported in many provinces and cities in Việt Nam.
In 2017, Việt Nam launched a national plan for rabies control and elimination for the 2017-2021 period, successor of the national rabies prevention and elimination programme for 2011-2015.
Additionally, Government Order No. 31 dated July 2017 related to the strengthening of measures on rabies prevention and control, was also implemented. Both reflected the country's strong commitment to addressing rabies prevention, control and elimination.
According to the National Institute of Hygiene and Epidemiology (NIHE), there have been 67 rabies-related human deaths in 24 provinces and cities in Việt Nam this year – similar to the number of cases from the same period in 2017, when 67 people in 29 provinces died of rabies.
This year marks the 12th annual observance of the World Rabies Day. The program calls on governments across the world to collectively address the issue, bringing together relevant sectors, and engaging stakeholders and the global community in the fight against rabies.
Rabies is recorded in more than 150 countries, territories and areas. It is usually fatal once symptoms develop in both humans and animals. Deaths can be prevented through three key measures: seeking immediate medical care from an authorized professional after a dog bite, dog population management and vaccinating dogs./.
( VNF/VNA )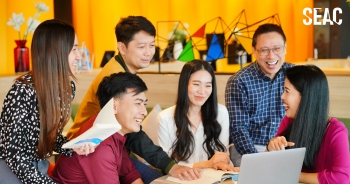 Economy
SEAC, a leading corporate and lifelong education innovator, is shaking up the Thai and ASEAN education market with significant investment to expand its SMART learning solutions across the ASEAN region.