Bamboo Airways' Foreign Leader: Recruiting Pilots Not to Fill Positions, But to Find "Right People"
Aviation safety is always the first priority for any airlines, said Deputy General Director of Bamboo Airways in charge of flight operations since January 2019, Mr. Eddy Doyle - former Air Canada leader.
Serving as the Deputy General Director of Bamboo Airways in charge of flight operations since January 2019, Mr. Eddy Doyle - former Air Canada leader - talked about Bamboo Airways' service quality and staff, as well as his expectations for Bamboo Airways on the occasion of the Airline's One-year Anniversary of Launch.
Mr. Eddy Doyle - Deputy General Director in charge of operating flights at Bamboo Airways.
Despite being a new airline, Bamboo Airways has received numerous positive feedbacks on service quality over the past time. What are the principles of building the service quality for Bamboo Airways?
Before discussing service quality, I would like to emphasize that aviation safety is always the first priority for any airlines. After aviation safety, service quality is a key factor in making an airline's brand name.
Airlines can use the same type of aircraft, provide the same meals, and partner with the same providers, but service culture is the only thing that is nearly impossible to copy.
Good service is the key to commercial success. Bamboo Airways' crew members in particular, and all of its staff in general are well aware of this. We always strive to develop Bamboo Airways' own culture.
Some other airlines only concern about arranging as many seats as possible on the cabin, while Bamboo Airways cares more about implementing the commitment to bring the "More than just a flight" experience to passengers, making them feel that in addition to a safe flight, they can relax with services offered by dedicated staff, and find that flying with us a truly great experience.
Bamboo Airways has attracted a lot of attention with photos of a big and multinational pilot team. What do you think about that?
Seeking and recruiting pilots nowadays is much more difficult than that was 15- 20 years ago. There are a lot of criteria and requirements for them to meet. These ones are not only suitable for the needs of pilots in Vietnam, but also worldwide.
Conducting pilot interviews is our hard-working task. If we're lucky, we can recruit 2 to 3 pilots every day, but there were times when we had to reject half of the candidates. Even in some "bad" days, we could only choose 1 out of 10.
Bamboo Airways spends a lot of time and efforts in recruiting pilots, because we consider it's not simply to fill the positions, but to find the right people. Pilots are responsible for the safety of hundreds of passengers, so they must be the most professional ones.
The photos you mentioned were taken in the cozy meeting between Chairman Trinh Van Quyet and our foreign pilots. It was a very important meeting.
Despite the fact that our foreign pilots come from a lot of countries, they all got attracted to the conversation with Mr. Trinh Van Quyet. His ability to spread the motivation and energy was great, overcoming language barriers.
I think when you find that your boss is really passionate and enthusiastic about his work, you really want to embark in the journey with him.
We do not recruit pilots fill the positions, but to find "right people".
Having been a veteran long-haul pilot in Canada, did the field experience help you a lot with the management of Bamboo Airways' fleet?
Flying is always my passion. When I was a leader at Air Canada, sometimes I went flying, and it was always a pleasure. Working as a pilot trains you a lot of virtue.
As a pilot, you must always have your plan B. If you drive a car in bad weather, you can stop at the side of the road and think of what to do next, but you can't do that when flying an airplane. When the weather starts to change, you start to think, and plan B is for backup in the most unpredictable cases.
As a manager, you must be able to plan for long term. What you do today is to prepare for whatever happens in the next 6 months. Take our current pilots as an example, as for now, the total number of them exceeds the required number, so that we can be ready for new aircraft to be added in the coming time.
I always require all procedures to be carried out accurately by all crew members. No mistakes are accepted.
In addition, on-site training is always put much weight on. Our pilots are still trained every 6 months, and the fleet is also trained ground operations every year.
Running an airline is similar to running a "school" aside. Educational and training activities must always persistently take place.
Recently, we have commenced the construction of Bamboo Airways Aviation Academy in Quy Nhon, and we also have received the ATO (Approved Training Organization) certificate for Bamboo Airways Training Center. These will play an important role not only in the training, maintenance, and supply of qualified pilots, flight attendants and aviation personnel for the Airline, but also for the entire aviation industry of Vietnam.
In short, a captain takes care of the flight's operation for a few hours, while a manager takes care of the future of the airline for coming months and years.
On occasion of One-year of Launch, what is your vision of Bamboo Airways in the next 5 years?
Currently, the Airline is operating 25 domestic and international routes. A friend once told me: "I like to fly with Bamboo Airways, but I need to fly to Bangkok so I have to choose another Airline."
Therefore, furthering the flight network's expansion and increasing the flight frequency to perfectly meet the travel needs of passengers will be one of our main goals. A wider network must be built so that customers can fly with the Airline to more places. The fact that the Government has officially approved Bamboo Airways to increase our number of aircraft to 30 will create favorable conditions for us to carry out the process.
My expectation for Bamboo Airways in the next 5 years is that Bamboo Airways will not only become the airline for Vietnamese people, but also for international passengers when they need to come to Vietnam. This is not only beneficial for passengers, for Bamboo Airways, but also for the tourism industry and the entire economy of Vietnam.
Thank you, Sir!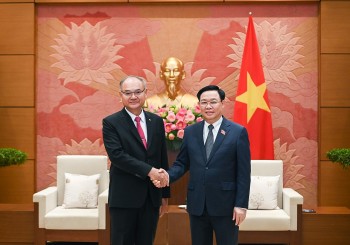 National
A Thai delegation is visiting Vietnam to learn about the guidelines and policies in the fight against corruption in Vietnam; exchange experiences with relevant Vietnamese agencies.
Friendship
There is plenty of room for Vietnam and India, as well as Ho Chi Minh City and its Indian partners, to beef up cooperation.
September 28, 2022 | 14:36