CARE's project benefits 10,000 ethnic minorities in Bac Kan
Initiated in July 2015, by CARE International, the Voice and Rights project has benefited around 10,000 ethnic minorities from the Tay, Nung, Dao and H'Mong communities in the northern province of Bac Kan, Vietnam.
Initiated in July 2015, by CARE International, the Voice and Rights project has targeted to benefit around 10,000 ethnic minorities from the Tay, Nung, Dao and H'Mong communities in the northern province of Bac Kan, Vietnam.
The research group whose members are ethnic minority women in Khuoi Slang, Banh Trach Commune, in front of their village community house. The group chose to conduct research on the community house in a hope to create a better place for the villagers to meet and discuss community issues. (Photo: CARE)
The statistics were released at a workshop to evaluate the initial results of the project, held on May 24 in Bac Kan City by CARE, the Institute for Studies of Society, Economics and Environment (iSEE) and the Bac Kan Women's Union.
The project will be carried out until June 2018 by CARE International, iSEE and Bac Kan Women's Union, aided with financial support worth US$385,000 from the European Union.
In its initial phases, the project was implemented in Phuc Loc and Banh Trach Communes in Ba Be District, using a co-research approach to improve the capacity and voice of Tay, Dao and H'Mong women in the area, while ensuring that both government agencies and civil society do their upmost to value, respect and respond to women's rights.
According to the project staff, the project helps empower ethnic minority women by turning them into researchers. In 2015, the first phase of the project was executed in Phuc Loc Commune with the participation of 32 community researchers and with the support of ten local officials. From November 2015 to June 2016, five community research teams conducted research on relevant issues in their areas, including water pollution, domestic waste, black pig breeding, the problem of children dropping out of school and traditional costumes of the Tay and Dao.
At the workshop. (Photo: VNF)
Parallel to problem-solving activities conducted in Phuc Loc Commune, from October 2016, the project was also initiated in Banh Trach Commune, with the participation of 34 community researchers from Tay and Dao. From November 2016 to May 2017, eight community research teams conducted eight studies on environmental pollution, the use of village community houses, then singing by the Tay and breeding of local chickens, pigs and cattle.
Results from the project showed that by developing a co-research approach and presenting their findings to civil society and policymakers, ethnic minority women have enhanced their capacity to identify, articulate and advocate on issues that are affecting them.
Through the project, women received training on cultural persity, visual storytelling methodology and participatory research methods. They can identify local issues, then present and lobby local agencies and civil society to address such problems. Following up on the research, the key findings were shared with the community, local government and social organisations for coordinated efforts to address local issues.
Through consultation, publication of policy briefs, advocacy efforts and training, national level stakeholders can become more able to react to the evidence produced by the local researchers and to formulate policies and plans which will work in the interests of ethnic minority communities.
More importantly, participating in the project has enabled ethnic minority women in Banh Trach and Phuc Loc to showcase their research ability for the first time. They are no longer informants for other researchers, but are themselves the ones who explore and define the most concerning problems in their community and push forward for solutions./.
VNF/Nhandan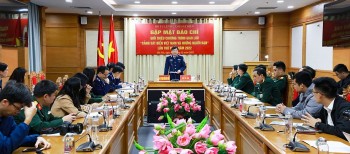 Seas and islands
The first "Vietnam Coast Guard and friends" exchange will take place in December with the participation of National Committee for Maritime Security of Cambodia, Coast Guard Department of China, Indonesian Maritime Security Agency, Malaysian Maritime Enforcement Agency, the Coast Guard of the Philippines, and Thailand Maritime Enforcement Coordinating Center.