China Closes Border Gate with Vietnam again due to Covid Threat
China has suspended all imports and exports at one of its border gates in Guangxi Province with Vietnam's Lang Son Province as a pandemic prevention measure.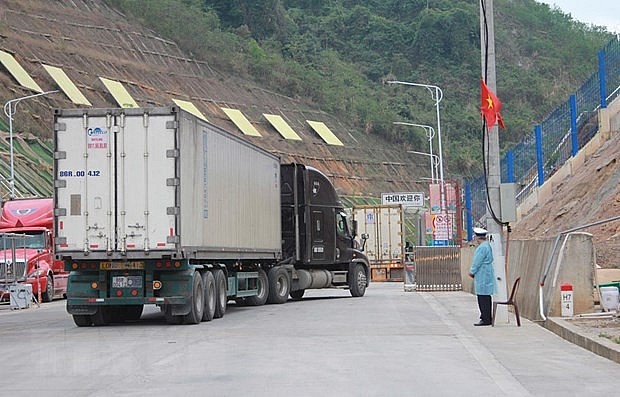 China was Vietnam's second largest export market in the first seven months with a value of $28.7 billion, up 24 percent year-on-year. Photo: MoIT
According to the Asia-Africa market department under the Ministry of Industry and Trade, Chinese custom officials temporarily shut down its Lung Vai border gate in Guangxi Province with Coc Nam in Lang Son Province starting 4 p.m. on August 26.
Reopening of the border gate would depend on the pandemic situation and demand for customs clearance of goods through this area, VnExpress said.
Lang Son authorities said as of August 26 night, there were no containers stuck at Coc Nam border gate. Provincial authorities have notified businesses and traders to stop sending goods to the border.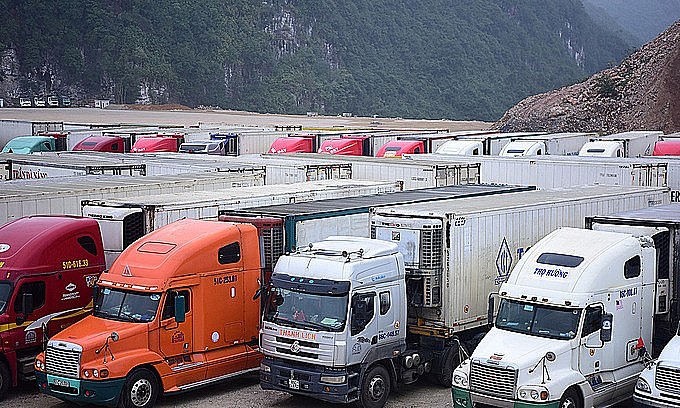 Container trucks carrying dragon fruits at a parking zone near the Tan Thanh Border Gate in the northern province of Lang Son on February 4, 2020. Photo: VnExpress
In order not to interrupt cross-border trade, the ministry is working with relevant agencies to develop a plan to regulate vehicles moving through Huu Nghi border gate in Lang Son Province or Ta Lung in Cao Bang for export to China. Currently, these border gates are still operating normally.
Earlier this month, China's Guanxi Zhuang Autonomous Region also shut down the border gate with Tan Thanh border gate in Lang Son for few days to review their Covid-19 safety measures.
There are 12 big and small border gates in Lang Son.
China was Vietnam's second largest export market in the first seven months with a value of $28.7 billion, up 24 percent year-on-year, according to General Statistics Office.
Vietnam asks China to facilitate customs clearance for agricultural produce
Vietnam Plus on August 24 reported that Minister of Industry and Trade Nguyen Hong Dien has sent official letters to the Minister of Commerce of China and the Governor of Yunnan province (China) asking the Chinese side to facilitate customs clearance for and export of Vietnamese agricultural produce.
Amid the complicated development of the Covid-19 pandemic with the Delta variant, the delivery and reception of imports and exports at Vietnam-China border gates continue to strictly follow pandemic prevention and control measures and no cross-border infection has been recorded so far, the minister said in the letters.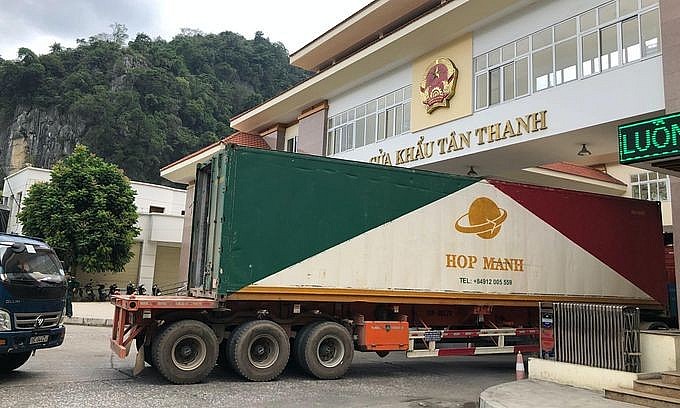 Container trucks seen at Tan Thanh Border Gate in Lang Son Province. Photo by the Industry and Trade Magazine
Dien expressed regret to receive information that the Department of Commerce of Yunnan province suspended the import of dragon fruit from Vietnam through border gates in the area from July due to concerns about the COVID-19 situation in Vietnam.
By mid-August, dragon fruit in particular and other agricultural produce of Vietnam, in general, could not be exported to China through the border gates with Yunnan. Meanwhile, the import of vegetables and agricultural products from Yunnan through Vietnam's border localities is still going smoothly with an average of about 400 vehicles per day, he said.
According to Minister Dien, pandemic prevention and control can be ensured if border gate authorities and businesses of the two sides continue to seriously comply with the approved goods clearance process which has been proven to be effective over the past year.
He suggested the Chinese Minister of Commerce direct Yunnan province to promptly remove restriction of the import of Vietnamese agricultural products through border gates.
The minister asked the Chinese side to coordinate with Vietnamese border localities to implement pandemic prevention and control measures while maintaining stable circulation of goods at the same time. /.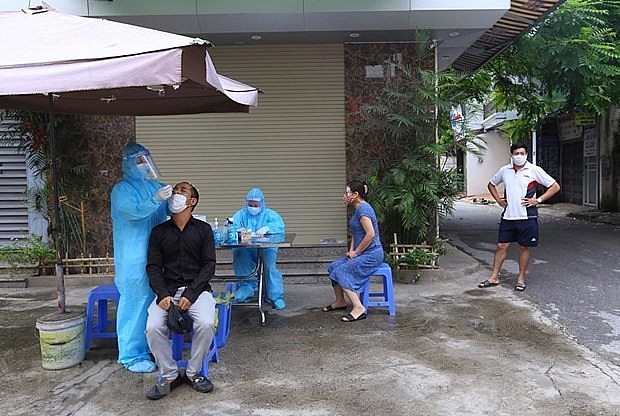 Taking samples for Covid-19 testing in Hanoi's Hoang Mai district. Photo: VNA
Vietnam is grappling with its most challenging outbreak triggered by the Delta variant, with over 400,000 infections since the fourth coronavirus wave struck in late April.
The country recorded an additional 12,103 Covid-19 infections, including 12,097 domestic and six imported cases, in the past 24 hours to 6pm on August 28, the Ministry of Health announced.
Ho Chi Minh City, the country's current largest pandemic hotspot, logged the highest number of infections with 5,481 cases. It was followed by the neighbouring provinces of Binh Duong with 4,049 cases and Dong Nai, with 797 infections.
More than 304,000 doses of vaccines were administered on August 27. The country has to date administered over 19.15 million doses of vaccines, with more than 2.32 million people having been fully vaccinated./.
Vietnam, China talk defence cooperation

Defence cooperation between Vietnam and China has been continuously expanded, covering different spheres like delegation and experience exchange, and UN peacekeeping.