China ship incursions becoming an irritant, says Philippine Defense Secretary
The series of incursions of Chinese warships into Philippine waters is becoming an irritant to the defense establishment, which worries that such presence without proper coordination may lead to unnecessary confrontation, said Defense Secretary Delfin Lorenzana.
5 Chinese warships enter Philippine waters in July, August. Photo from Western Mindanao Command
According to The Philippine Star, Defense Secretary Delfin Lorenzana, who is joining the party of the scheduled trip to Beijing of President Rodrigo Duterte this month, hopes that the issue will be among the topics discussed by Philippine and China officials.
"I hope the matter will be taken up in order to put an end to all these, because our people are asking why they (Chinese warships) are there and we at the defense department are already getting irritated because they kept on ignoring us," he said.
The defense chief added that the Chinese appeared to be "taunting" the Philippines by deploying their warships in Philippine territorial waters with the vessels' Automatic Identification Systems (AIS) switched off and without prior notification to authorities.
On Aug 16 night, Lorenzana told "The Chiefs" on Cignal TV's One News that he had brought up the warship incursions with Chinese Ambassador Zhao Jianhua after the military reported the incursions from February to June.
The military, he said, noted that the vessels were not merely conducting "innocent passage" through Sibutu Strait in Tawi-Tawi.
Although government agencies have not monitored suspicious activities by the Chinese warships, this uncoordinated presence inside the country's territorial waters is already annoying, he added.
Lorenzana admitted that all the security forces could do in response is limited to monitoring and reporting of incidents to higher authorities so the appropriate diplomatic actions could be taken.
"In an event they (Chinese warships or other gray ships) are out there (without any prior coordination) and we have a navy ship nearby, they (intruding warships) will simply be escorted out of the country's territorial waters," he said.
He said there is no problem if the warships are sailing through Sibutu Strait, being a busy sealane where about 150 ocean-going vessels sail daily, as long as the Philippine government is informed.
"For as long as they do not shut off their AIS, they can pass through without informing us because, we allow passage there because it is an international passageway," he pointed out.
The Armed Forces of the Philippines Western Mindanao Command earlier reported the presence of the Chinese warships with its AIS turned off. It also said that the sailing patterns when spotted last July 4 and Aug 4 were not consistent with the rules of innocent passage.
Armed Forces of the Philippines chief Gen. Benjamin Madrigal maintained that the Chinese warships, just like any other foreign warship across the globe, must have prior coordination for the planned voyage inside the country's territorial waters to prevent or avoid unintended or unnecessary confrontations.
He stressed that aside from security threats the intrusions present to the country's forces, an uncoordinated voyage of any warship inside Philippine waters could be seen as an affront to territorial integrity.
"It is not only the security threat that is at stake here, but respect for our territory and respect of other states to our country. All these (coordination), this respect can be coursed through and agreed on the level of diplomatic arrangements — the reason why we have foreign relations," Madrigal said./.
VNF/Philippine Star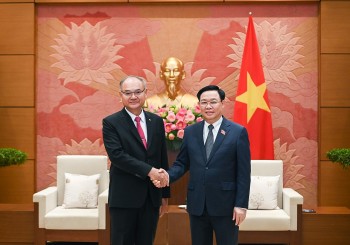 National
A Thai delegation is visiting Vietnam to learn about the guidelines and policies in the fight against corruption in Vietnam; exchange experiences with relevant Vietnamese agencies.