COVID-19 costs Hanoi's tourism $3.6 billion
The capital city lost about $3.6 billion in tourism revenue last year due to the impact of the COVID-19.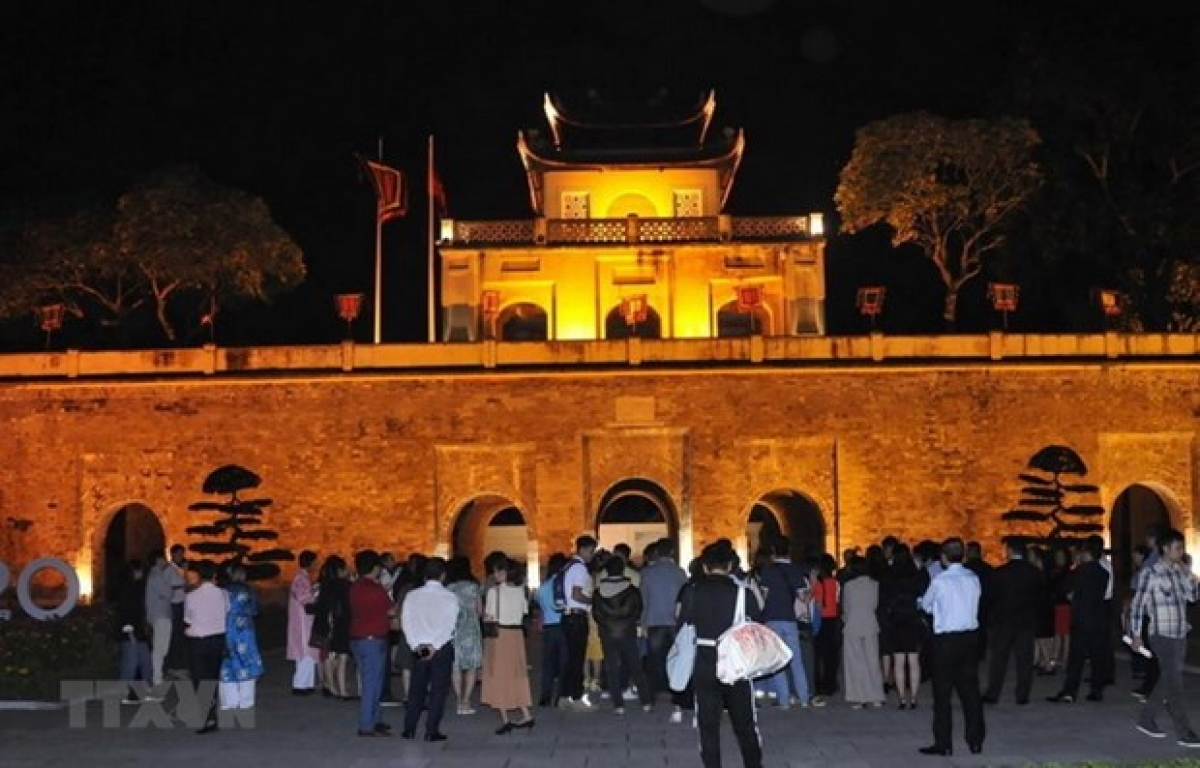 A tour to the ancient citadel of Hoang Thanh at night (Photo: VNA)
Hanoi received 8.65 million travelers in 2020, just 30 percent of the figure in 2019. The capital city lost about $3.6 billion in tourism revenue due to the impact of the COVID-19.
A report from the Hanoi Tourism Department released on January 20 showed a sharp fall in the number of tourists to the capital city in 2020 because of COVID-19, Vietnamnet said.
Of the visitors to the city last year, 1.11 million were foreigners, a 84 percent decrease from 2019, and 7.54 million were domestic travelers, down 65 percent.
Hotels in Hanoi suffered heavily from the pandemic, especially 3-5-star hotels as there were no foreign guests.
According to the Hanoi Tourism Department, 950 out of 3,587 hotels in Hanoi had to suspend operation. The room occupancy rate of 1-5 star hotels was about 30 percent, a decrease of 38 percent compared with 2019.
Around 1,307 travel firms in Hanoi provide both international and domestic travel services. The sharp fall in number of travelers led to 90 percent of travel firms closing or suspending operations.
Since January 2020, 159 firms providing inbound tours and eight firms providing domestic tours have had their licenses revoked.
Thanks to two domestic demand stimulus campaigns, Hanoi's tourism prospered in May, June and July. However, because of the second outbreak, there was nearly no activity in late July, August and early September.
Travel activities had to be reactivated later, while travel firms faced financial, market and workforce problems.
Hanoi decided that the tourism sector should focus on developing the domestic market in 2021 and prepare to receive foreign travelers when conditions permit.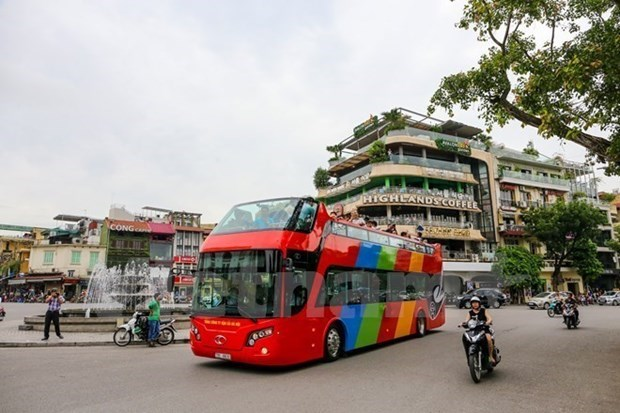 A double-decker bus carries tourists to famous destinations in Hanoi. Photo: VNA
Hanoi has considered three scenarios for tourism development in 2021.
The city aims to attract 15.34 million domestic travelers, equal to 70 percent of 2019 and double the figure on 2020. It hopes that tourism service facilities and hotels will reopen with an occupancy rate of over 45 percent.
At present, 18 hotels in Hanoi serve as quarantine sites for specialists and investors returning to Vietnam, and flight crews.
Hanoi's Vice Mayor Nguyen Manh Quyen has asked the tourism department to deploy new solutions to exploit the great potential of Hanoi.
Hanoi plans to organize many big events and tourism festivals in 2021, including the Tourism Demand Stimulus Festival, Ao Dai Festival, Food Festival and events on the occasion of SEA Games 31.
The festivals are expected to be organized annually.
Hanoi also needs to pay attention to building groups of tourism products to stimulate demand, strengthen links between tourism firms and related businesses, and run tourism promotion programs in key cities and provinces.
COVID-19 rains on Vietnam's tourism parade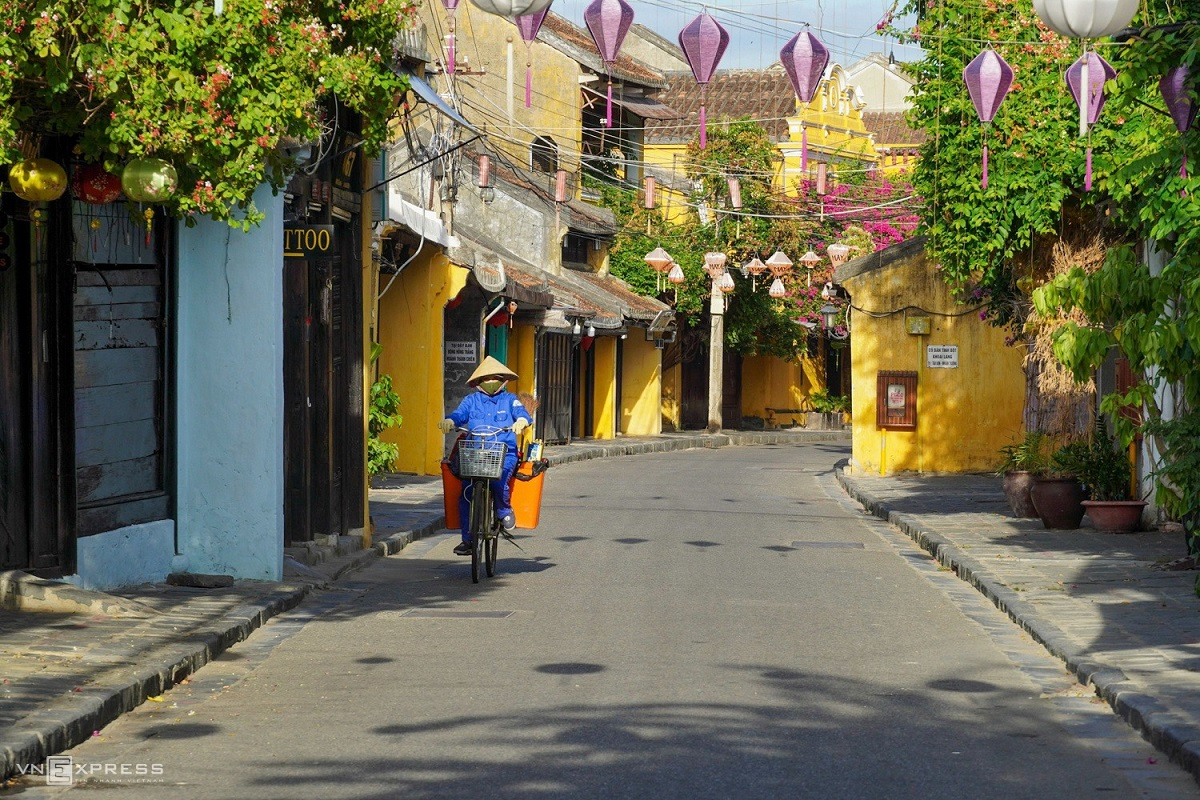 A street in Hoi An is left deserted due to the Covid-19 pandemic, July 2020. Photo: VnExpress
Vietnam recorded a 79 percent decline year-on-year in the number of foreign visitors in 2020 due to travel restrictions amid the coronavirus pandemic.
The country received 3.83 million foreign tourists against a record 18 million in 2019, General Statistics Office data shows. The government in early of the year set a target of 20 million.
Visitors from China, traditionally Vietnam's largest tourism market, dropped by 83.5 percent to 959,200, followed by South Korea (80.4 percent), and Japan (78.4 percent).
Revenue from lodging and food & beverage services was VND510.4 trillion ($22.12 billion), down 13 percent year-on-year, while revenue from travel agencies' services was VND17.9 trillion ($776 million), a 59.5 percent drop.
Vietnam grappled with two waves of COVID-19, the first in late January and the second in late July, which took a serious toll on its tourism.
The government has closed national borders and canceled all international flights since March 25 with only Vietnamese repatriates and foreign experts and highly-skilled workers allowed in with stringent conditions.
The government recently green-lighted the resumption of commercial flights to seven Asian destinations, mainland China, Japan, South Korea, Taiwan, Laos, Cambodia, and Thailand, but Vietnamese carriers are still not allowed to operate inbound flights.
Historic flooding in the central region also put the brakes on tourism. Between early October and mid-November the region and parts of the Central Highlands were hit by a succession of storms that brought torrential rains and caused severe flooding and landslides, according to VnExpress.
Thanks to its strict quarantine and contact tracing measures, Vietnam has been globally praised for containing COVID-19 outbreaks, keeping the tally at 1,441 and deaths at 35 in a country of 96 million. Many economic powerhouses such as the U.S., Japan, China, and the U.K. were struggling to contain them./.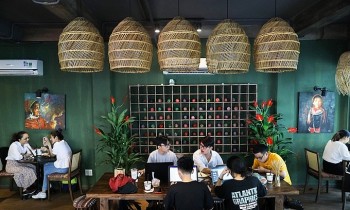 National
Vietnam News Today (October 28): Vietnam confirms 4,404 domestic Covid cases; Vietnam attends first ASEAN-Australia Summit; HCM City allows to resume on-site dining; Vietnam among top 10 largest suppliers of goods to EU market.