Dairy giant Vinamilk moves into sugar industry
Vinamilk purchases a 65% share in the Khanh Hoa Sugar Joint Stock Company.
Vinamilk purchases a 65% share in the Khanh Hoa Sugar Joint Stock Company.
Vietnam's largest dairy producer, Vinamilk, has officially set foot in the sugar industry by purchasing a 65 per cent share in the Khanh Hoa Sugar Joint Stock Company, renaming it the Viet Nam Sugar JSC (Vietsugar).
This is part of plans to expand Vinamilk's source of raw materials for its closed production chain, according to CEO Mai Kieu Lien. "This is not just a strategic handshake between two businesses in the food industry," she said. "With the investment and advanced management experience of Vinamilk, the cooperation creates a new direction for Vietnam in the global playing field."
The inauguration ceremony of Vietsugar (source: VET)
Vinamilk's involvement in the sugar industry comes as the ASEAN Trade in Goods Agreement (ATIGA) is about to come into effect. According to Ms. Lien, this is a good opportunity for Vietnam's sugar industry, which has been protected for many years, to change and compete with other countries.
Mr. Do Thanh Liem, CEO of Vietsugar, said a market economy always needs breakthrough moves. He expects Vinamilk to make major contributions to the country's sugar industry and that sugarcane growers will see their incomes increase.
The Khanh Hoa Sugar JSC was established in 1989 and has a processing capacity of 100 tons of sugarcane a day. In January this year it was transformed from a State-owned enterprise into a joint stock company. In the near future, it will increase capacity to 15,000 tons per day, with independent raw sugar processing of 2,000 tons per day.
The Thanh Thanh Cong Tay Ninh and Bien Hoa sugar companies, both owned by the Thanh Thanh Cong Group (TTC), are currently among the largest sugar companies. In April, the two merged to create the largest sugar company in Vietnam.
Following the merger, the new company's market capitalization was estimated at nearly VND10 trillion ($438.6 million). Annual turnover is expected to be more than VND8 trillion ($352 million).
Vinamilk is the largest dairy company in Vietnam and among the Top 50 dairy companies in the world in terms of revenue. Its products are not only consumed in the domestic market but also exported to 43 countries around the world, including the US, Japan, Thailand, and the Philippines, as well as the Middle East. Export turnover stood at $258 million last year.
The Singapore-listed automotive group Jardine Cycle & Carriage Limited (JC&C) announced on November 13 that it had acquired a 5.53 per cent stake in Vinamilk through two back-to-back transactions, for an aggregate investment of $616.6 million.
Jardine, through its wholly owned subsidiary Platinum Victory Pte Ltd, picked up a 3.33 per cent stake at an auction on November 10 and bought the remaining shares, amounting to 2.2 per cent, through open market purchases./.
( VNF/VET )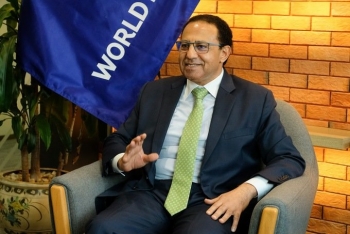 Economy
Vietnam's agriculture is transforming from quantity targets towards profit, environment and farmer income targets. Ahmed Eiweida, Vietnam Sector Leader for Sustainable Development (World Bank).