Deaf Vietnamese student known as 'super star' at US university
A Vietnamese girl became the first of her country to receive a full scholarship to a university for the deaf in Washington, D.C., where she's decided to continue studying post graduation to earn a master's degree.
Thuy Tien raises her hands towards the sky to express happiness during her graduation in 2016. Photo: Supplied
Nguyen Tran Thuy Tien was able to earn her master's degree thanks to a full-ride scholarship to Gallaudet University in Washington, D.C., worth US$117,000, where she graduated with honors and a 3.7 GPA in 2016.
According to Charles Reilly, Ph.D., Gallaudet's Executive Director of Research Support and International Affairs, Tien spent her time at the university earning a reputation as a stand-out student and one of the school's "super stars."
Develop academic sign language for Vietnamese
Before earning her scholarship to Gallaudet, Tien studied in a program for deaf Vietnamese backed by Japan's Nippon Foundation.
After graduating high school, Tien worked at the Nippon Foundation's office in Dong Nai Province, 65 kilometers northeast of Ho Chi Minh City until 2014, when Gallaudet University partnered with the Nippon Foundation to offer scholarships to low-income Vietnamese.
"The directing manager of the organization told me I needed to write a project proposal in order to apply," Tien explained.
Every year, Gallaudet University offers just two full scholarships to deaf students from around the world, making the program extremely competitive.
However, despite stiff competition, Tien's proposal was quick to grasp the attention of the university's admission and it wasn't long before she was told that she'd been selected.
"The project I wanted to work on was about sign language for the deaf," Tien said.
"The sign language used by Vietnam's deaf community is only sufficient for basic conversation and lacks academic vocabulary."
Tien's project proposal focused on developing vocabulary and books designed to help deaf Vietnamese overcome the barriers of such a limited lexicon.
As passionate as she was about the project, Tien decided to put off her education for a year in order to focus on her English skills before leaving for the U.S.
"A lot of people think that just finishing junior high school is good enough for deaf people," said Tien, explaining the stigma she and others with her disability face daily in Vietnam.
Wanting to prove these people wrong, Tien devoted herself to her studies and never allowed let being deaf hold her back from academic success, even during junior high school, when she studied at a school for ordinary children.
After finishing her graduate studies in 2016, Tien returned to Vietnam to offer guidance to other deaf Vietnamese through training sessions and TV shows, including a daily program on VTV7 during which five words in sign language are taught to viewers.
Thuy Tien (standing) among the participants at a training on sign language in Hanoi. Photo: Supplied
Learning about the deaf community
Despite her own experiences as a deaf person, Tien admits that she spent a great deal of time during her studies improving her understanding of the deaf community.
"Majoring in sign language pedagogy, my greatest lessons were on the characteristics of the deaf," Tien said, adding that this knowledge has helped her gain a greater understanding of her own potential.
Tien also commented that going abroad gave her better insight into the challenges and limitations faced by Vietnam's deaf community, particularly its underdeveloped sign language and the exclusion of deaf people from many aspects of daily life.
"When I was in Vietnam, I did not know what the deaf can do, their abilities, and their strengths," she said. "Now I feel empowered to be more active and I know I can do whatever I desire so I encourage my deaf peers to be more active in their daily lives too."
The outstanding graduate also commented that, in her observation, professionals in Vietnam have a lack of respect for the opinions and ideas of their disabled colleagues.
"It makes me deeply sad because I also have my own opinions," Tien admitted, adding that she's learned from her peers in other countries that many places in the world show a far greater amount of respect for the ideas and opinions of the deaf.
"The deaf must be self-confident about what they can do and prove that to society," she said.
One of the common reactions Tien says she receives when she tells people that she is a teacher is a mixture of surprise and doubt.
Even during simple daily tasks, like a trip to the bank, Tien is often met with shock by staff, who believe she is unable to manage without assistance from a guardian or caretaker.
"I can interact normally with the help of a pen and paper," Tien insisted.
Hence, she believes that such behaviors and stigma in Vietnam must be erased.
"I wish that people would call us 'deaf' instead of hearing impaired," Tien said. "Being deaf means we have our own sign language and culture, and we are proud of that."
VNF ( TTO )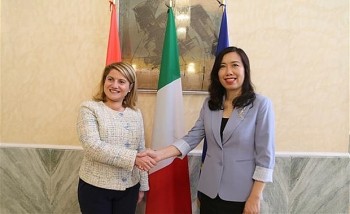 Friendship
The Vietnam - Italy political consultation is part of the occasion of the 50th anniversary of diplomatic ties and the 10th anniversary of the framework of the strategic partnership.