Disaster prevention needs to be included socio-economic development plans
Vietnam is witnessing natural disasters hitting all of its regions throughout the year, with strong intensity, wide coverage and increasing extremity and abnormality.
Vietnam is witnessing natural disasters hitting all of its regions throughout the year, with strong intensity, wide coverage and increasing extremity and abnormality.
Flooding in Thua Thien-Hue province. Source: VNA
Economic damage caused by natural disasters to Vietnam has increased in recent years, to an estimated 1-1.5 percent of annual gross domestic product (GDP). Over the past 20 years, natural calamities have left 400 people dead or missing each year and greatly affected the country's development.
In the first nine months of this year, 175 people died or went missing due to natural disasters, which caused economic damage estimated at more than VND 12.3 trillion (USD 530 million).
In recent years, climate change has intensified, increasing human and property losses. According to experts from the Programme on Climate Change and Development of the Vietnam-Japan University under the National University Hanoi, Vietnam fails to follow developments of natural disasters and extreme weather because on-the-spot human resources and response means are limited in many localities.
In addition, disasters now strike localities that have never been hit before, with poor response experience, they added.
Another reason for extreme weather is a lack of thorough measures to prevent human intervention in nature. Nguyen Thi Yen, Climate Change and Disaster Risk Reduction Advisor at CARE International in Vietnam, said in the process of development and urbanisation, many infrastructure systems have trespassed on water drainage corridors of rivers, reducing flood prevention capacity.
Besides, due to limited budget, spending for disaster mitigation is yet to match the increasing frequency and intensity of unusual weather patterns, she added.
Environmental experts agreed that to enhance climate change adaptation and disaster prevention capacity, it is necessary to focus on planning work and integrate it into the long-term socio-economic development plans of each locality.
They emphasised the need to account uncertain factors of climate in infrastructure building investment to ensure resilience to disasters and map out scenarios for response to natural disasters and extreme weather.
Regarding intermediate solutions, Prof. Dr. Truong Quang Hoc from the Institute for Natural Resources and Environmental Studies under the National University Hanoi, said the forecasting and warning of hydrometeorology, water resources, drought and seawater intrusion was important.
It is necessary to shift to smart agriculture that is adaptive to climate change, he said, adding that sustainable and climate change-resilient livelihoods for each sector and region need to be designed and built soon, he said.
In the long run, Hoc stressed the need for an overall and long-term view as well as inter-sector and inter-region approaches in respect to rules of nature and in harmony with nature.
Localities should focus on developing human resources while building the model of communes safe to natural disasters, he said, adding that it is necessary to draw and implement district-level action plans on climate change adaptation in tandem with the new-style rural building programme./.
VNF/VNA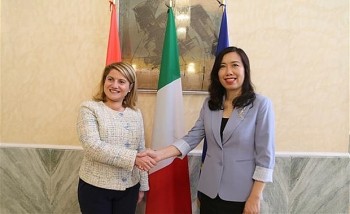 Friendship
The Vietnam - Italy political consultation is part of the occasion of the 50th anniversary of diplomatic ties and the 10th anniversary of the framework of the strategic partnership.