DUI is crime: Vietnamese Facebook users change profile photos to condemn drunk driving
Facebook users from across Vietnam are adding photo frames to their profile pictures with messages condemning drunk drivers after two women were killed in a DUI hit-and-run crash in Hanoi on Wednesday.
A Facebook user (not pictured) applies the 'Drink Don't Drive' photo frame to his profile picture in this photo taken in Ho Chi Minh City, May 3, 2019. Photo: Tuoi Tre News
Photo frames with messages such as "Drunk driving is crime" and "Drink Don't Drive" are popping up all over Facebook to help users spread the message.
Others have even changed their profile pictures to special avatars designed as prohibition signs with the message "You are not allowed to drive once you have consumed beer or alcohol."
A Facebook profile picture specially designed for the movement.
The movement first began after two women, both 43 years old, were fatally hit by a drunk driver in a Mercedes Benz at the entrance to the Kim Lien Underpass in Hanoi early Wednesday morning.
The tragic accident came less than ten days after another drunk driver fatally crashed into a female street sweeper in the Vietnamese capital on April 22.
Facebook's Profile Frame feature, which allows users to create custom photo frames to celebrate important moments and support special causes, is now being used throughout Vietnam to call on drinkers to think about the lives of others before getting behind the wheel while intoxicated.
"Driving while drunk or on drugs is a crime," a user named Hai Phuong wrote on her Facebook after changing her profile picture.
"Those who drive under the influence will become murderers sooner or later. Please, all the drink-drivers out there, think about the pain you cause for others when you hit and kill someone."
A Facebook profile picture with a frame of the movement.
Trang Thu, a mutual friend of the two women killed in the Kim Lien Underpass crash, called on people to "say no to drinking if you plan to drive."
Another friend of the two, Kim Cuc, urged that people "use actions rather than words," for the "don't drink a drive" movement to succeed.
The profile pictures and photo frames were quick to spread among the Vietnamese Facebookers.
"This photo frame will remind me each day not to drink and drive," one user wrote.
VNF ( TTO )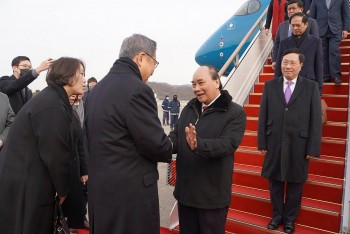 National
Vietnam News Today (Dec. 5): Additional 204 Covid-19 cases recorded on December 4; State President warmly welcomed in Seoul on RoK visit; Vietnam, Venezuela boast potential for fishery cooperation; Northerners feel chill as cold wave intensifies.