Dutch PM slams Malaysian PM Mahathir's MH17 comment
Dutch Prime Minister Mark Rutte on Thursday (Jun 20) slammed his Malaysian counterpart for creating "confusion" by criticising a decision to charge four people over the downing of Malaysia Airlines flight MH17.
Dutch Prime Minister Mark Rutte on Thursday (Jun 20) slammed his Malaysian counterpart Mahathir Mohamad for creating "confusion" by criticising a decision to charge four people over the downing of Malaysia Airlines flight MH17.
Dutch Prime Minister Mark Rutte. (Photo: REUTERS/Piroschka van de Wouw)
Dr Mahathir Mohamad had called the move by Dutch-led investigators to charge three Russians and a Ukrainian with murder for the 2014 disaster "ridiculous" and "politically motivated" against Moscow.
"I can imagine that relatives must be very disappointed about it and also that it sows confusion," Rutte told reporters ahead of an EU summit in Brussels when asked about Dr Mahathir's remarks.
Rutte said the Dutch foreign ministry would contact the Malaysian government about Mahathir's comments, adding that he wanted "to await the results of this first before making further statements".
The Boeing 777 was travelling from Amsterdam to Kuala Lumpur when it was blown apart by a missile over part of eastern Ukraine held by Russian-backed rebels on July 17, 2014.
All 298 people on board were killed, 196 of them Dutch.
Malaysia is part of a Dutch-led joint criminal investigation team, together with Australia, Belgium and Ukraine, to identify and prosecute those responsible for shooting the plane out of the sky.
The team announced on Wednesday that a trial of the four suspects with links to Ukrainian separatists would start in March 2020.
A Malaysian air crash investigator inspects the crash site of Malaysia Airlines Flight MH17, near the village of Hrabove (Grabovo) in Donetsk region, Ukraine, Jul 22, 2014. (Photo: Reuters/Maxim Zmeyev/Files)
But the 93-year-old Dr Mahathir said the charges were a "ridiculous thing".
"We are very unhappy because from the very beginning it became a political issue on how to accuse Russia of wrong-doing," he told reporters in Malaysia earlier Thursday.
"As far as we are concerned we want proof of guilt. So far there is no proof. Only hearsay."
The Malaysian foreign ministry said in an earlier statement that it "appreciates" the announcement by the Dutch-led investigation team.
'No proof' of Russia's guilt
Russian President Vladimir Putin said on Thursday (Jun 20) the international community had failed to provide any evidence that Moscow was behind the downing of MH17.
"What we've seen as evidence of Russia's guilt absolutely does not suit us. We believe that there is no proof there," Putin told reporters.
On Wednesday, international investigators charged three Russians and a Ukrainian, the first people to face justice over the catastrophe in eastern Ukraine in July, 2014.
The investigators did not implicate any Russian commanders or the Kremlin, but they released what they said was an intercept of a conversation between Putin's aide Vladislav Surkov and a senior separatist, Alexander Borodai, on July 11, 2014.
In the intercepted phone call Borodai is heard asking for military aid from Russia.
Surkov is heard replying that he had spoken with "the most senior comrades - cannot get any more senior than that - who are in charge of this whole military story" and that they said the aid was on its way.
Putin on Thursday sought to once again shift blame onto the Ukrainian authorities.
"Who allowed flights over a military zone? Was it Russia? No. Where were the fighter jets?" Putin asked reporters, speaking after his annual four-hour phone-in.
"There are lots of questions there. But they are not being answered. They've simply chosen once and for all and picked the guilty party. Such an approach to the investigation does not suit us."
Ukraine and the West have accused the separatists of using a Buk surface-to-air missile supplied by Moscow to down the Boeing plane.
Russia has denied the claim and suggested that a Ukrainian missile may have hit it.
In a bid to counter raging accusations that he was personally guilty, Putin recorded a late-night video address soon after the tragedy, urging the West and Kiev not to exploit the disaster for political gain.
The trial of the four men with military and intelligence links will start in the Netherlands in March next year, although they are likely to be tried in absentia as neither Russia nor Ukraine extradites their nationals./.
VNF/AFP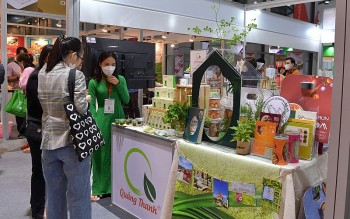 Economy
Nearly 100 Vietnamese food and beverage businesses attended the THAIFEX - Anuga Asia 2022 International Food and Beverage Trade Fair in Bangkok, Thailand, address ground-breaking innovations that will influence the fast-paced industry.