Elderly Vietnamese turn to nursing homes for companionship and healthcare
These pensioners in Hanoi are bucking the traditional trend in their later years.
These pensioners in Hanoi are bucking the traditional trend in their later years.
Every morning at 6:30 a.m., Le Thi Thinh, 81, gets up at a knock at her door.
"Get up Mom, it's time for school," her son says.
Thinh's children have been teasing her like this to make her trip to the nursing home more exciting. After breakfast, she gets dressed, grabs her hat and mobile phone, and is helped to walk to a waiting car. After a 10 minute journey she arrives at "school," which is two kilometers (1.4 miles) away.
Thinh and her friends often refer to the nursing home as "school" or "hotel."
Le Thi Thinh, 81, stays at a nursing home in Hanoi's Ha Dong District when her children are at work. Photo by VnExpress/Dien Hong
The home was built five years ago in an urban area in Hanoi's Ha Dong District. Thinh spends the day there with eight others. She has her lunch and takes a bath at the home before her children collect her at 4 p.m. Given her daily routine, it is no surprise that her three-year-old grandchild keeps says that she is "going to kindergarten."
Thinh's daughter said she and her siblings think the nursing home is the best place for their mother.
"Before coming here, my mother laid in bed all day telling us that she was tired. She has diabetes and often gets hungry," she said.
"She needs someone to stay with her all day to look after her. We can't stay at home to do that or rely on houseworkers to take care of her, so the nursing home is our best choice."
For a fee of VND7 million ($307) a month, Thinh has a place to get better physically and mentally.
"She didn't like it at first, but now we don't have to convince her anymore. She gets up just in time for the short trip to the nursing home and loves it there because she has friends."
"Her health is stable now. We take her home for dinner every day so that she can still live with us, but at the same time, she does not feel lonely when we go to work and school."
But not all nursing home residents look at it as a "school." For others, it is now their home, for the rest of their lives.
One winter morning in 2017, Nguyen Thi Kim Thanh sat by the window of her room, which lies on the sixth floor of a nursing home she had stayed at for the past two years.
Looking out onto the balcony where tigon flowers were growing, Thanh let the airy space dry her white hair. "I wash my hair with the shampoo my son sent me from Germany. It smells good, doesn't it? He's so thoughtful. He even sent me cotton swabs."
Nguyen Thi Kim Thanh's only child has been living in Germany for 30 years, and after her husband died five years ago, she moved to a nursing home in Hanoi's Hoang Mai District. Photo by VnExpress/Phan Duong
Thanh and her husband have one child, who has been settled in Germany for 30 years after studying there.
After they retired, he took them to Germany, but the old couple could not adapt to the western world. "We couldn't speak or understand German, and our son went out to work all day so it felt like we were trapped in his apartment."
Thanh and her husband returned to Hanoi and resumed life in the city center, where she could do morning exercise and take a walk in the evening whenever she wished.
But then her life turned upside down when her husband died five years ago, leaving her alone in Vietnam. Thanh rented out one floor of her apartment and hired a houseworker so that she could have some company.
But life changed again for Thanh after she fell over and broke her leg. Thanh had to stay in the hospital for eight months, and her son decided to put her in a nursing home because he could not stay with her in Vietnam to care for her.
Thanh agreed and thought it was the right decision. She sold her house and went to live at a nursing home in Hoang Mai District.
Now she has friends to talk to and nurses to take care of her around the clock, and her son comes to visit a few times each year.
She still wakes up early at 5 a.m. to exercise by walking around the floor where she is staying.
"Thanks to frequent exercise, my joints don't hurt anymore," Thanh said with a big smile.
The story of Hoang Thi Cam flows in the same direction.
At 82, Cam is known as "Miss Friendly" by people at a nursing home in Ha Dong District because when anyone looks at her, a smile appears in the middle of her chubby cheeks.
Three years ago, before Cam arrived at the nursing home, she longed for companions so much that she used to pretend she was sick so that her children and grandchildren would visit her.
Cam explained that a few years ago, her husband decided to leave home for a pagoda. Her children and grandchildren were busy with their lives and work, and most of the time, she had to stay at home with a houseworker and felt very lonely.
Now she has people around her at the nursing home and doesn't feel lonely, but Cam still wants her privacy so she rents a private room for VND9 million (more than $390) per month. Sometimes her husband stops by and stays with her for a few days.
Inside her room hangs a black and white photo taken in 1964 that shows a beautiful lady with her husband and three kids. Underneath the photo lies two verses of handwritten poetry.
"My husband wrote them. His handwriting was so beautiful and so was he. That's why I fell for him," she said, before suddenly turning sad and explaining that it had been four months since he last visited her as he was busy organizing spring festivals.
Hoang Ngan, director of a nursing home in Ha Dong District, said: "A few years ago, people used to be prejudiced against nursing homes and the issue even led to family rows. Sometimes, one sibling would take a parent to a nursing home, only for another to come and take them home. Things are different now, and people are more open-minded."
Thuan, the manager of a nursing home in Hoang Mai District, said demand has steadily increased at the center he works at.
Now Thuan has to keep his eyes on more than 40 elderly people.
"We separate them into three groups: those who are healthy enough to look after themselves, those who are senile or have other health problems that need constant support, and those who are terminally ill but refuse to stay in hospital," he said.
On average, it costs VND6-15 million ($263-657) a month for a person to stay at these private nursing homes in Hanoi, and in a country where the annual per capita income was $2,385 last year, customers at these centers are limited to those with a healthy retirement fund or high-income children.
Old people soak their feet in hot water at a nursing home in Ha Dong District, Hanoi. Photo by VnExpress/Dien Hong
One old man with no wife or children said his pension is not enough to cover his costs so he needs to rely on his siblings to pay the VND7 million monthly fee to the nursing home he lives in.
"Most of workers here are young and unprofessional," he said, adding that he has no choice left.
After decades of a young labor force driving the economy, Vietnam's population is aging fast, and the support mechanism for the elderly has failed to keep up with the pace.
The General Statistics Office said in 2010 that Vietnam's population would officially enter the aging phase from 2017 onward.
Currently, the elderly account for 11 percent of the total population. By 2030, one in six Vietnamese will be over 60 years old, and by 2060, the ratio will be one in four, according to the United Nations Population Fund.
What is more alarming is that Vietnam only has 20 years to prepare before it enters an "aged population" (10-19.9 percent of people aged 65 and over). Without "comprehensive reform", the country is likely to lose long before the finish line.
"The pension scheme will start running a deficit in 2020 and the reserves could be totally depleted by 2029, causing big problems for Vietnam's economy," said Carlos Galian, an expert with the International Labor Organization in Vietnam.
By Vnexpress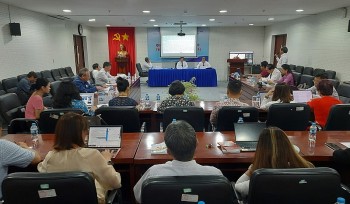 Friendship
The Vietnam - India Friendship Association's Ho Chi Minh City branch, the Ho Chi Minh City Union of Friendship Organizations (HUFO) and the Southern Institute of Social Sciences on March 21 held a scientific seminar themed "Vietnam - India relationship: tradition and present".