Establishment market information system is a key priority
During May 21-23, in the framework of FLOW/EOWE project, SNV has worked with Binh Thuan Department of Agriculture & Rural development and provincial People's Committee to hold a technical workshop focusing on market information systems for agriculture with support of SNV specialists and advisors.
Up to now, FLOW/EOWE project has gone through half of its journey achieving fundamental targets committed with the donor – the Dutch Government. In the remaining time, SNV and local partners at provincial levels are going to complete these activities as planned. Among those, the establishment of market information system is a key priority.
"Our company uses approximately 10,000 tons of cashew per year but we haven't got enough information about market price or global cashew quality requirement. If we are able to access these information, we will effectively adjust the input and output production as well as order intakes for cashew products", shared by Ms. Nguyen Thi Thu Hang, casher enterprise owner at Duc Hanh commune, Duc Linh district, Binh Thuan province.
In Binh Thuan, the need of providing market information related to the main agricultural products such as dragon fruit, cashew, rubber and rice is increasingly important, to the point that it is considered as one of the top priorities of local agriculture.
After discussing with local partners, Binh Thuan Agricultural Extension Center has been selected to be the focal point to receive FLOW/EOWE technical support to implement activities and provide agriculture market information to farmers and enterprises/cooperatives (especially women-owned, women-led ones).
It is expected that during the pilot phase, there will be about 2000 farmers and 60 cooperatives/SMEs in 5 target areas of Binh Thuan province participating in the program. The market information regarding cultivation, harvesting seasons, and product information will be weekly distributed via text messaging system of Viettel. Besides, popular communications channels such as agricultural extension news, agriculture news and local TV channel will be utilized as well. The information will be synthesized from local and government sources of Ministry of Agriculture and Rural Development as well as Ministry of Commerce.
VNF/SNV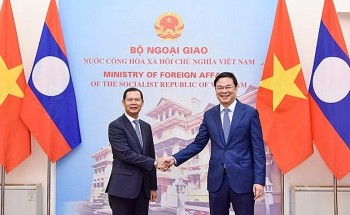 National
Vietnam News Today (Nov. 27): Additional 427 Covid-19 cases confirmed on November 26; Vietnam records boom in number of Japanese restaurants nationwide; Seventh Vietnam-Laos political consultation held in Hanoi; Conditions in place for Vietnam to boost wellness tourism.