Explore The Unique Jashak Salt Dome – The Natural Wonder of Iran
The Jashak salt dome, which lies in the Zagros Mountains in southwestern Iran, is unique for its natural structures and becomes one of the most attractive destinations in Iran.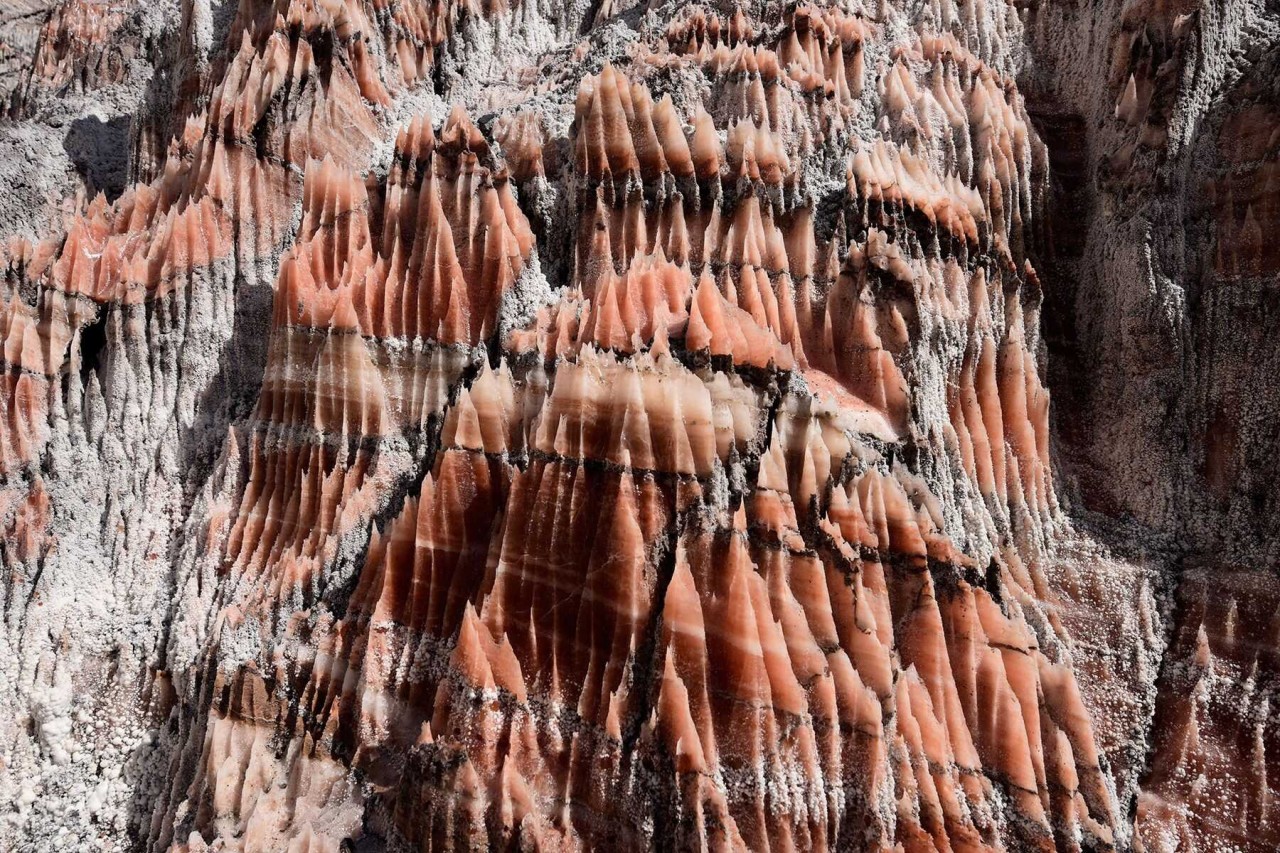 visitiran
Bushehr province is one of the most spectacular provinces in Iran, which attracts many enthusiasts with its significant variety of natural monuments. The beautiful beaches of this province, the pristine islands and the protected areas with rich wildlife are just a corner of this beautiful nature.
Jashak salt dome or Jashk salt mountain is one of the unique natural monuments in Bushehr province and in Iran, which is located between Kangan and Khormoj. This salt dome with its beautiful landscapes has become one of the tourist attractions of Bushehr province and attracts many enthusiasts.
Salt domes can be seen in different parts of southern Iran. One of the important examples is Qeshm salt dome. Such salt domes can also be seen on the island of Hormuz.
Nature manifests unique pictures of itself in Southern Iran. One of these incredible manifestations is Bushehr's Jashak Salt Dome. As one of the most immensive and impressive domes of its kind in the world and the largest one in the Middle East, this Salt Dome is a top attraction with lots of rare spectacles. Everything hidden in this salty complex, the marvelous caves, the gorgeous icicles, the handsome glaciers, the lovely formations, and the formidable pillars and waterfalls are there to leave you captivated. This 600-million-year-old national fossil treasure is both a photographer's heaven and a great destination for geology lovers.
Geography of Jashak Salt Dome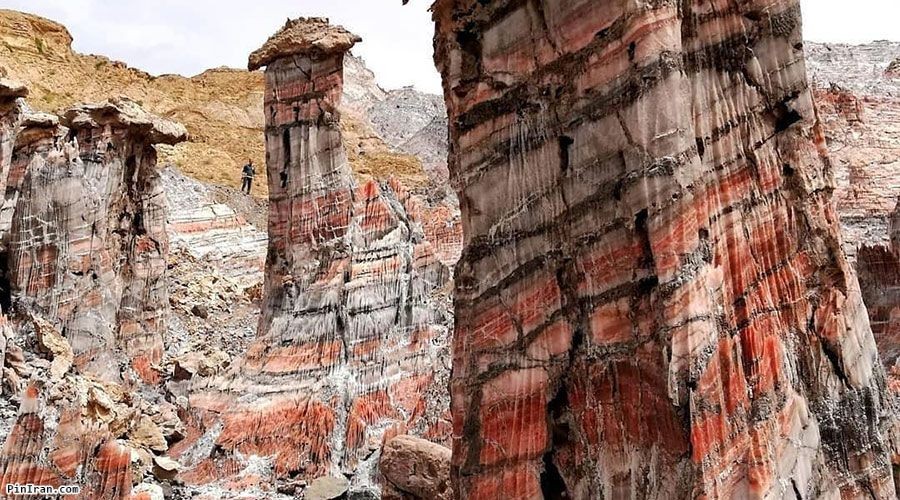 PinIRAN
64 kilometers to the south of Khormoj town and 144 kilometers to the southeast of the center of the province, you can find Jashak Salt Dome. The dome covers about 3666 hectares of land, reaches up to 1490 meters from the ground and is at least 70 meters from sea level. With a 12-km length and a 4.5-km width, the dome extends from Gankhak Village and Jashak Village in the west to Baghan Village and Darvishi Village in the east.
Jashak salt dome appeared due to high evaporation salt residue on the soil surface and the underlying salt region. There're nearly 114 salt domes in southern Iran, especially in the provinces of Hormozgan and Bushehr.
White salts of the dome make it look like a beautiful snowy mountains in the eastern plains from far away. Some parts of the dome look like ice glacier.
A beautiful salt waterfall is another tourist attraction of the salt dome. The waterfalls that flow naturally along the dome appear when water vaporizes in hot and dry weather. This phenomenon can be seen in mid-spring to summer and early autumn.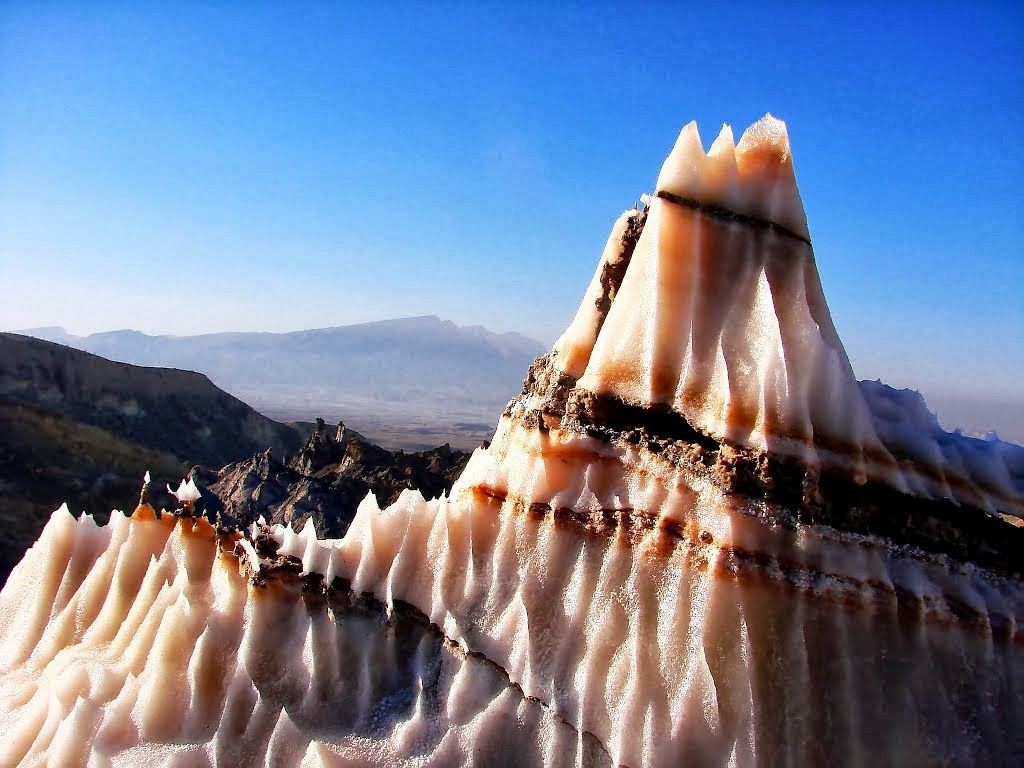 Pinterest
Another feature of the dome is salt caves. The caves are created by the dissolution of salt deposits around the dome. Beautiful stalagmites and stalactites in the form of salt crystals can be seen inside these caves.
Water erosion caused some stunning patterns on the salt dome. It can be called as one of the most beautiful geo-morphological erosion creations.
The non-silicate minerals such as pyrite and fluorine, and many salt crystals with metallic and non-metallic luster color variations can be found in this area. Various colors, include red, brown, white, yellow, black and orange.
Salt Glaciers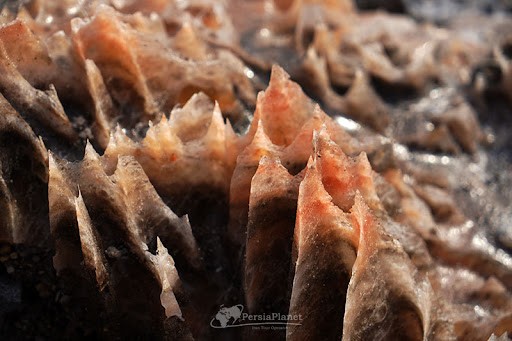 Persia Planet
Looking like ice glaciers, salt glaciers are of the beautiful sights seen in the northwest section of Jashak Salt Dome. The gravitational movement of salt masses toward the edges of the dome has created these glaciers.
Salty Waterfalls
Salty Waterfalls are of the wonders of Jashak Salt Dome. When we imagine a waterfall, we usually picture it in the middle of a jungle or green region. But the water falls of the dome are there to change this picture. These waterfalls have been on the water passageway. In summertime, the water completely evaporates and forms beautiful thick crystals that give a dazzling beauty to the waterfalls. You can see this rare sight from around mid-spring until summer and fall.
Salt Caves
The charms of this salt dome are endless. On your adventure around the dome, you'll discover salt caves that are formed by the dissolution of salt by rain water. In these caves, you can check out the beauty of stalactites and stalagmites created by salt crystals.
1. Shakh-e Nabat (Rock Candy) Cave
Salty crystals and icicles hanging beautifully from the ceiling of these caves don't miss to impress you.
2. Angoori (Grapy) Cave
This cave is another wonder of this huge salty complex. The salt crystals hanging from the ceiling and walls of this cave look like
3. Tunnel Cave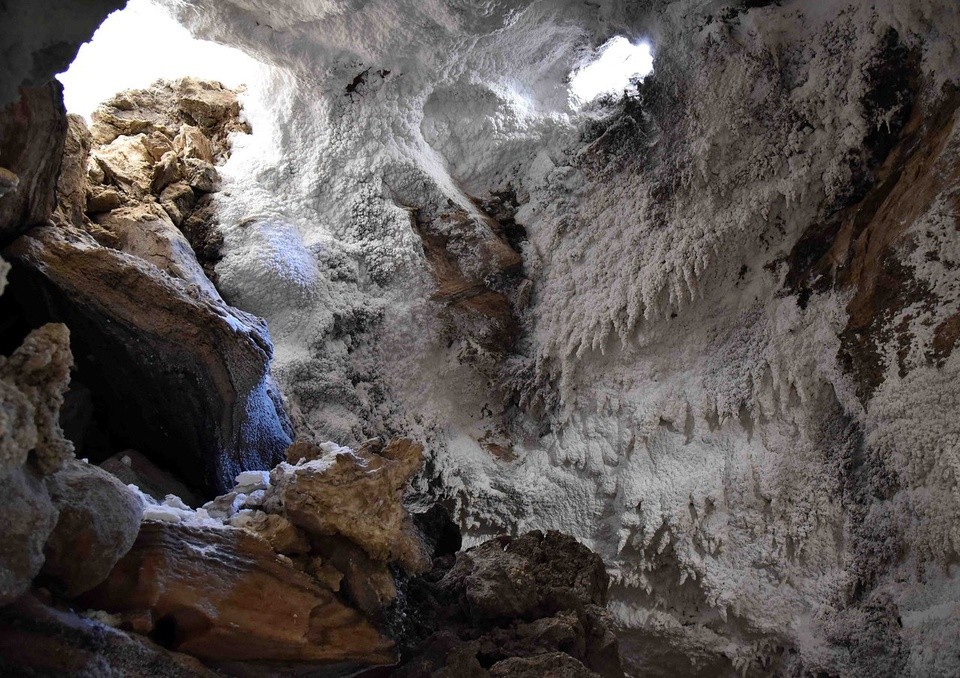 tripadvisor
An adventure into this cave will be one of the most exciting parts of your exploration around Jashak Salt Dome. This amazing cave is an almost 300-meter tunnel in the form of a horseshoe. Being in the path of water streams that dissolved salt sediments led to the gradual creation of this cave over years. Because most visitors don't know about the existence of this cave or even have a guide, they miss a great part of their adventure. Even if you manage to find the tunnel cave on your own (which is improbable), getting into it without a guide is dangerous. Deep in the cave, there is total darkness and you'll need a head torch to continue. Passing through the dark territory of bats and making them flutter multiplies the joy and excitement of the hike.
At some points in the cave, there are few-meter cliffs. For descending these colorful cliffs, you'll definitely need a guide's assistance. At some points, the path branches into different paths and that's another reason why you'll need a guide. Then, after walking in total darkness for a while, you'll reach the romantic part of the cave. The narrow beam of light that lights a small part of the cave is a gorgeous sight. Don't miss the chance of capturing great photos at this part of the cave. As you go ahead in the cave, you'll have to crawl through a half-a-meter tunnel which is amazingly decorated with porous salt.
The Secrets of Jashak Salt Dome
iranonadventure
The marvelous look of Jashak Salt Dome has always been a subject of local folklore and myth. Based on one of these legends, the dome is a result of a legendary curse. Since they believe demon lived and ruled in this protected dome, they call it Demon's Throne.
Plants and Animals in Jashak Salt Dome
As you might have guessed, a land covered with salt can't have a rich vegetation. But in some parts of Jashak Salt dome, you can see plants like Milkvetch and Zygophyllum. In valleys that are immune from salt, you can also find jujube, Bryophyllum, wild almunds, and beautiful polka dot plants. You can also see animals like wild goats, foxes, jackals and hyenas; birds like Sandgrouses, partridges, see-see partridges, bee-eaters, swallows, common swifts, sparrows, and finches; and different kinds of reptiles. In hot seasons (from around mid-spring to early fall), the only living thing you can find there are lizards and bats.
The Best Season to Visit
This amazing dome is in one of the super-hot regions of Iran. So, the best season to travel there is mid-November to early April. Also, considering that the top sites of the dome are on the floodwater path and the rain is usually heavy, checking out weather forecast before traveling to Jashak is a must.
How to Get to Jashak Salt Dome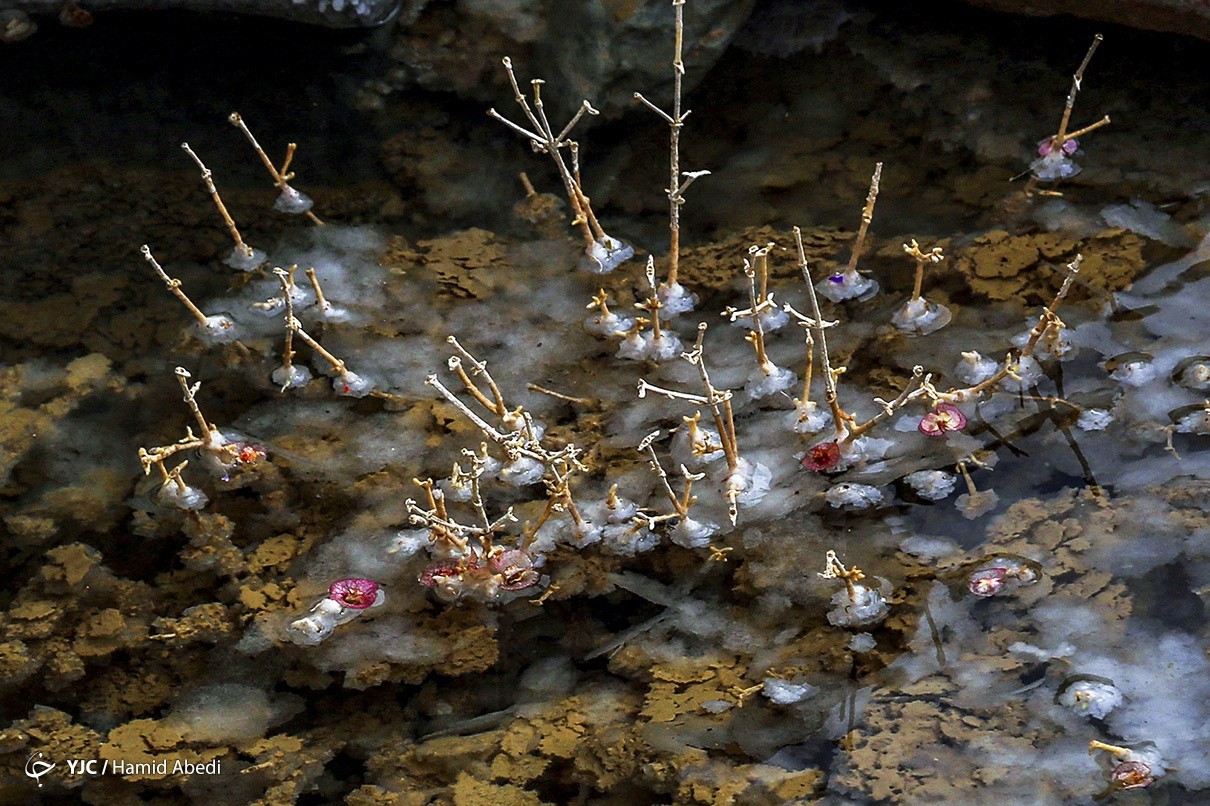 Iran Front Page
Jashak Salt Dome is 144 km to the Port of Bushehr. From Bushehr, you'll have to pass Some towns and villages: Choghadak, Khormoj, Kaki, Gankhak-e Sheykhi, and Jashak. 5 km after Jashak Village, you can see a gas station on the right side of the road. There are no WCs around the dome, so this gas station is your last chance to get water and food and your last access to a WC. After a kilometer from the station, you can see the dirt road that leads to the dome on the left side of the road. This 3-km dirt road is very bumpy at some points and you'll need to drive carefully.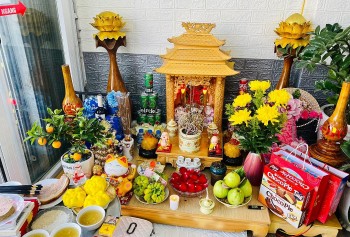 Handbook
Learn more about an ancient Vietnamese tradition that may bring you good fortune!