First forum for young academics opens in Da Nang
The first Vietnamese Young Intellectual Forum (VYI) has been held in Danang from November 27 to 29 to connect and strengthen local academics.
The first Vietnamese Young Intellectual Forum (VYI) recently took place in Da Nang city, aiming to connect and strengthen local academics.
According to Vietnam Plus, nearly 200 Vietnamese academics from 21 countries showed up in the forum.
Speaking at the event, Le Quoc Phong, first Secretary of the Ho Chi Minh Communist Youth Union, said the network for young academics will be set up based on the VYI and work under the Youth Union. It will help connect Vietnamese academics and share valuable information.
Young technicians test products at a lab belonging to the Centre for Analysis and Classification of Imported/Exported Products under Việt Nam Customs in Hà Nội. VNA/VNS Photo Hoàng Hùng
"We'll improve the information network so that Vietnamese academics all over the world can understand about the domestic situation and demands as fast as possible and have consults and researches that are suitable to their strengths," Phong affirmed.
The interests and needs of young Vietnamese will also be shared as the VYI will be held annually. At the forum, solutions and proposals to attract and encourage young people to work hard and contribute to the country will be discussed. The forum aims to become an important consultant channel for the government.
Assoc.Prof. Tran Xuan Bach, secretary of the newly-formed network of young academics, said, "Young academics from anywhere and join in. Each of them is not only a representative of the network but a representative of their field of work."
Research groups will be set up with three to five scientists who share the same interests under the network. The organisers will also collect articles, hold online courses for research and start the internship programme. The goal is to find reputable professors to pair with the research groups for better development.
VYI which lasts two days was the platform for young Vietnamese intellects to discuss the promotion of STEM (science, technology, engineering and mathematics) to build high-quality human resources in Industry 4.0, the application of Industry 4.0 technologies in environmental protection and climate change response, and the enhancement of innovation in production and business activities./.
( VNF )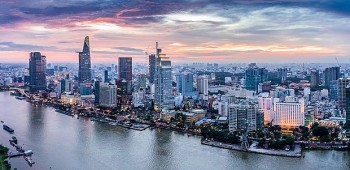 Economy
Japanese investors have been interested in the property market in Vietnam.