From waste to fertilizer, opportunities for Vietnamese agriculture
Livestock waste has become a grave problem for Vietnam (Source: Ministry of Agriculture and Rural Development)
(VNF) - According to Minister of Agriculture and Rural Development Nguyen Xuan Cuong, Vietnam's agricultural production faces a serious imbalance in the use of organic and inorganic fertilizers, resulting in a negative impact on the environment and quality of agricultural products.
A "safe vegetables" farm in Hòa Vang District, Đà Nẵng. The central city plans to recycle human waste into liquid fertiliser and use it on a wide scale (source: VNA)
The role of organic fertilizers in clean agriculture
At present, Vietnam consumes about 11 million tonnes of fertilizer each year, of which more than 90% is chemical fertilizers (2016 statistics showed that Vietnam imported about 4.2 million tonnes of chemical fertilizers worth USD 1.25 billion), and organic fertilizer only accounts for approximately 1 million tonnes. On average, every hectare cultivated in Vietnam absorbs more than 1 tonne of chemical fertilizer each year, a high level compared to other countries in the region.
When using chemical fertilizers, about 30-50% of the fertilizer is used by the plants, the rest will evaporate and be washed away, polluting the environment. Meanwhile, with 84.5 million tonnes of solid waste discharged by the livestock industry every year, if animal farms can use advanced technology to produce organic fertilizers from animal waste, environmental pollution will be reduced in a sustainable way.
In the restructuring program, the agricultural sector is striving to produce clean and high-quality products and accelerate integration into the global distribution chain of agricultural products. Organic fertilizers have proven highly effective in achieving clean and high-quality agricultural products.
In addition to releasing vital nutrients as they break down, organic fertilizers improve the makeup of the soil and increase its ability to hold water and nutrients. Over time, organic fertilizers make soil and plants healthier and stronger.
The demand for organic fertilizers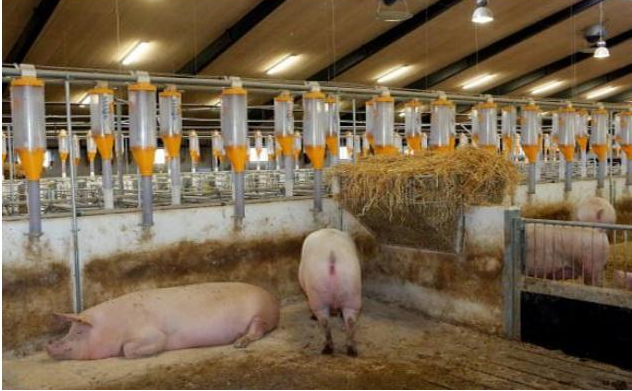 A modern pig raising facility in Denmark (Source: Ministry of Agriculture and Rural Development)
In the past five years, the Low Carbon Agricultural Support Project (LCASP) funded by loans from the ADB, has developed livestock waste solutions for medium and large scale farms, specifically the development of small-scale biogas systems, the production of organic fertilizers and the treatment of post-biogas liquid waste to be used as liquid organic fertilizer.
To effectively treat livestock waste and protect the environment, the LCASP project provides an environmental package for biogas plants, including: disinfected pits or faucets for washing hands and feet when going into and out of breeding facilities, thus preventing infection; a waste collection system to ensure the amount of waste suitable to the treatment capacity of the biogas plant; a separation system for collecting solid waste for organic fertilizer; reservoirs or sedimentation tanks; filter tanks to treat wastewater discharged from biogas tanks prior to fertilizer application; and equipment to thoroughly use gas.
According to Manohar Shrestha - Senior Consultant for LCASP, the project has seen very enthusiastic participation of farm households and farms in the construction of biogas tanks of different sizes and application of different technologies in the production of organic fertilizer.
She also noted that LCASP is conducting research and demonstration of technologies such as biogas generator, fertilizer separator, organic fertilizer production. Capacity building and training are also important parts of the project.
"At present organic production in the world is very developed and the LCASP will contribute to making Vietnam one of the leading organic agriculture countries", she said.
As of December 2017, the LCASP project has supported the construction of more than 50,000 small works, 19 medium and 2 large scale projects.
The package also includes training and educating people about the environment of animal husbandry to ensure that they prevent the spread of livestock diseases, properly discharge waste from biogas digester, and treat leftover waste by other means without discharging directly emission gas to the environment.
In the past few years, Vietnam has implemented several international cooperation programs and projects that have brought about practical effects in the management of waste and protection of livestock.
However, the scope of these projects is limited while the livestock sector in Vietnam is facing increasingly severe environmental pollution.
The Director of LCASP Nguyen The Hinh said: "In order to achieve our committed goal of reducing greenhouse gas (GHG) emissions, Vietnam is in great need of help from international organizations to build 300,000 to 500,000 small-scale biogas plants in the period from now until 2030. In addition, Vietnam needs support and technology transfer from developed countries such as Denmark, the Netherlands for large-scale treatment of animal waste into organic fertilizer. The amount of waste in the livestock sector is huge so the conversion of the waste into bioenergy and organic fertilizer will generate billions of US dollars for the national economy."
To thoroughly handle environmental pollution in livestock breeding, the State should increase the budget for surveys and surveys on animal breeding environment and environmental protection. Localities should encourage units and inpiduals to engage in environmental protection in animal husbandry. In addition, it is necessary to promptly report to higher management agencies on polluted areas and polluting establishments so as to work out measures to address the problems, toward reducing the pollution burden in the future./.
( VNF )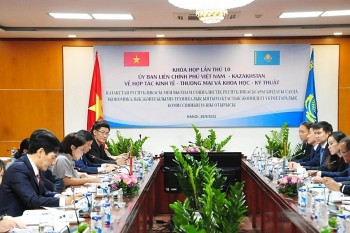 Friendship
The 10th session of the Vietnam-Kazakhstan Intergovernmental Committee on economic-trade and scientific-technical cooperation was held in Hanoi on September 26.