Give a fairer care to children with autism with The Steps Challenge
The Steps Challenge community event is a free event designed for various participants, with an aim to collect 10 millions steps and unlock a fund of USD 25,000 (approx. VND 580 million) from Capitaland Hope Foundation. The event will take place on  May 25 at Vista Verde, District 2, HCMC.
With the purpose of raising awareness, bringing appropriate care and special education access to hundreds of thousands of children with autism in Vietnam - THE STEPS CHALLENGE is born with that in mind...
At the launching event. (Photo: saigonchildren)
According to statistic in 2017 of Department of Child Care and Protection of Vietnam Ministry of Labor, War Invalids, & Social Welfare, there were 200,000 people with autism spectrum disorder (ASD) in Vietnam.
Understanding, Empathizing, and Supporting children with autism is no longer a private affair for families having children with autism.
The Steps Challenge 2019, launched on April 17, is a community event organized by Saigon Children's Charity (saigonchildren) in partnership with CapitaLand Vietnam to raise awareness of autism and bring appropriate care and special education access to hundreds of thousands of children with autism in Vietnam.
The Steps Challenge has two main activities: the social media campaign #stepupforautism and the outdoor community event.
The online campaign #stepupforautism is run in 6 weeks (April 15 - May 25) with an aim to reach 100 millions steps submitted on social media. The more steps you make, the closer we get to unlock barriers and bringing hope and opportunities into the lives of autistic children and their loved ones.
saigonchildren helps provide special education access to children with autism, and provides specific training for educators and caregivers in Vietnam. The fund from this Steps Challenge will help the most disadvantaged inpiduals, as well as the wider community, said saigonchildren President Damien Roberts.
"saigonchildren has a long-term plan of organizing different types of Challenge event for example, Cyclo Challenge (for 16 years) and now the Steps Challenge. In the 16 years since its inception, the Cyclo Challenge proved to be an enduring and popular event which also raised significant funds for children. We'll continue to organize such type of events to follow the success of previous events, to build an engaged and supportive community, and we hope that businesses and inpiduals will continue their kind support," he added.
"This is my first time to take part in a community event as an ambassador with a desire to support, contribute, and to spread the goods to my networks, my coworkers, and my friends. I am not an expert to talk about autism… but I want to help children and people with less privileged background to have a fairer care," shared MC Dustin Phuc Nguyen, Ambassador of the program./.
VNF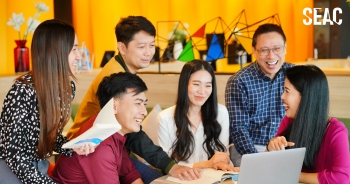 Economy
SEAC, a leading corporate and lifelong education innovator, is shaking up the Thai and ASEAN education market with significant investment to expand its SMART learning solutions across the ASEAN region.