Giz, ILO sign MoU for partnership in Vietnam
GIZ Vietnam Country Office and the International Labour Organisation (ILO) Country Office for Vietnam have recently signed a Memorandum of Understanding (MoU) to commit joint efforts in supporting the Vietnamese Government in the reform of the TVET sector, enhancing the social dimension of green growth and strengthening ASEAN integration for the promotion of decent work for all.
At the signing ceremony. Photo: GIZ Vietnam
The MoU aims to provide a framework within which GIZ and ILO can develop and undertake joint activities on the above-mentioned themes, and to facilitate the collaboration with other international and local stakeholders.
Speaking at the signing ceremony, Dr. Chang-Hee Lee, Director of the ILO Country Office for Vietnam said the MoU will facilitate more structured cooperation between the two organizations.
In response, Dr. Jasper Abramowski, GIZ Country Director confirmed the great potential of cooperation in the promotion of green growth, TVET reform, skills development and decent work not only within Vietnam but also at the ASEAN regional level.
Building on the GIZ and ILO's extensive experience and technical expertise in the field of international cooperation for sustainable development, the newly formalized partnership between the two organizations is expected to bring about positive results in supporting Vietnam's contribution to mainly Sustainable Development Goal 8 "Decent Work and Economic Growth" and the achievement of further important goals set forth in its Green Growth Strategy and Socio-Economic Development Strategy./.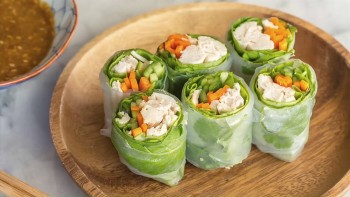 Travel
Rolls are a easy-to-make dish that is loved by many Vietnamese diners as well as Korean stars.