Hanoi to spend VND2.5bn to repair the ceramic road
The Hanoi People's Committee has approved a VND2.5bn (USD110,200) plan to repair the ceramic mosaic mural along Red River dyke as many parts have deteriorated.
Hanoi ceramic mosaic mural
The management board of Hanoi heritage sites was assigned as the project's investor and must take all responsibility for the contractors and the project quality.

At first, the Department of Culture and Sports will repair a 1 km section from Hong Ha to Chuong Duong Do streets. Artist Nguyen Thu Thuy said cracked and peeled areas will be repaired. They will reinforce the mosaic wall with some iron pillars to ensure that the mural will last for a long time.

It is expected that the first section will be completed by Tet Holiday. If everything goes smoothly, the Department Culture and Sports will submit plans to repair the rest of the mural in 2019.

The ceramic mosaic mural is one of the major projects for Hanoi's millennium celebrations. It is 6km long and made by various foreign and local artists from traditional craft villages such as Chu Dau, Bat Trang and Phu Lang.

The content of the mosaic represents the decorative pattern from different periods in the history of Vietnam as well as children's drawings. An 810m section of the mural set a new Guinness World Record for World's largest ceramic mosaic in 2010.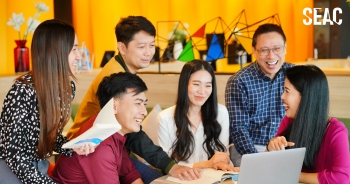 Economy
SEAC, a leading corporate and lifelong education innovator, is shaking up the Thai and ASEAN education market with significant investment to expand its SMART learning solutions across the ASEAN region.