Hanoi workshop examines EVFTA opportunities, challenges for SMEs
A cooperation program to help businesses to optimize advantages from the EU-Vietnam Free Trade Agreement (EVFTA) through the Vietnam-EU e-commerce platform made its debut in Hanoi on March 26.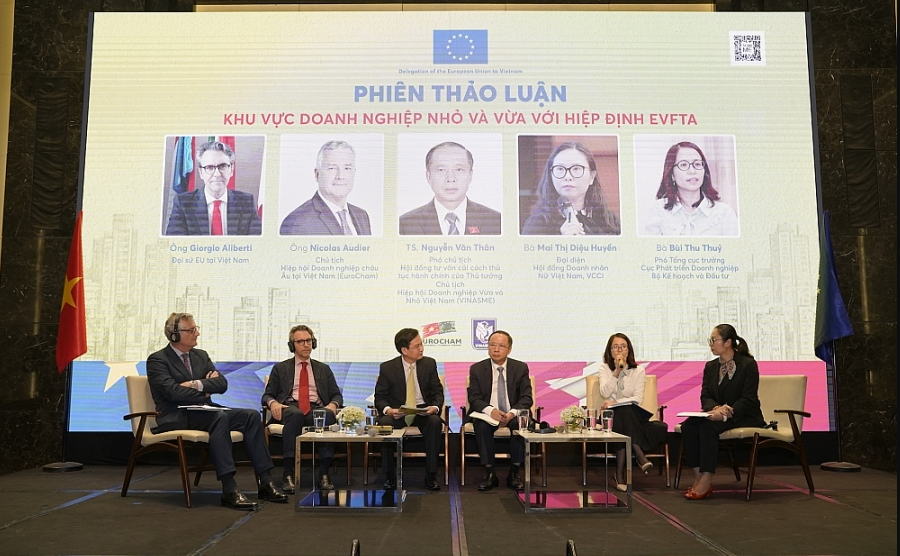 Speakers discuss challenges SMEs face following Vietnam's joining the EVFTA . (Photo: Hanoitimes)
The European Union delegation to Vietnam joined the Vietnam Association of Small and Medium Enterprises (VINASME) co-hosting roundtable talks on March 26 in order to discuss future opportunities and challenges for local SMEs brought about by the EU-Vietnam Free Trade Agreement (EVFTA).
Themed "Small and Medium Enterprises and the EU-Vietnam Free Trade Agreement" the event attracted the participation of over 100 delegates from various ministries, Government agencies, EU member states, business associations, along with over 50 SMEs in Vietnam.
The roundtable discussions were aimed at enhancing understanding among local businesses, relevant stakeholders, and policymakers regarding the EVFTA and its contribution to SME development. Delegates touched upon issues relating to the growth, opportunities, and challenges of SMEs, as well as the contributions of the trade pact and ways in which to promote SMEs in a sustainable manner.
Ambassador and Head of the EU delegation to Vietnam Pier Giorgio Aliberti gave the remarks at a conference discussing the benefits of the trade deal for SMEs on March 26. Aliberti, however, urged the Vietnamese government to provide better mechanisms and solutions to aid the development of SMEs, while expressing his belief that the EU has made the right decision in investing in developing countries such as Vietnam. The EU's Ambassador expected the deal to continue improving Vietnam's business environment, in turn making it easier for both Vietnamese and European companies operating in the country, Hanoitimes cited.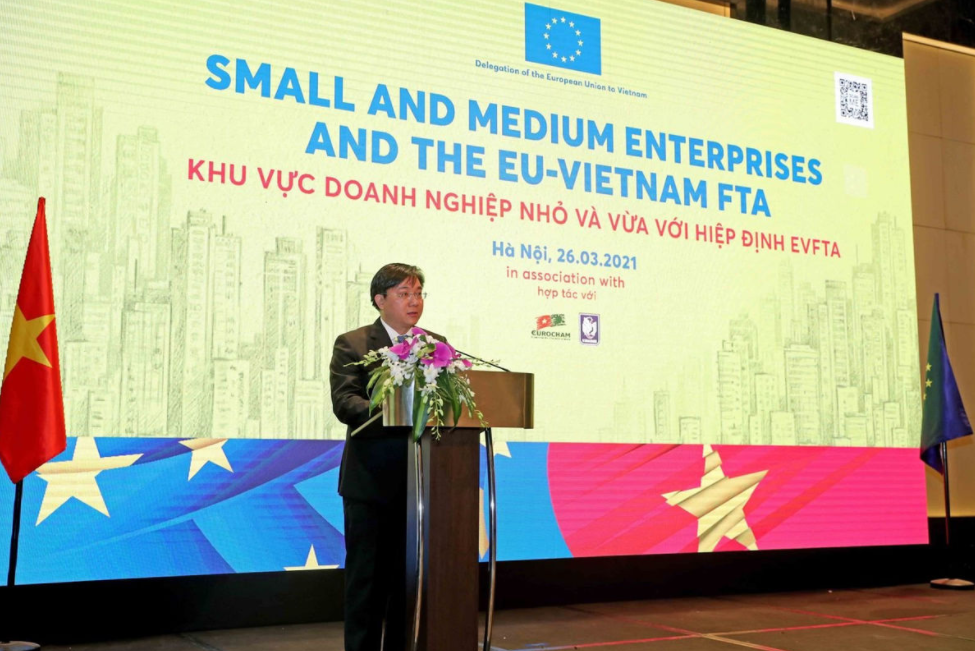 Deputy Minister of Planning and Investment Tran Duy Dong. (Photo: Cong Ly)
For his part, Vietnamese Deputy Minister of Planning and Investment Tran Duy Dong noted that Vietnamese enterprises have encountered numerous difficulties in participating in the regional and global tax system as a result of inadequacies in competitive capacity, the mobilization of human resources, short-term visions, and a lack of regional linkages.
"Local enterprises should draft a long-term vision and improve linkages with other partners to further enhance their competitiveness," Dong said, noting one of the government's priorities is to promote stronger linkage between the private and foreign-invested sectors.
Nguyen Minh Thao, head of the Research Department of Business Environment and Competitiveness, said SMEs currently account for approximately 98% of the number of businesses and contribute 40% of the country's GDP. Indeed, FTAs ​and Industry 4.0 have served to create a wealth of opportunities for domestic SMEs to develop fresh business models, according to VOV.
"Given its prominent role in the economy, SMEs are having huge opportunities for development with the presence of free trade agreements, the Industry 4.0 and new business models," Thao said. "However, small scale of operation could hinder enterprises from improving their productivity and business efficiency," she added.
With regard to the sustainable development of SMEs, Stephan Ulrich, program manager of the International Labor Organization (ILO), briefed participants on the challenges ahead for SMEs in terms of their compliance with labor standards, He also pointed out major obstacles faced by workers, including occupational safety, overtime limits, labor contracts, and social security.
During the event, delegates discussed other issues relating to the EVFTA and Vietnamese integration into the global value chain moving into the post-novel coronavirus (COVID-19) period, particularly with the ongoing digital transformation of the Vietnamese economy.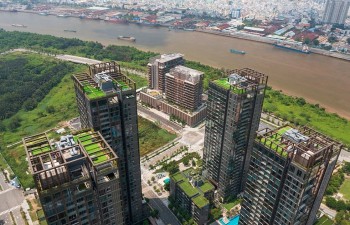 Economy
Vietnam Business & Weather Briefing (August 11): Vietnam to increase coal imports in 2025-2035 period, ten tonnes of Vietnamese longan exported to Australia.